Opel Blitz
Germany (1934-44) Medium Truck. About 130,000 built
The Blitz, Opel's legend
During the interwar, Opel became the largest truck manufacturer in Germany. The Blitz (German for "lightning"), coined in a prize competition, became a brand name for various light and middle-weight trucks, right up to 1975. The logo created for this brand, two stripes arranged loosely like a lightning symbol in the form of a horizontally stretched letter "Z", became the Opel logo. During WW2, the Opel Blitz became the prime utility truck of the Wehrmacht, deployed in every front.
Opel Blitz 1.5 tons pickup (1932), one of the three body style available with the van and bus to the civilian market.
The origins of commercial automotive venture by the pioneer Fritz Opel dated back 1899. Delivery and transport vans were built, based on "System Lutzmann", patent created the first automobile in Rüsselsheim. In 1907, the first truck was added to the portfoli, a 3/4 tonne vehicle with pneumatic tyres, propeller shaft drive and 2-4 cylinder engines. During WW1 already the military standadized the type to four tonnes, driving Opel to devise a larger and more reobust "standard truck", produced and sold until the early 1920s. From 1923, Opel started to introduce lighter trucks, short-wheelbase and vans with a payload of 1-2 tonnes.
For the 1931 model exhibitions, a new model was prepared by Opel's engineers, which succeeded in creating a sturdy and affordable "express transport truck" with an excellent, yet simple design in a times of vivid economical crisis. Tp promote it, Opel's advertising department had the idea of creating a short term pronounced in German as well as in any modern language, composed of only five letters. To find the name, they choose an avantgarde method at that time, but both high-profile and effective. It was sought throughout Germany in a competition, with the prize being an Opel... Dr. Wilhelm von Opel headed the ads campaign and eventually proposed as grand prize a 4/20 hp limousine, and for others, Opel Motoclub motorbikes. Closing date was October 6, 193. Afterwards, the sales Manager Andersen announced the winner at the Opel Dealer Conference, on November 24, 1930, helf in Frankfurt, in the prestigious "Ufa-Palast". The name chosen was "Blitz" among 1.5 million entries. The brand used it already on its bicycles range from 1889 and it was now associated with Opel commercial vehicle, and stuck for 60 years.
The new model had a payload of either 1.5 or two tonnes, three different wheelbases, and two engines. The "express transport truck" used a 2.6-litre 4-cylinder while the more powerful Blitz "6" was given the 3.6-litre "Marquette" six-cylinder engine or US origin. The range was refined and after five years, in 1935, debut, the company receive funds to buult a dedicated brand new plant.
The military is interested
The first Opel Blitz was presented in November 1930, in November. Over the years until 1975 it became a legend, a fantastic success story for an European Manufacturer with a grand total of 442,312 Opel Blitz vehicles built in Germany alone. Soon, within the context of Nazi economy and re-armament, the authorities funded Opelwerk Brandenburg to radically expand its facilities for mass-production in 1932. Capacities reached their peak in 1939, and until 1944, more than 130,000 Blitz trucks and chassis were delivered. If they shared many components all these trucks differed by many details. The 1935 Blitz had two engines, the heavy one being equipped with a flathead 61 PS (45 kW) 3.5-liter petrol, straight-six engine (a licence version of the 1930 GM Marquette). It was a direct result of General Motors' takeover of Opel in 1929. The "smaller" version was given the domestic Opel 2.6-liter 4-cylinder 40 PS (29 kW).
By 1934, four versions of the Blitz were offered:
-1 tonne basic model
-2 tonnes
-2½ tonne (both having 14 sub-versions).
The Marquette engine was judged obsilete and in 1937 it was replaced by a more modern overhead valve model 75 hp (56 kW) straight-six engine. It was the same used in the high-end Opel Admiral passenger cars, and very similar to Chevrolet engines of the time. This was this version that was widely used by the Wehrmacht. In 1937, the four wheel drive became mandatory, and is used throughout the military production.
The new plant Opelwerk Brandenburg an der Havel, inaugurated in great pump with nazi officials, was covering 850,000 square metres, and designed specifically and exclusively for truck manufacturing, at large scale. No time was wasted: In July 1937 already the plant celebrated its 25,000th Blitz express transport truck leaving its assembly line.
Wehrmahcht's Kfz.305
Opel Blitz engine, tech manual, published 27 August 1942
From 1939, the Blitz 3.6 3-ton appeared; It soon became the staple of Opel production, entirely absorbed by the army. Variants included an elongated version, and a four-wheel drive, "Blitz A". In the waffenwamt, this model was identified as Kfz.305.
From 1940 a new standard light model was manufactured, the Blitz 2.5. It was produced in Rüsselsheim facility until 1942 with a 55hp Opel Super 6 engine.
On 6 August 1944, Opelwerk Brandenburg was obliterated by RAF bombing and ceased production. Circa 2,500 Blitz 3.6 trucks were ordered by Minister of Armaments Albert Speer at the Mannheim plant (which belongs to Daimler Benz AG) and production of the Mercedes-Benz L3000 stopped as a result. Brandenburg facilities were completely dismantled by Soviet Military Administration after the war, while Daimler-Benz Mannheim, in the west, resumed manufacturing of the the Blitz 3.6, renamed L 701 until 1949.
The Opel Blitz in action
Opel Blitz in Italy, 1944
Use by the wehrmacht
Contrary to popular opinion, the bulk of the Wehrmacht comprised foot infantry, with horse-drown artillery. They generally operated to reduce pockets previously created by the swift panzerdivisions. The Opel Blitz was used by the latter, as part of its supply train. It was adopted as standard due to a competition for military cargo trucks with off-road capabilities. The 3-ton "Blitz" won and the Opel factory received a massive order for what became the standard Wehrmacht truck. The Kfz.305 (4 x 2) was intensively used in many types with the three-tone being the most famous of all Wehrmacht vehicles. About 100,000 were delivered to the Heer, displaying their characteristic lightning emblem on the radiator front panel, often associated with the "blitzkrieg". Its tire tracks soon became known all around Europe, from the fields of France to the endless sands of the African desert and the Russian mud.
Aside their production and availability, what made these trucks immortal was their reputation of hardiness and ease of maintenance and repair. The European conflict saw huge numbers of trucks needed. In addition t military production many thousands of prewar civilian Opel "Blitz" S were drafted into army units as well. These were also brought up to army standard under the same denomination, Kfz.305, the sole official military designation for the Opel "Blitz", whatever the type. In fact in total about 140 different army modifications were made on the Opel "Blitz" chassis, frome radio cars to repair workshops, fuel trucks, mobile laundries or printing-trucks and staff buses or fire trucks as well.
From 1937 up to 1944 of the 140,000 vehicles built, 82,356 were listed as standard army Blitz S trucks, 14,122 as long wheelbase 3-tons and 8,363 with with a shorter wheelbased, 2.5 tons. In 1942 Daimler Benz AG was involved under license manufacturing and these Mercedes-built "Blitz" were visually identical, called Mercedes L701. License production started only in 1944, after the destruction of the Russelheim plant by RAF night raids.
These Blitz became an integral part of the organization of Panzer Divisions, using gasoline, to keep a common supply with the tanks the followed, unlike other trucks types, most often running on diesel oil. That was anoyther particular of the type. They Ground pressure was low, despite a 2x4 drive, allowing them to overcome many obstacles and soft ground, even competing with three-axle trucks. The Eastern campaign fully took advantage of the Opel "Blitz". Unlike diesel, their gasoline engine could be started with just boiled water in very cold weather conditions. Large numbers of these wete also captured by the Red Army from 1943 as trophies, and they went on to serve with the Russians until parts fatigue and cannibalization went to an end. The Russians loved them for the same reasons. Many of these Russian "Blitz" took part in the great offensive in August 1945 against the Japanese in eastern China. In the end, the "Blitz" became an absolute favorite among drivers and some even argued that if most has been produced, Germmany would have not lost the war.
Opel Blitz 3.5 during a reenacment
Another interesting point was that the commonality of Opel trucks with GM trucks was a benefit for the Wehmacht: In North Africa they could captured lend-lease British GMC trucks and reuse their parts and engines on the Blitz, same in Russia. In the other sens, disabled Blitzes, abandoned by retiring Germans in 1943-45 could be easily put back in service by the allies, using Chevy/GMC and Bedford parts. This even sparked controversy: Indeed Opel was formed as a General Motors subsidiary and experts had strong reasons to believe that Opel used forced labor. GM of course defended its case, arguing it shad no control over this particulra subsidiary during the war. They were only administratively attached to the American company. In the press, GM communication departments also stressed, from the numerous reports received from the front, that during the rapid Allied advances on both fronts seized trucks were easily put to use again, just because of the commonality. Opel Blitz trucks were also made under license from General Motors. All in all, between the regular Blitz and Maultier, the Opel truck provided a comprehensive and welcome addition to German motorized units until 1945. Production of the Blitz, disrupter by bobings, ceased in 1944, but the brand was revived in the post-war context and the Blitz went on in production until 1975
The "Mule" eastern front half track
To cope with the bad road conditions and the rasputitsa mud seasons on the Eastern Front, a half-tracked Maultier (mule) Sd.Kfz. 3 version was built using tracks and suspension based on the British Universal Carrier. Among others, these were used as service vehicles for the Messerschmitt Me 323 military transport aircraft.
Specs Opel Blitz 36-6700A (Model 1937)
Dimensions :
5.95-6.02 x 2.26-2.34 x 2,17-3,18 m (19.8 ft x 7.4 ft x 9 ft)
Total weight:
2,100-3,350 Tonnes max. (4,630 Ibs)
Payload :
2.3 to 3.5 tons ()
Crew :
1 driver
Propulsion :
Opel 4 cylinders, 3626 cc, 68- hp at 3800 rpm, or 6-cyl 74 hp
Speed :
80 km/h (50 mph)
Range (road/off road) :
300 to 400 km (255 miles)
Total production
82,000
Opel Blitz Kfz 305 variants designations
305 Mittlerer Lastkraftwagen (o) mit geschlossenem Einheitsaufbau: Middle lorry (o) with standard box body
305/1 Fernschreibanschlusskraftwagen (KW): telex termination motor vehicle (KW)
305/2 Fernschreibanschlusskraftwagen G: telex termination motor vehicle G
305/3 Fernschreibvermittlungskraftwagen: telex relaying station motor vehicle
305/4 Fernschreibwartungskraftwagen: telex maintenance motor vehicle
305/8 Fernschreibvermittlungskraftwagen: telex relaying station motor vehicle
305/10 Verstärkerkraftwagen: amplifier motor vehicle
305/11 Leitungsmesskraftwagen: cable measuring motor vehicle
305/15 Funksendekraftwagen: radio broadcast motor vehicle
305/16 Funkkraftwagen: Radio motor vehicle
305/17 Funkkraftwagen: radio motor vehicle
305/18 Funkkraftwagen (Kzw./Lgw.): radio motor vehicle (SW/LW)
305/19 Funkkraftwagen (Kzw.): radio motor vehicle (SW)
305/20 Funkkraftwagen: radio motor vehicle
305/21 Funkbeschickungskraftwagen: radio feeding motor vehicle
305/22 Funkpeilkraftwagen: radio bearing motor vehicle
305/23 Funkempfangs Kw./Horchfunkempfangs Kw./Funkbetriebs Kw: radio reception/interception radio reception/radio operation motor vehicle
305/25 Funkmastkraftwagen: radio mast motor vehicle
305/26 Radiosondekraftwagen: radiosonde motor vehicle
305/27 Radiosondepeilkraftwagen: radiosonde bearing motor vehicle
305/29 Ansteuerungssendekraftwagen: Approaching signal sending motor vehicle
305/30 Voreinflugzeichen- od. Haupteinflugzeichensendekraftwagen: Outer marker or main marker transmitter motor vehicle
305/32 Leuchtfeuerkraftwagen für schweren Leuchtfeuertrupp (mot.): Beacon light motor vehicle for heavy beacon light squad (mot.)
305/33 Leuchtfeuerkraftwagen für leichten und mittlerer Leuchtfeuertrupp (mot.): Beacon light motor vehicle for light and middle beacon light squad (mot.)
305/34 Richtverbindungskraftwagen für schweren Richtverbindungstrupp: radio relay motor vehicle for heavy radio relaying squad
305/35 Richtverbindungskraftwagen für schweren Richtverbindungstrupp: radio relay motor vehicle for heavy radio relaying squad
305/36 Richtverbindungs-Tf-Betriebskraftwagen: radio relay Tf operating motor vehicle
305/37 Richtverbindungs-WTZ-Betriebskraftwagen: Radio relay WTZ operating motor vehicle
305/38 Richtverbindungs-Antennengerät-Kraftwagen: Radio relay aerial device motor vehicle
305/40 Richtverbindungsmesskraftwagen: Radio relay measurement motor vehicle
305/41 Geräteprüfkraftwagen 293: Instrument testing motor vehicle 293
305/42 Bordfunkprüfkraftwagen: Radio equipment testing motor vehicle
305/43 Entstörkraftwagen: Interference suppression motor vehicle
305/44 Elektrischer Störsuchkraftwagen: electrical interference searching motor vehicle
305/60 Bordgeräteprüfkraftwagen: On board devices testing motor vehicle
305/61 Zellen-Werkstattkraftwagen 1: Air frame workshop motor vehicle I
305/62 Zellen-Werkstattkraftwagen II: Air frame workshop motor vehicle II
305/63 Triebwerks-Wartungskraftwagen: Propulsion unit maintenance motor vehicle
305/64 Bordgeräte-Werkstattkraftwagen: On board devices workshop motor vehicle
305/65 Wetterkraftwagen A: Meteorological motor vehicle A
305/66 Wetterkraftwagen B: Meteorological motor vehicle B
305/67 Triebwerk-Werkstattkraftwagen 1: Propulsion unit workshop motor vehicle 1
305/68 Triebwerk-Werkstattkraftwagen II: Propulsion unit workshop motor vehicle II
305/69 Steuerungsprüfkraftwagen: Piloting testing motor vehicle
305/70 Fallschirmlagerkraftwagen: Parachute store motor vehicle
305/73 Befehlsstellenkraftwagen: Command post motor vehicle
305/74 Geschäftszimmerkraftwagen: Office motor vehicle
305/75 Bekleidungskammerwagen: Clothing chamber vehicle
305/76 Sanitätsgerätekraftwagen: Medical equipment motor vehicle
305/77 Marketenderkraftwagen: Canteen proprietor motor vehicle
305/78 Elektroküchenkraftwagen: Electrical kitchen motor vehicle
305/79 Geschäftszimmerkraftwagen: Office motor vehicle
305/80 Waffenwartungskraftwagen: Weapons maintenance motor vehicle
305/83 Kfz-Werkstattkraftwagen: Motor vehicle workshop motor vehicle
305/84 Kfz-Ersatzteillagerkraftwagen: Motor vehicle spare parts depot motor vehicle
305/85 Prüfkraftwagen für Drucköl- und Luftversorgungsanlage: Testing motor vehicle for pressure oil- and air-supply device
305/86 Zahnklinikkraftwagen: Dental clinic motor vehicle
305/87 Zahnlaborkraftwagen: Dental laboratory motor vehicle
305/88 Röntgen-Schirmbild-Kraftwagen: Roentgen screen photo motor vehicle
305/89 Röntgen-Schirmbild-Dunkelkammer-Kraftwagen: Roentgen screen photo darkroom motor vehicle
305/90 Bildkraftwagen: Image motor vehicle I
305/91 Bildkraftwagen II: Image motor vehicle II
305/93 Wasseraufbereitungskraftwagen I: Water preparation motor vehicle I
305/94 Wasseraufbereitungskraftwagen II: water preparation motor vehicle II
305/95 Wasseraufbereitungskraftwagen III: water preparation motor vehicle III
305/96 Wasserentsalzungskraftwagen: water desalination motor vehicle
305/98 Sauerstoff-Instandsetzungskraftwagen: oxygen maintenance motor vehicle
305/99 Sauerstoffumfüllkraftwagen: oxygen decantation motor vehicle
305/100 Navigationskraftwagen: navigation motor vehicle
305/101 Navigations-Vermessungskraftwagen: navigation survey motor vehicle
305/102 Lagerkraftwagen: warehouse motor vehicle
305/103 AF Messgerätekraftwagen: AF measurement instruments motor vehicle
305/104 Lagerkraftwagen KTZ: warehouse motor vehicle KTZ
305/105 Werkstattkraftwagen für Klempner und Schweißer: workshop motor vehicle for tinsmith and welder
305/106 Werkstattkraftwagen für Hydraulik und Schlosser: workshop motor vehicle for hydraulics and locksmith
305/107 Werkstattkraftwagen für mechanische Werkstatt: workshop motor vehicle for mechanical workshop
305/108 Werkstattkraftwagen für Waffen und Elektrik: workshop motor vehicle for weapons and electronics
305/109 Werkstattkraftwagen für mechanische Werkstatt I: workshop motor vehicle for mechanical workshop I
305/110 Werkstattkraftwagen für mechanische Werkstatt II: workshop motor vehicle for mechanical workshop II
305/111 Werkstattkraftwagen für Schlosser und Schweißer: workshop motor vehicle for locksmith and welders
305/112 Werkstattkraftwagen für Klempner I: workshop motor vehicle for tinsmith I
305/113 Werkstattkraftwagen für Klempner II: workshop motor vehicle for tinsmith II
305/114 Werkstattkraftwagen für Hydraulik und Schlosser: workshop motor vehicle for hydraulics and locksmith
305/115 Werkstattkraftwagen für Tischler, Maler, Sattler: workshop motor vehicle for cabinetmaker, painters, saddler
305/117 Werkstattkraftwagen für Schweißer und Schmied: workshop motor vehicle for welders and blacksmith
305/118 Kfz-Werkstattkraftwagen für Motor, Fahrgestelle und elektrische Anlagen: motor vehicle workshop motor vehicle for engine, chassis and electrical installation
305/119 Kfz-Lagerkraftwagen: motor vehicle warehouse motor vehicle
305/120 Mannschaftskraftwagen für I-Dienst: personnel carrier for maintenance service
305/121 Gerätekraftwagen für I-Dienst: equipment motor vehicle for maintenance service
305/122 Entgiftungskraftwagen: decontamination motor vehicle
305/123 Entgiftungsgerätekraftwagen: decontamination equipment motor vehicle
305/124 Pressluftgerätkraftwagen: compressed air equipment motor vehicle
305/125 Flugbetriebskraftwagen: air traffic motor vehicle
305/126 Startkraftwagen: starting motor vehicle
305/128 Kraftfahrspritze KS 8: fire tank wagon KS 8
305/130 Werkstattkraftwagen für Abwurfwaffen: workshop motor vehicle for bombs
305/131 Werkstattkraftwagen für Schusswaffen: workshop motor vehicle for fire arms
305/132 Waffenwerkstattkraftwagen! weapons workshop motor vehicle
305/135 Werkstattkraftwagen mechanische Werkstatt: workshop motor vehicle mechanical workshop
305/136 Motorenwerkstattkraftwagen: engines workshop motor vehicle
305/137 Werkstattkraftwagen für Flugzeugschlosser, Rüstschlosser (TMZ): workshop motor vehicle for aircraft locksmith, equipment locksmith (TMZ)
Kfz. 305 als Fledermauskraftwagen
Kfz. 305 as bat motor vehicle
Links/resources
int-media.opel.com/
On tankograd publishing
On warhistoryonline.com
On militaryfactory.com
Group on Facebook
On Kfz. der wehrmacht
On ww2db.com
Kfz designations
On pinterest
More photos
---
Recommended read: The Illustrated Encyclopaedia of Military Vehicles (Ian V Hogg & John Weeks,-Hamlyn, 1980), Armoured Fighting Vehicles (Philip Trewbitt, Dempsey-Parr,1999).
---
On the model kits side, the 1/35, 1/48 and 1/72 has been well served, from Italeri and Esci to Matchbox, and many others.
See more on worthpoint.com
and on scalemates.
Videos

Blitz 1-Ton model 1936

Blitz 1.5 Ton model 1938

Opel Blitz 3 Tons "S", flatbed, model 1936

Same model, with wooden panels

Blitz in Feldgrau, campaign of Poland, September 1939

Opel Blitz in North Africa, March 1941

Blitz in Greece, July 1942

Blitz 305 in north Africa, 1942

Blitz 305, Italy 1944

Opel Blitz winter, south eastern front campaign 1942/43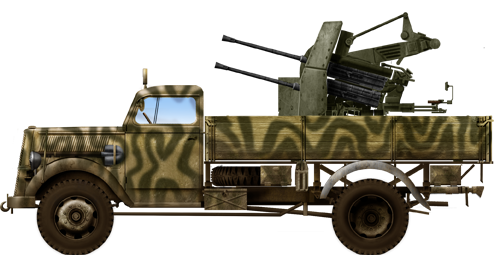 Opel Blitz Flakvierling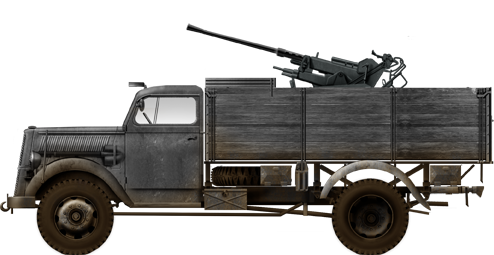 Opel Blitz carrying a 40mm FLAK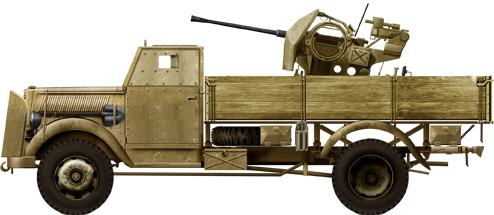 Blitz 37 mm FLAK with armored cab, russia, southern front 1942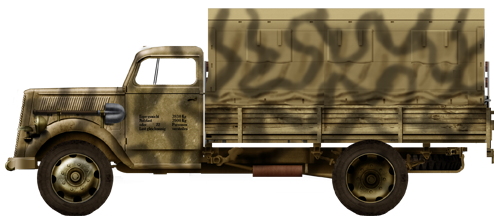 Camouflaged Blitz with tarpaulin, Eastern front 1943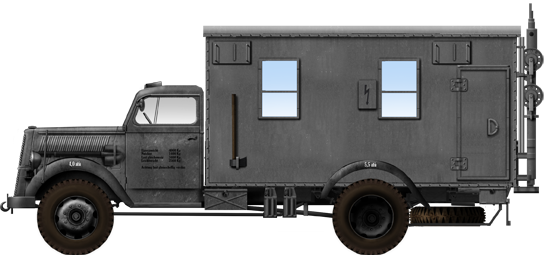 Opel Blitz C Command Car 11Pzd, Ukraine June 1941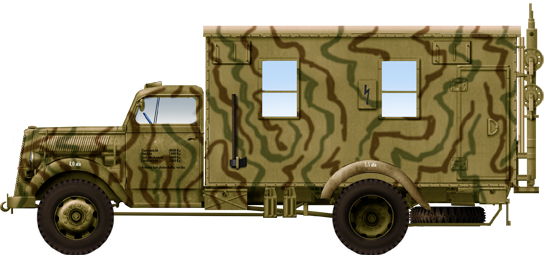 Opel Blitz Einheitskoffer Field Radio Truck, 116 PZD, Panzr Regiment 16, Normandy 1944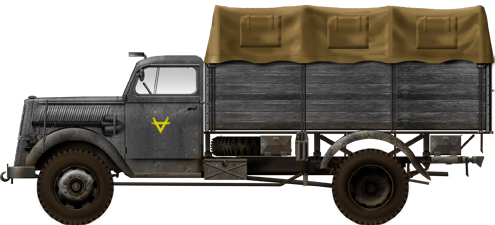 Opel Blitz 3 tons with tarpaulin, Eastern Front 1941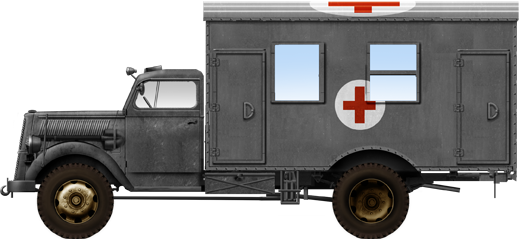 Opel Blitz ambulance cab

Blitz 3 ton 1st Bat. 33rd AA Regiment, North Africa 1942, note the sandy paint wearing out over the original feldgrau

Partiall camouflaged Blitz 3 Ton used by the Totenkpf Division, eastern front 1943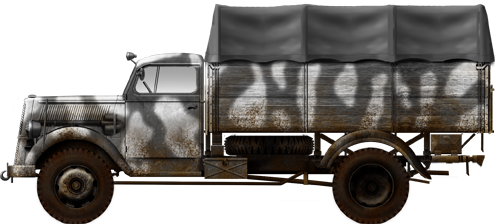 Blitz with canvas, Russia winter 1943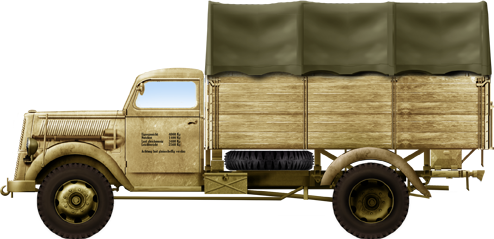 Blitz Panzerlehr Division, Normandy 1944

Blitz of the 5th Army, Tunisia, Nov. 1942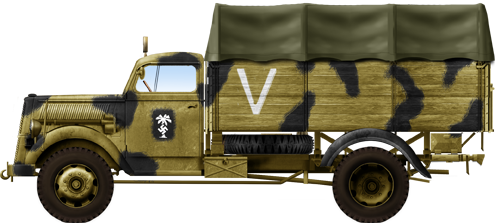 Blitz in Tunisia, 1942

Blitz with the FFI, Paris, September 1944

Blitz type C used by the Luftwaffe with an amazing camouflage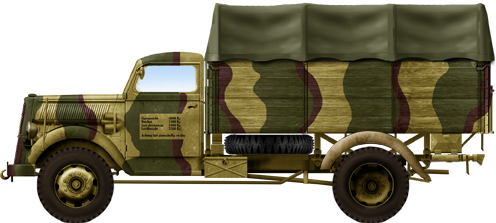 Blitz with the 8th Gebirgsjager Division, Bologna Feb-Apr. 1945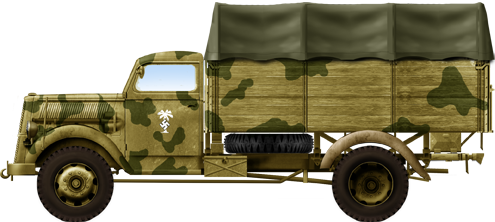 Blitz 21th Panzerdivision, North Africa 1942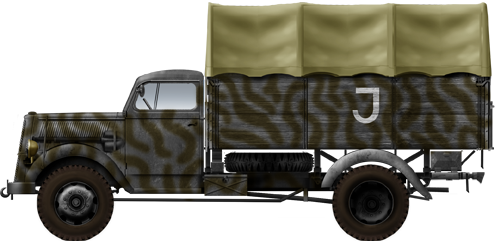 Blitz with the 19th Panzerdivisions Kursk, Russia 1943

Blitz in Italy, 26th Panzerdivision, july 1944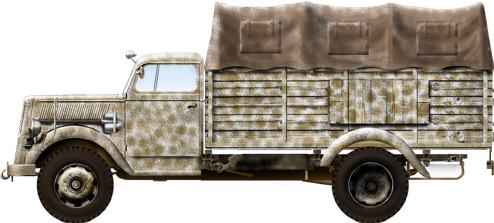 Blitz Type A, with tarpaulin and snow paint 1945

Opel Maultier, the half-track variant of the Blitz
---
---
Axis Trucks

Purchase this pagemarker and support the site !
Sd.Kfz 2, 6, 7, 8, 9, 10 and 11 were half-tracks designed just before the war as prime movers, to carry supplies, ammunition, personal, and tow artillery. Many were also converted during the war as armored versions carrying AA FLAK guns (Flakvierling, 37 mm, or the legendary 88 mm Rheinmetall als used as tank hunters), or were converted as nebelwerfer (rocket launching armored vehicles). They were built by Hanomag, Steyr, Mercedes-Benz, Bussing and many other manufacturers until 1945, over 20,000 half-tracks.
---
Cold War