VW Kübelwagen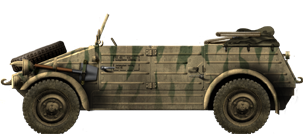 Germany (1940) Utility Car - 50,435 built
The "Bucket Car"
Probably one of the most famous ww2 German vehicle, it was the axis equivalent of the "
Jeep
", although the production (over 50,000) which ended in 1945 was much less than its famous allied counterpart (over 650,000)... It was nevertheless the brainchild of genius engineer Ferdinand Porsche and was apparently named after its bucket seats ("Kübelsitzwagen" later contracted) rather than the open space of the vehicle which entire strength was in the chassis. Simple, reliable, rugged, with good cross-country performances, cheap and tailored for mass-production the Volkswagen Type 86 was everything needed for a versatile standard liaison/staff/recce/utility vehicle of the Wehrmacht.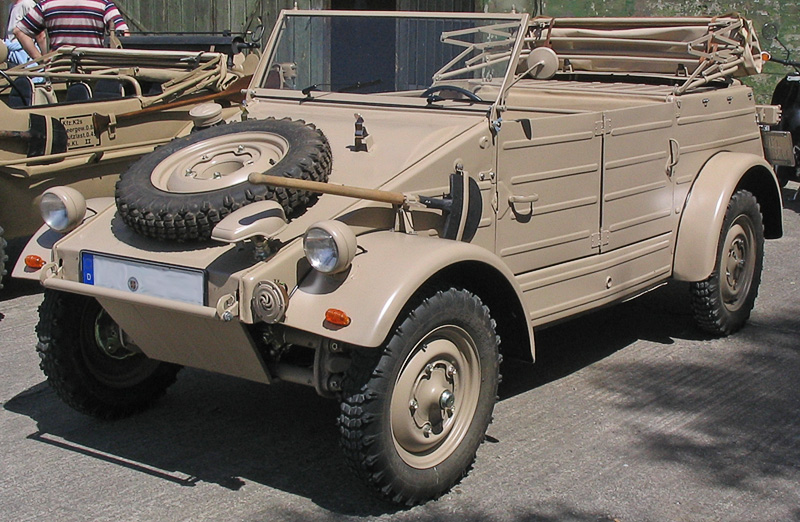 VW Kübelwagen in North African livery, Afrika Korps
Kübelwagens were present in every single unit of the German Army and served on all fronts to the last day of the war and beyond. Thousands found their way on the civilian market, many were converted to other duties, and others ended in museums and made the delight of private owners around the world. Their long postwar life was helped by the solid fanbase of the VW Beetle which shared many parts with it. This vehicle was not armored, not armed by default, so it has no place in the regular encyclopedia.
From the Beetle to the Bucket Car
The very name of the factory created by order of Hitler under the direction of Ferdinand Porsche "Volks Wagen" meaning "people's car" was a reflection of the ambition of the party to double the first autobahn with the first true popular, affordable mass-produced cars in Germany. However, if the chassis and engine for rail, industrial or agricultural hopper cars were ready in 1933, it was in april 1934 that Porsche discussed with Hitler of the possibility of a military derived vehicle, but only in 1938 that official specs were laid down by the Waffenamt. It was to be an inexpensive light-weight military transport with good cross-country performances in the most appealing conditions. The Beetle then in development was thought to procure a sturdy basis for the task.
Development: VW Type 62
In February, just a month after the official specs were known, a prototype was ready but not presented. Indeed Ferdinand quickly realized that the original chassis was not enough for the stress of cross-country rides with an engine powerful enough (1000cc) and an overall payload of 950 kg (2,090 lb). So it was decided to have the chassis lightened and strengthened at the same time. He also trusted a known coachbuilder, Trutz, for the bodywork.
The first prototype was the Type 62, developed until November 1938 for trials. As planned, despite lacking a proper 4x4 drive the vehicles showed in field tests that it was still lightweight enough to handle rough terrain, well helped by the ZF self-locking differential. It was even not inferior in performances than some true 4x4 German vehicles at that time, so the development was sanctioned to be concluded.
The development still was on throughout 1939, focusing on the angular body design, equipment and fittings, engine settings and a first preseries. So much so that the first preseries Type 62s were tested operationally in September during the invasion of Poland, revealing some changes to be made and resulting in the production Type 82.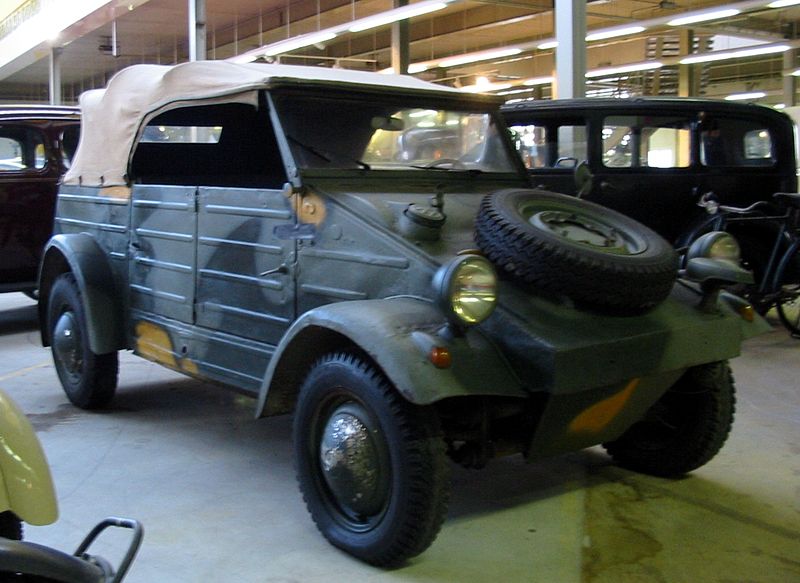 Kübelwagen 25HP 1131 cc engine 1943
The VW Type 82
This first experience shown indeed the vehicle was satisfactory but needed some changes as requested by the military: The lowest speed had to be reduced from 8 km/h (5.0 mph) to 4 km/h (2.5 mph) (infantry pace). Off-road performances had to be improved by mounting new axles with gear-reduction hubs, providing more torque and more ground-clearance. Dampers were modified with larger 41 cm (16 in) wheels, and a limited slip differential.
Many other modifications were taken in account, resulting in a brand new model, renamed Type 82. Thanks to this the vehicle now corresponded to the Army's requests, production was setup and started in February 1940, so that thousands of Kübelwagens would be distributed to the divisions, ready for the Western campaign in May. Development did not stopped there however, as 36 variants were developed until 1945.
Design
The "bucket car" is really the simplicity itself. With a two-wheel-drive configuration so successful to cope with snow, ice and mud (to some extent), the vehicle surprised even those in charge of the development. In some test, it showed even superior handling characteristics than some 4x4s. This was due to a combination of a lightweight chassis and smooth, flat underbody which "surfed" on soft surfaces just like a motorized sled, allowing it to follow tracked vehicles without much trouble.
It was propelled by a rear-mounted air-cooled flat-4, 985 cc (23.5 bhp (17.5 kW))/1,131 cc (25 bhp (19 kW)), linked to a 4-speed manual transmission with a self-locking differential. With its air-cooled configuration, it was dispensed a radiator and therefore proved less sensitive to bullets, while being also highly tolerant of climates extremes. For starting in winter, a volatile fuel was required, stored in a small auxiliary fuel tank.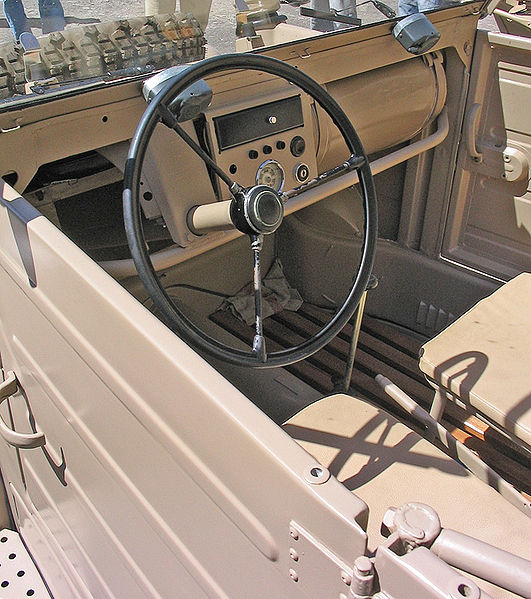 Interior detail
Top speed was about 80 kph on flat, 20-30 kph on average on rough terrain. The wheelbase was only 2.40 m and weight 715 kg (1,576 lb) (GVW 1,160 kg fully loaded) but it had almost a 30 cm ground clearance thanks to the adoption of a portal gear hub reduction, which provided more torque at the same time. It had a basic 4-door utility roadster body layout. Since the body was not a load-bearing part of the structure, the chassis could receive a great deal of configurations and modifications for all purposes. All wheels had independent suspensions.
The first of these vehicles captured by the allies in November 1943 in North Africa were tested and evaluated by an US War Department Technical team and a British Humber Car Company engineers team, which both were rather dismissive to the model, the first pointing out only that it was "inferior in every way" to the Jeep but for seats accommodation, whereas the seconds were too unfavourable and dismissive. Apart mobility what more could bring this little bug? Not really protection. Basically the vehicle was wide open to schrapnells projections, and the steel sheets used were just not thick enough to repel bullets.
On the armament side, there were a few custom modifications to install a Maschinengewehr 34 on the front hood for the co-driver to fire when the windshield was down, or in an AA mount at the rear. The only serious attempt, the Type 82/3, remained at the mockup stage. Any armour would have seriously hampered the mobility anyway.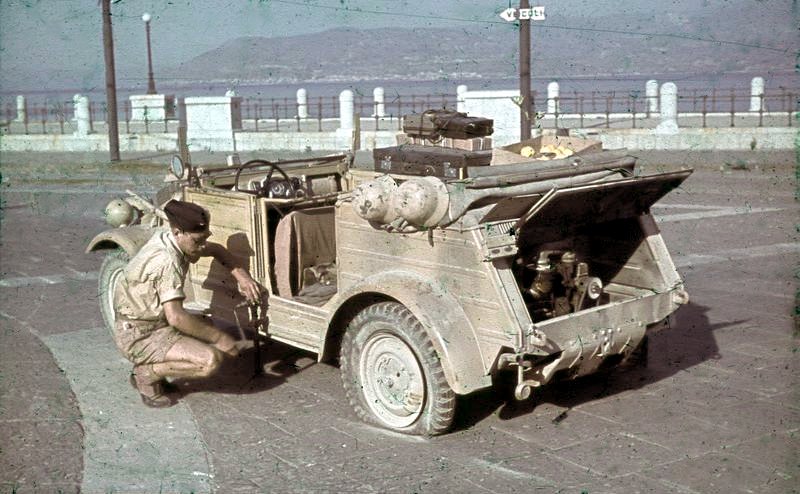 Bundesarchiv VW Kübelwagen inspected by British troops in Sicily 1943
Production
Mass-production started in February 1940, literally at the opening of the VW factories (known as Wolfsburg after the war), while the bodywork was produced by Ambi Budd Presswerke in Berlin. The design ws such a success that no major changes was required until it ended in 1945. The few minor modifications were aimed at simplifying the design (unnecessary parts) or strengthening some.
The more complicated Type 62 Prototypes had four-wheel-drive and different engines, but since performances or capability does not proved better than the Type 82 they never left the prospects stage. In March 1943 however, a bigger 1,131 cc engine was adopted, which was initially developed for the
Schwimmwagen
(the amphibious equivalent of the Kübelwagen), which produced more torque and power. After VW closed its doors for years following the defeat of the IIIrd Reich, it had delivered 50,435 Kübelwagen vehicles, which proven itself useful, reliable, and durable and were also recycled for some in the world-beating Beetle in postwar years. Souvenirs of the vehicle were such that VW even resurrected the basic Kübelwagen in 1969 as the Type 181.
It was developed for the German Federal Armed Forces but also for the civilian market. Distributed in the US it was nicknamed the "Thing" in the US, "Trekker" in the UK, and "Safari" in Mexico. Despite their appearance, however, parts were not interchangeable with the Type 82. These vehicles were well used also in the movie industry related to ww2 and of course makes the delight of reenacters.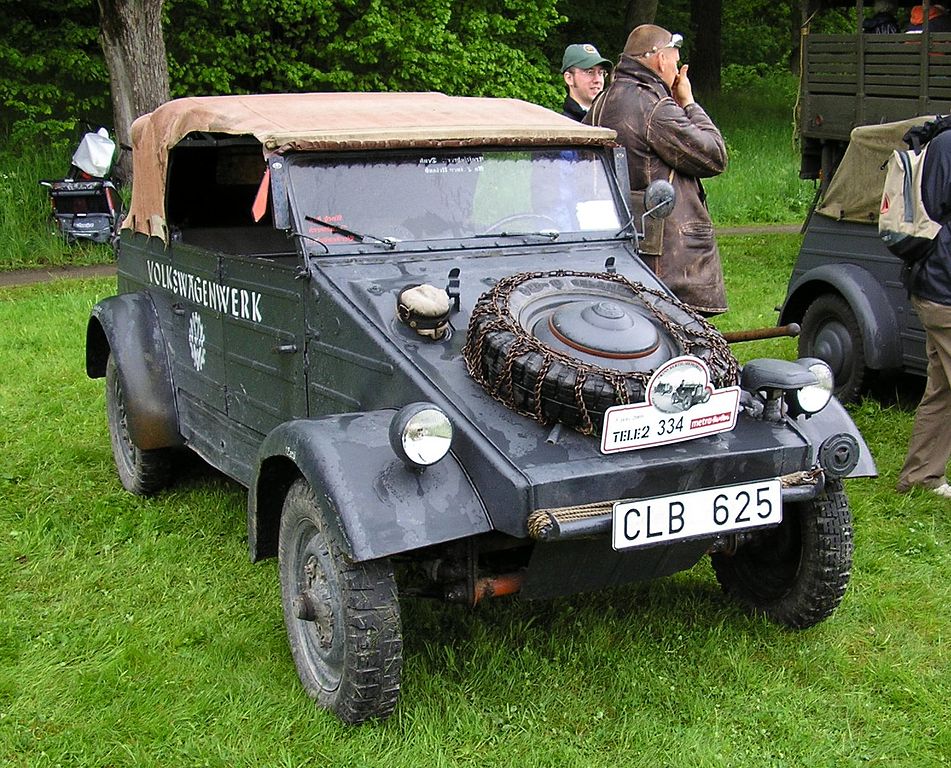 Modern VW Type 82 in a reenacment
Variants
Type 67:
2-stretcher ambulance (Type 60 chassis + mod Type 82 body)
Type 82/I:
Three-seat radio car
Type 82/2:
Sirencar (Siemens siren mounted on passenger side in place of the rear seat)
Type 82/3:
Mock-up armoured and armed vehicle/command car
Type 82/5:
Type 82 chassis with Type 60 LO Lieferwagen open pickup body
Type 82/6:
Tropicalized boxy version, sedan-body van
Type 82/7:
Three-seat Command car (Beetle body, roll-up canvas roof)
Type 82/8:
Open body made of wood (production test)
Type 82/E:
Beetle body (only 688 manufactured)
Type 86:
4x4 drive prototype (6 fabricated for tests)
Type 87:
4×4 Kübelwagen with Beetle command car body. (667 produced)
Type 89:
Experimental automatic transmission
Type 98:
Beetle cabriolet body, 4×4 drive train
Type 106:
Experimental transmission
Type 107:
Experimental turbocharger
Type 115:
Fitted with a supercharger
Type 126:
Fully synchronized gearbox
Type 155/1:
Half-track/snow-track prototype.
Type 157:
Railway kit used for Types 82 and 87
Type 164:
Six-wheeled twin engine dual-control prototype
Type 177:
5-speed transmission
Type 179:
Fuel-injected engine
Type 179-F:
Schwimmwagen pre-prototype
Type 198:
PTO and auxiliary gearbox for starting AFVs engines (in winter ?)
Type 235:
Additional Electric motor
Type 239:
Auxiliary Wod-gas generator mounted on the nose
Type 240:
Auxiliary bottled gas as power source
Type 276:
Towing hook to pull a 37 PAK gun
Type 278:
Synchronized gearbox
Type 307:
Heavy-duty carburetor
Type 309:
Diesel engine prototype
Type 331:
"native fuel system" (acetylene gas) engine prototype
Type 332:
Anthracite coal auxiliary power unit
Operational life
The Kübelwagen was mostly a staff car, and proved extremely versatile, although less than the jeep for heavier equipments. The only armoured and armed experiment never went ahead of the mockup prototype stage. It was used as an ambulance and transport, liaison vehicle and command car. Radios can be fitted in the rear corner (three seats configuration), even a map table or equipment for mounting an HQ. The only limitation of the vehicle was it was not amphibious, so that the Schwimmwagen was defined to bridge the gap. For rainy monthes, the vehicle could receive a kit for a folding frame canvas roof.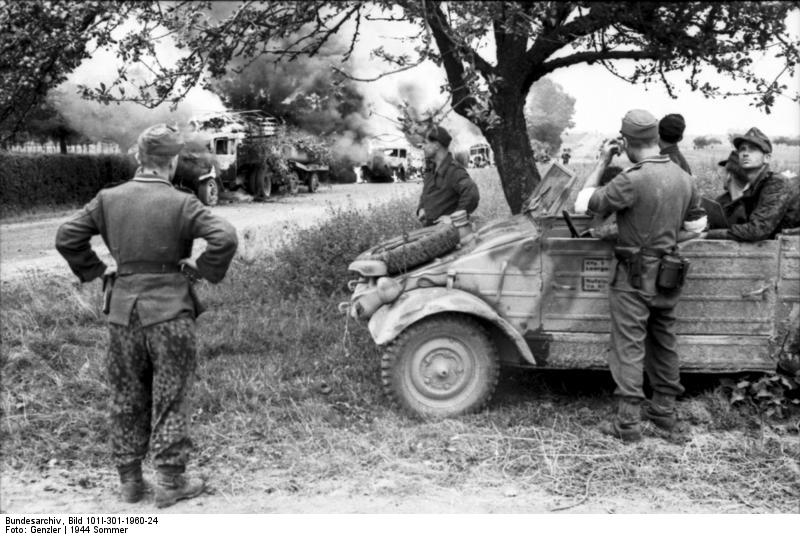 Bundesarchiv Kübelwagen in northern France, summer 1944
As mentioned above, the Kübelwagen was so succesful and produced in such numbers it was everywhere the Wehrmacht was showing up, since march 1940, virtually any front until 1945. The first mass deployment came with the western campaign in may 1940. But it also knew the Afrika Korps odyssey, enduring very hot climates without problems, neither it failed in the winter 1941 before Moskow. It was even capable to "surf" on Russian muddy roads in autumn where most trucks whereas literally sinking, often carrying must needed supplies instead.
Links
The Kübelwagen on wikipedia
Personal website about the VW Type 82
Type 82 Kübelwagen specifications

Dimensions
3.74 x1.60 x1.65 m ( ft)
Total weight, battle ready
0.715 ton
Crew
4 (driver, 3 passengers)
Propulsion
air-cooled flat-4, 985 cc/1,131 cc
Suspension
4x4 independent coil springs
Speed (road)
80 km/h (50 mph)
Range
300 km (180 mi)
Total production
50,435 in 1940-1945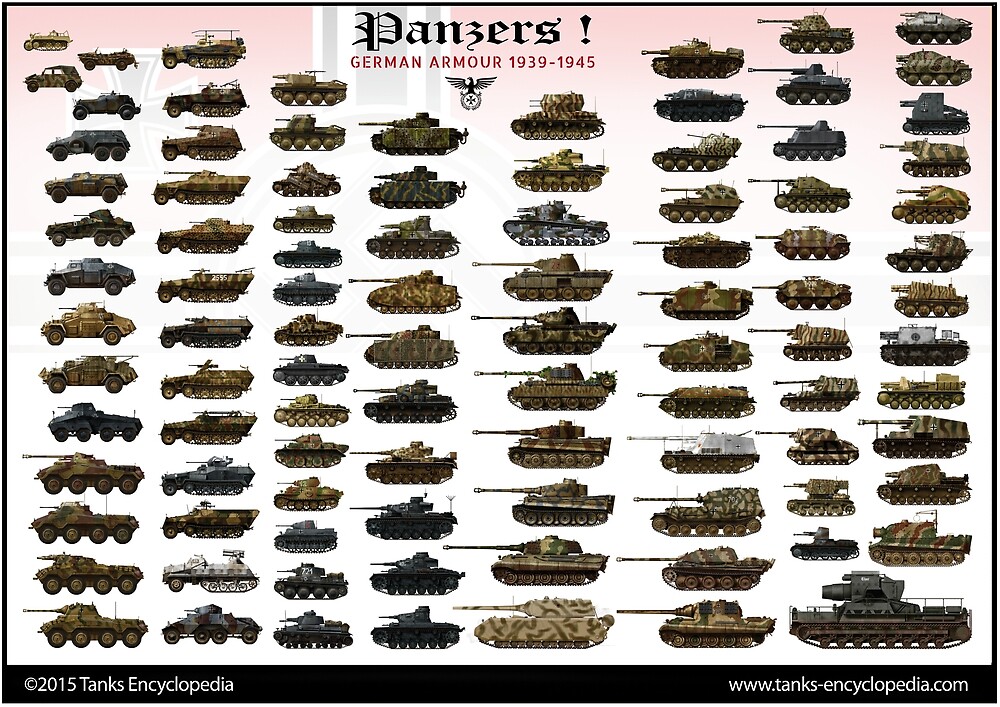 Germans Tanks of ww2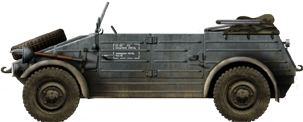 Type 182 in France 1940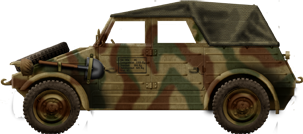 Kübelwagen in Russia 1942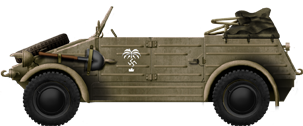 Type 182 in North Africa, Afrika Korps 1941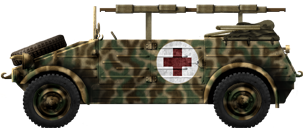 Kubelwagen Ambulance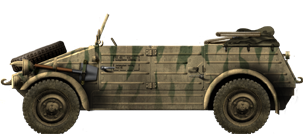 Kübelwagen in Tunisia 1943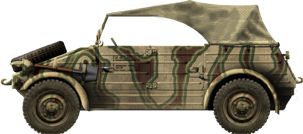 Kübelwagen in Russia 1943

Camouflaged Kübelwagen Normandy summer 1944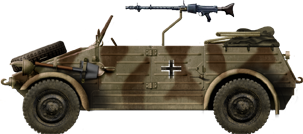 Kübelwagen with MG.34 mount, 1944
Gallery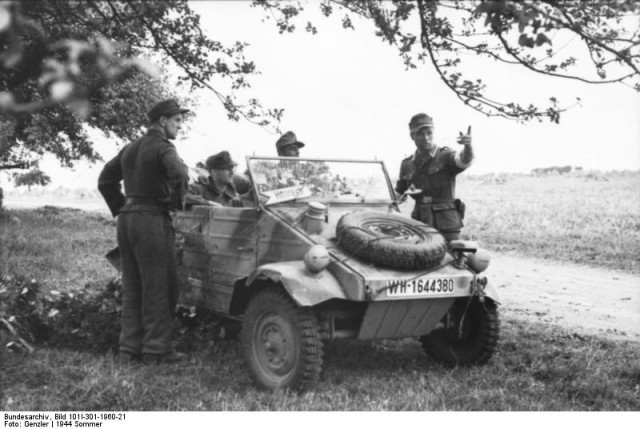 Bundesarchiv Kübelwagen in Northern France summer 1944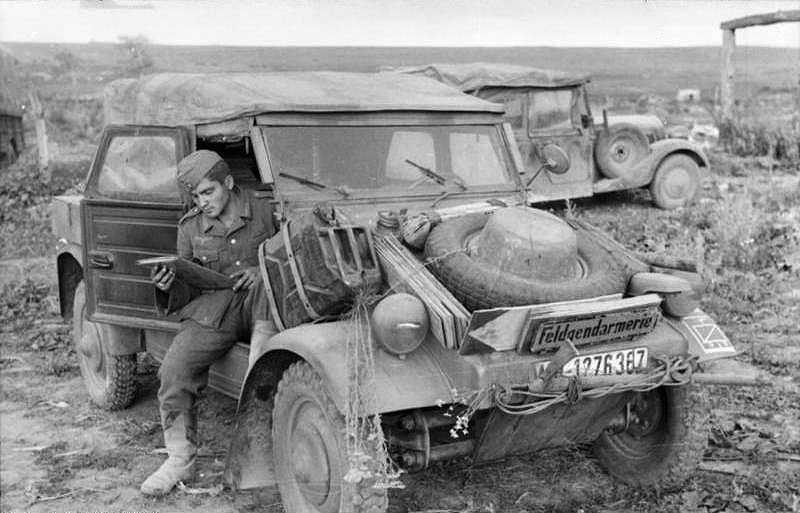 VW Kübelwagen of the Feldgendarmerie, Operation Zitadelle Russia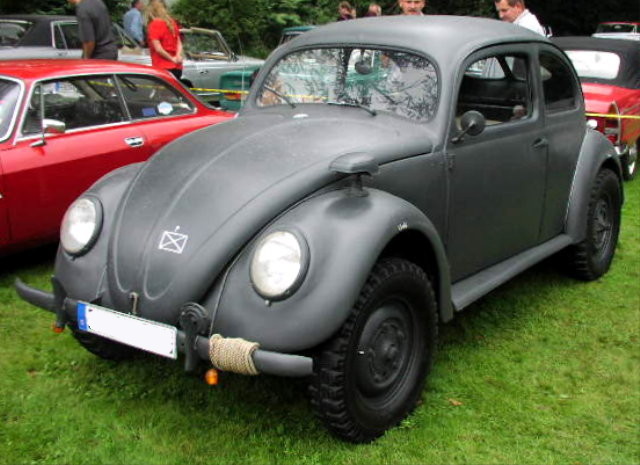 MHV VW Kaefer Type 82E, Beetle based on the Kübelwagen chassis.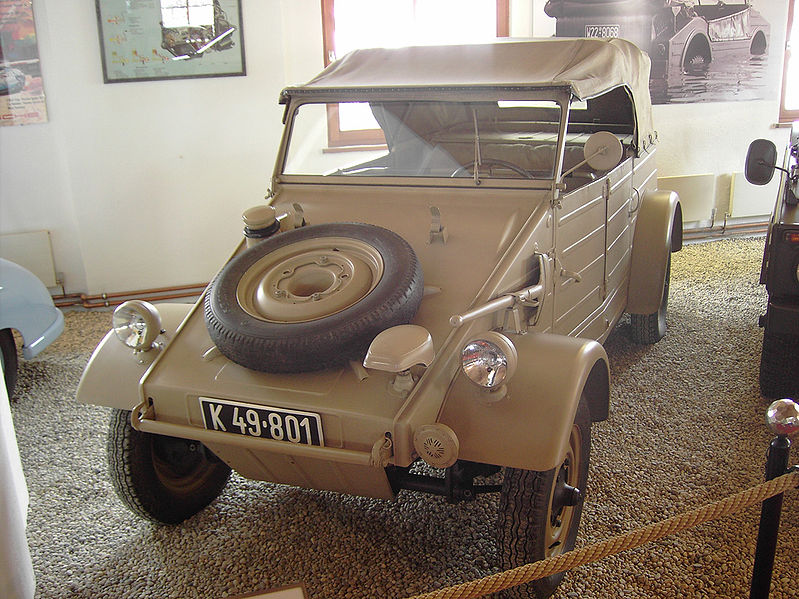 Kübelwagen at the Gmund Museum Austria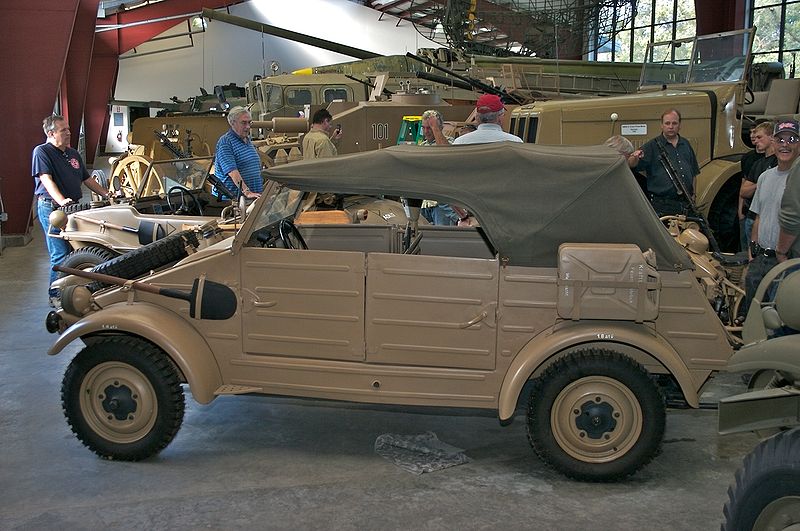 Kübelwagen of the Africa Korps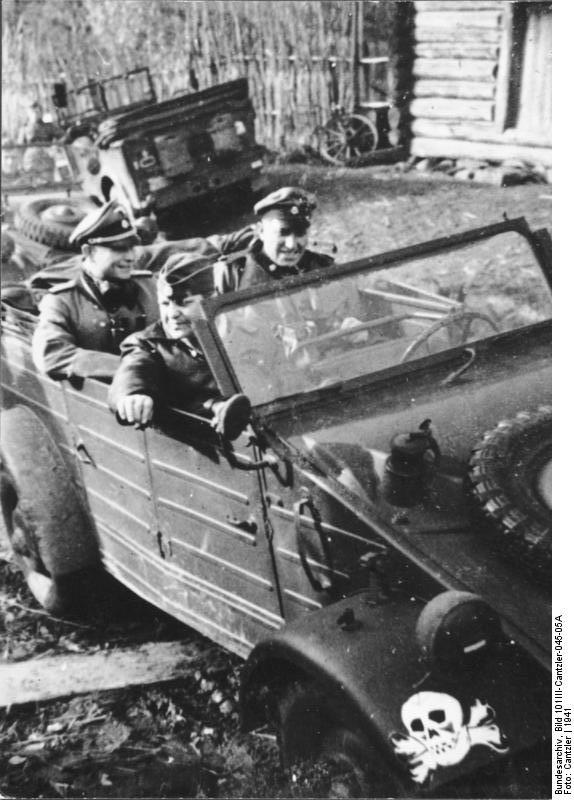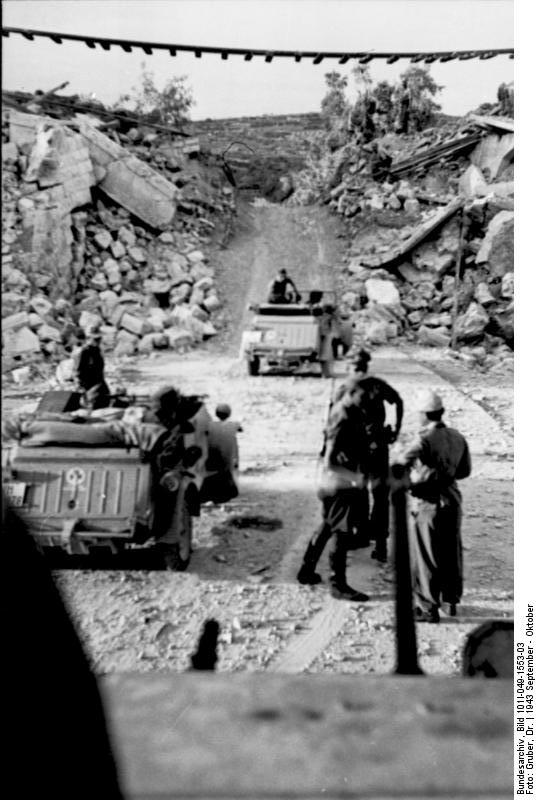 WW1 Vehicles

British Vehicles
FR: Berliet CBA, Berliet Type M, Châtillon-Panhard, Latil TAR, Panhard-Genty 24 HP, Renault EG
Allied ww2 Vehicles

British Vehicles
-AEC Armoured Command Vehicle (415)
-AEC Matador
-Albion CX22S
-Albion FT15N
-Albion WD.CX24
-Austin K2/Y Ambulance
-Austin K3
-Austin K4
-Austin K4 Dropside
-Austin K5
-Austin K6 GS
-Austin K6 Gantry
-Bedford MW
-Bedford OXA Armoured
-Bedford OXC Semi-trailer
-Bedford OXD GS
-Bedford OYC Tanker
-Bedford OYD GS
-Bedford QL series (QLD, QLR/QLC QLT TC)
-CMP FAT
-CMP Truck
-Commer Q2
-Crossley Q-Type
-Diamond T tank transporter
-Guy Quad-Ant FAT
-Guy Lizard ACV
-Humber FWD
-Karrier KT4
-Karrier K6
-Leyland Hippo Mk I/II
-Leyland Lynx
-Leyland Retriever
-Mack EXBX
-Morris 15cwt
-Morris CDSW
-Morris ML Ambulance
-Morris C8 GS/FAT
-Morris Commercial CD series
-Morris Commercial CS8
-Morris C9
-Morris GS Terrapin
-Morris PU
-Scammell Pioneer SV1S/SV2S
-Thornycroft Hathi (1924)
-Thornycroft Nubian
-Thornycroft Tartar

French Vehicles
-Berliet DGRA
-Berliet GDC
-Berliet GDM
-Berliet VDCA
-Berliet 30
-Bernard fuel carrier
-Citroën Kégresse P14
.
-Citroën Kégresse P17
-Citroën Kégresse P19
-Citroën Type 23
-Citroën 32U
-Citroën T45
-ELMAG
-Fiat France 38R
-Ford France
-Hotchkiss PKW Type 680
-Hotchkiss 686
-Hotchkiss 686 PNA
-Isobloc W843M medical bus
-Laffly S15R
-Laffly S15T
-Laffly V15T
-Laffly V15R
-Laffly 20TL
-Latil TAR H2
-Latil M2Tl6
-Matford F917
-Panhard K113
-Panhard K113
-Peugeot 202
-Peugeot 402
-Peugeot DMA
-Peugeot DK
-Peugeot DK5
-Renault AHS
-Renault AHN
-Renault AHR
-Renault AGC
-Renault ADK
-Renault ADH
-Renault AHSs
-Saurer type 3CT
-Simca 5 staff car
-Simca 8 staff car
-Somua MCL
-Somua MCG
-Talbot staff car
-Unic TU1
-Unic P107
-Trippel SG6
-Willeme DU10

Soviet Trucks
-BZ-38
-GAZ AA M1927 M1932 M1941
-GAZ–MM
-GAZ AAA M1937
-GAZ AAA M1940
-GAZ-60
-GAZ-65
-Ford Marmon HH6 Katiusha
-SU-1-12
-SU-4
-SU C-6
-SU-12
-Yag-6
-Yag-10
-Yag-10 SPG
-ZIS-5/V/BZ
-ZIS-6
-ZIS-12
-ZIS-22M HT
-ZIS-33 HT
-ZIS 41 HT
-ZIS 42M HT
-FN-Kégresse T3
Soviet staff cars
-GAZ A
-GAZ M1 "Emka"
-GAZ 11-73
-GAZ 61-73
-GAZ 67
Amphibious armoured cars
-PB-4
-PB-7
-BAD-2

US Trucks
-Ford B3000 S
-Ford V3000S
-Ford V3000A,
-Ford BB
-Ford V8-51
-Ford m1931
-Ford V8 M1937
-T1E1(M1) half-track
-T5 half-track
-T7 half-track
-T9 half-track
-G8T 2-1/2 ton 4x2 Truck
-International B2
-International model 1937
-Chevrolet m1931
-Chevrolet m1936
-Chevrolet G-506 ​1 1⁄2-ton 4x4
-Chevrolet G-7107 4-1/2 ton 4x4
-Chevrolet 3116 1-1/2 ton 4x2
-Studebaker US6x4 U7
-Studebaker US6x4 U-6
-Studebaker US6x6 U-5 6x4
-Studebaker US6 U4 bz35S 2-1/2 ton 6x6 truck
-Dodge 1⁄2-ton Ambulance
-Dodge 1⁄2-ton Carry-all
-Dodge 1⁄2-ton (Radio) Command Reconnaissance
-Dodge 1⁄2-ton Truck, Closed Cab
-Dodge 1⁄2-ton Truck, Open Cab
-Dodge 1⁄2-ton (Radio) Panel Van
-Dodge 1⁄2-ton Telephone Service (K50)
-Dodge 1⁄2-ton Trucks, Emergency Repair
-Dodge WC-51/52 (3⁄4-ton Trucks, Weapons Carrier)
-Dodge WC-53 (3⁄4-ton Carryall)
-Dodge WC-54/64 (3⁄4-ton Ambulance)
-Dodge WC-55 (3⁄4-ton Truck, M6 Gun Motor Carriage)
-Dodge WC-56/57/58 (3⁄4-ton (Radio) Command Reconnaissance)
-Dodge WC-62/43 (G-507, 11⁄2-ton, 6x6 truck)
-Dodge M6 GMC
-GMC CCKW Cargo Truck
-GMC CCKW CCKW-353
-GMC SWB CCKW-352
-GMC 1939 ACKWX 353 3 ton 6x6 truck
-GMC AFWX-353 3 ton 6x4 truck
-GMC DUKW 353 2-1/2 ton 6x6 truck
-GMC C.O.E. AFKWX
-Diamond T Model 980/981 12-ton 6x4 trucks (G159)
-Diamond T Model 968 4-ton 6x6 truck (G509)
-Diamond T Model 967
-Diamond T Model 970
-Diamond T Model 972
-Diamond M26 Dragon Wagon
-Diamond M19 Tank Transporter
-Diamond T Model 980
-Diamond T 4-ton 6x6 truck
-Autocar U8144T 5/6-ton 4x4 truck
-Brockway/LaFrance 6-ton 6x6 truck, G512, 514, 547, 569
-White/Corbitt 6 ton 6x6 Prime Mover
-Brockway
-Corbitt
-Ward LaFrance
-Four Wheel Drive Auto Company (FWD) SU-COE 5-6 ton 4x4
-White Motor Company
-Inl KR-11 5 ton 4x2 dump truck
-Inl M5-6 318 2-1/2 ton 6x6 swb
-Mack NR15 10-ton 6x4
-Reo 28 XS 10-ton 6x4

Small truck/car & Misc.
Bantam Reconnaissance Car
Ford GTB
6x6 Willys 'MT-TUG' ("Super-Jeep")
-Willys MB light truck
-Ford GPA ("Seep")
Buick Century Series 60
1941 Plymouth P11 Staff Car
Ford Fordor 1942 Staff Car
Harley-Davidson WLA motorcycle
---
Axis Trucks

Purchase this pagemarker and support the site !
Sd.Kfz 2, 6, 7, 8, 9, 10 and 11 were half-tracks designed just before the war as prime movers, to carry supplies, ammunition, personal, and tow artillery. Many were also converted during the war as armored versions carrying AA FLAK guns (Flakvierling, 37 mm, or the legendary 88 mm Rheinmetall als used as tank hunters), or were converted as nebelwerfer (rocket launching armored vehicles). They were built by Hanomag, Steyr, Mercedes-Benz, Bussing and many other manufacturers until 1945, over 20,000 half-tracks.

German Military trucks
-Opel Blitz
-Opel Maultier
-Mercedes-Benz L3000
-Magirus A3000
-Krupp Protze Kfz.19
-Krupp Protze Kfz.21
-Krupp Protze Kfz.68
-Krupp Protze Kfz.69
-Krupp Protze Kfz.70
-Krupp Protze Kfz.81
-Krupp Protze Kfz.21
-Krupp Protze Kfz.83
-Borgward B 3000
-Skoda Rad Schlepper
-Ost RSO Porsche 175
-Steyr Type 2000A
-Einheits Lkw Kfz.62
-Krupp LKW L3
-Bussing-Nag 4500
-Opel Blitz Omnibus
-Bussing-Nag L
-Mercedes-Benz L1500
-Beute Studebaker
-Krupp L3H
-Hanomag SS-100
-Beute Ford B3000 S, V3000S, V3000A
-Beute Ford model BB
-Beute Ford model V8-51
-Beute Tatra 111

German Staff Cars
-Horch 81
-Horch 108
-
VW 182 Kübelwagen
-
VW Schwimmwagen
-
Sd.Kfz.2 Kettenkrad

Italian Military trucks
L. Trucks (Autocarro Leggere)
-Breda-32
-Breda-40
-Breda-41
-ОМ-32 Autocarretta da Montagna
-ОМ-36DM
-Camioneta SPA TL.37
-Camioneta AS.43
-SPA CL39
-SPA ТМ40
-Fiat 618
Med. Trucks (Autocarro Medio)
-Alfa Romeo 430RE
-Alfa Romeo 800RE
-Breda Dovunque-41
-Bianchi Miles
-Ceirano-50СМ
-FIAT-626 NM
-Isotta Fraschini D65
-Isotta Fraschini D80
-SPA Dovunque-35
-SPA Dovunque-41
-SPA AS.37
-SPA-38R
-Autocarro Dovunque SPA 41/42
H. Trucks (Autocarro Gigante)
-FIAT-633NM
-FIAT-634N
-FIAT-666
-Fiat 661
-Lancia Ro
-Lancia 3Ro
-Lancia EsaRo
-ОМ Taurus
-ОМ Titano
-Autocarreta Mod.35
-Autocarri Unificati Ursus

Artillery tractors
-Breda 51
-Breda 52
-Breda 61 (licenced SdKfz-7)
-Fiat-SPA T.L.37
-Pavesi Р4.31 (L140)
-Fiat 727 - half-track artillery tractor
-SPA TM40 - wheeled artillery tractor

Staff Cars
-Alfa Romeo 6С2500 Coloniale
-Fiat 508M/CM Ballila
-Fiat 1100 (1937) (Balilla-1100 Coloniale)
-Lancia Aprilia Coloniale
-Bianchi VM 6C
-Fiat 2800 CMC

Motorcycles
-Benelli 500 M36/VLM
-Bianchi Supermil 500
-Gilera 500 LTE
-Moto Guzzi Alce/Trialce
-Volugrafo Aermoto 125

IJN ww2 vehicles
-Toyota 4x4 Su-Ki (Amphibious truck)
-
Isuzu Type 94 truck
-Type 94 6-Wheeled Truck
-Type 95 Mini-truck
-Type 97 4-Wheeled Truck
-Type 1 6-Wheeled Truck
-Type 2 Heavy Truck
-Toyota KB/KC Truck
-Nissan 80 Truck
-Nissan 180 Truck
-Amphibious Truck "Su-Ki"

Tractors
-Type 92 5 t Prime Mover "I-Ke"
-Type 98 6 t Prime Mover "Ro-Ke"
-Type 92 8 t Prime Mover "Ni-Ku"
-Type 95 13 t Prime Mover "Ho-Fu"
-Type 94 4 t Prime Mover "Yo-Ke"
-Type 98 4 t Prime Mover "Shi-Ke"
-Type 96 AA Gun Prime Mover
-Type 98 20 mm AA Machine Cannon Carrier
-Type 98 Half-tracked Prime Mover "Ko-Hi"
-Type 98 20 mm AA Half-Track Vehicle
-Experimental Heavy Gun Tractor Chi-Ke
-Experimental Crawler Truck
-T G Experimental Crawler Truck
-Fordson Prime Mover
-Pavessi Gun Tractor
-50 hp Gun Tractor
-Komatsu 3 ton Tractor
-Light Prime Mover
-Clarton Prime Mover
-Holt 30

Staff cars
-Toyota AA/AB/AC
-Type 93 6/4-Wheeled Passenger Car
-Type 95 Passenger Car "Kurogane"
-Type 98 Passenger Car
-Model 97 Nissan Staff Car, Nissan 70

Motorcycles
-Rikuo Motorcycle
-Rikuo Type 97 Motorcycle
-Rikuo Type 93 side car

Misc.
-Type 94 Ambulance
-Type 94 Repair Vehicle
---
Cold War
(Section pending completion)