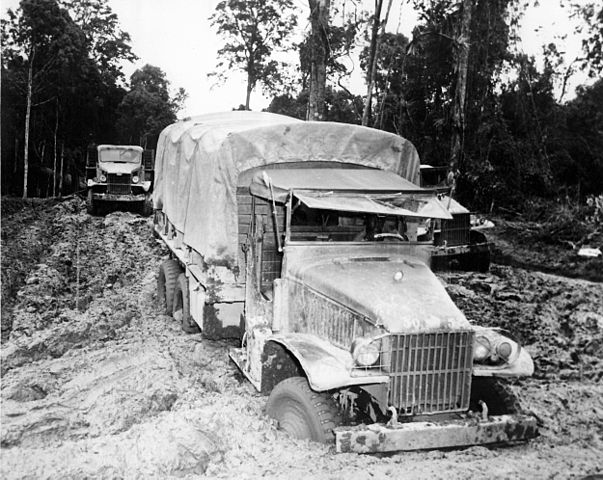 GMC 353 of the red ball express in the mud. The beast of burden of the US Army and the supply line that liberated Europe.
Origin & development
In 1939-1940 the US Army Ordnance Corps worked on a standard design, for a medium truck of the ​2 1/2-ton class (2,268 kg). It was a 6×6 tactical truck intended to operate off-road and in all weather. General Motors was already supplying the 1939 4x4 ACKWX initially ordered by the French Army and proposed its modified, englarged CCKW. This new General Motors design was chosen by the Army. The first vehicles rolled off the line in early 1941, so many were available already when the US went at war in december.
2.4 million trucks were purchased and used in overall total by the U.S. Army until orders stopped by December 1945. Of these, 812,000 or about one third of the total were the ​2-1/2-ton truck, quite an achivement for a single model, hence why it became the "beast fof burden" of the US Army. General Motors total production for the CCKW and all its variants (like the amphibian DUKW) reached 572,500 units total, 1/4 of the total truck production. Therefore total production approached the mighty jeep. Still, 150,000 units were of the 1⁄2-ton, 4x4 Chevrolet G506, built in the same factory.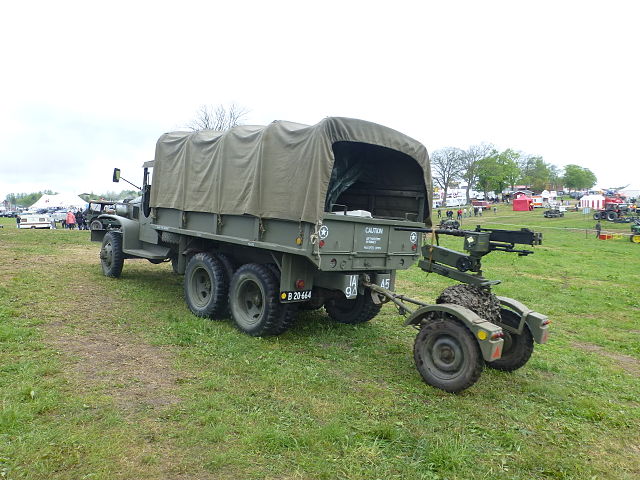 The CCKW came in many variants, including open or closed cab, long wheelbase (LWB) CCKW-353 and short (SWB) CCKW-352, and over a score of specialized models, but the bulk were standard, general purpose, cargo models. A large minority were built with a front mounted winch, and one in four of the cabs had a machine-gun mounting ring above the co-driver's position. It was unarmed, except for about 1/4 of the production: A ring-mounted machine gun, commonly the cal.50 M1920 "Ma Deuce" or the less common M1919A4. Of course the drivers were armed with their own service pistol and often M1 carbines. Their vehicles of course were unarmoured as they were not expected to ecounter any resistance, going from depot areas near the coast to the frontline.
Design
The GMC CCKW began to be phased out, once the M35 series trucks were first deployed in the 1950s, but remained in active U.S. service until the mid-1960s. Eventually, the M35 series, originally developed by REO Motors, succeeded the CCKW as the U.S. Army's standard ​2 1⁄2-ton, 6x6 cargo truck.
Engine
The CCKW conception rested on the GMC 270 engine. It was an overhead valve inline six cyclinder, rated for 91.5 hp (68.2 kW), but also 104 hp (78 kW) at 2750rpm on its variant. It was capable of 216 pound-feet (293 N⋅m) of torque at 1400rpm. The cylinders had a 25/32 in (96 mm) bore for 4 in (102 mm) stroke for a total of 269.5 cu in (4.4 L) of displacement. It ran on gasoline and was designed for commercial trucks, not on military grade specs, but nevertheless, it proved reliable in service.
It was coupled with a Warner T93 5-speed transmission and its gearbox counted a 4th gear and had an overdrive 5th gear. The transfer case comprised high and low gears engaging the front axle of a classic way. As designed, these axles were of the Timken split type. But as production went on, the GM "banjo" type was used on most models.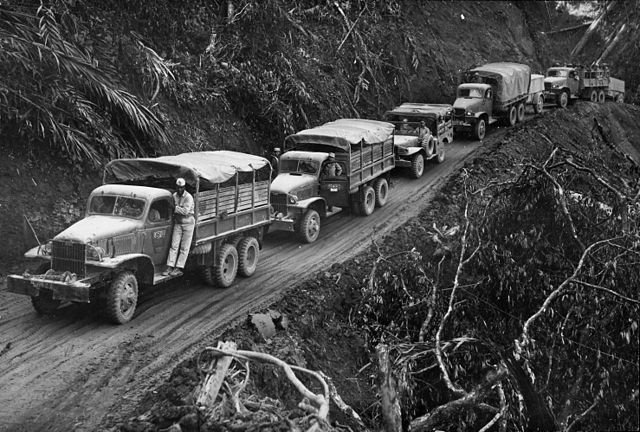 GMC-353 on the Ledo supply road, now Burma in 1945 (NARA)
Chassis and construction
The HMC-353 had a chassis of the classic ladder frame type. It had three driven beam axles. The front axe was suspended by leaf springs, the rear tandem also by leaf springs but with locating arms. The chassos came in two wheelbases:
-"short" Model 352 which had a 145 in (368 cm) wheelbase* so a limited cargo bed, just to carry ammunitions and towing the 75 mm or 105 mm howitzers.
-"Long" Model 353. It had a 164 in (417 cm) wheelbase. This was the standard cargo truck, not a prime mover, the most produced.
*Measurements are from the centerline of the front axle to the centerline of rear bogie
The eight roadwheels had tires were 7.50-20, four paired ones at the back, and two simple ones at the front for steering. They were fitted with hydraulic brakes using vacuum. The only proper military grades equipments fitted were some tooling, blakout driving lights, army towing hook, foldable banks for the troop carrier, plus supports for armament in some versions. But the most characteristic was a 10,000 lb (4,500 kg) front-mounted winch with 300 pounds (140 kg) of traction, 14 inches (36 cm) wide. Some vehicles also had an open cab chassis, developed in early 1944, and armed with a potent heavy machine gun. There was also a special variant cut in half behind the cab for air transport and each half was a load. When landed, these halves were bolted together. The standard cargo version had a rear utility bed originally entirely built in steel. However due to strategic material management steel was rationed, and all-wooden beds were manufactured, which were highly unastisfactory. Therefore a "composite", with the base and framing in steel and wooden sides was manufactured, but it still was not satisfactory and at the end of the war, as steel rationing was lifted, it was made in steel again. These standard cargo models had beds with fixed sides, drop tailgate, and folding troop seats which allowed the vehicles to be quickly adapted from troop carrier to cargo carrier.
Variants & production
Production
Total Production of the 2 1⁄2-ton 6×6 Cargo truck CCKW: ~572,500. The GMC nomenclatured defined this acronym according to the following: "C", designed in 1941, "C", conventional cab, "K", all-wheel drive and "W", dual rear axles. Production sites were GM'S Yellow Truck and Coach division's Pontiac, (Michigan) which also produced the 6×4 CCWs. During the war, they were also delivered by the GM's St. Louis, Missouri Chevrolet plant.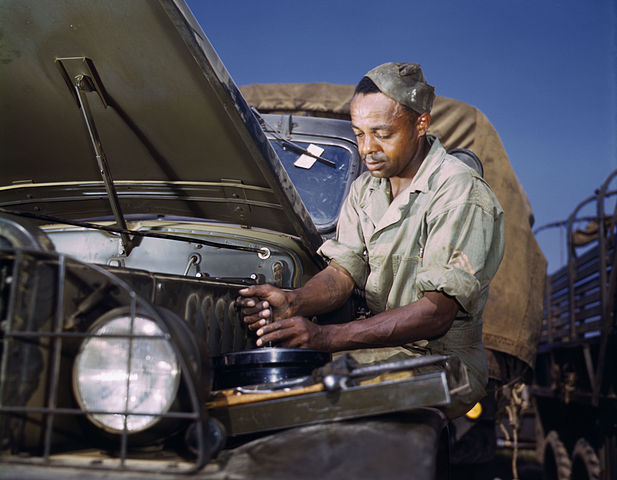 Mechanic at the Fort Knox school
Includes:
CCKW proper: ~518,000
LWB CCKW-353: ~464,000
SWB CCKW-352: ~54,000
non-CCKW variants ~54,500
1939 ACKWX: 2,466 units
C.O.E. AFKWX: 7,235 units
6×4 CCW-353: 23,649 units
DUKW amphib: 21,147 units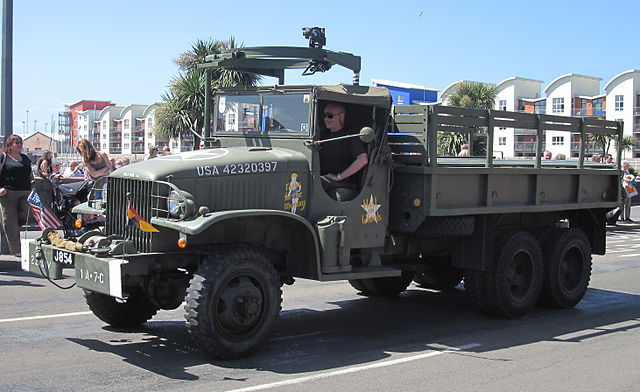 CCKW Open cab variant
CCKW Variants
The main obvious were the long wheelbase (LWB) common truck GMC-353, and the short wheelbase (SWB) GMC-352 prime mover of the US Army.
Initially, both used a modified commercial closed cab design (modified to military grade) with a metal roof and doors, called "close cab". By 1944 a cheaper and simplified open cab version was developed. It used a canvas roof and doors. It also allowed the vehicles to be air-transportable and allowed to pass under low bridges or obstacles and modulate the shipping height. Of fourth of these open cab versions had a machine gun mounting ring, above the co-driver's position. It was armed generally with a M1920 Browning HMG. It was primarly used for AA defense but was found handy in rare encounters with ambusing troops operating in rear lines.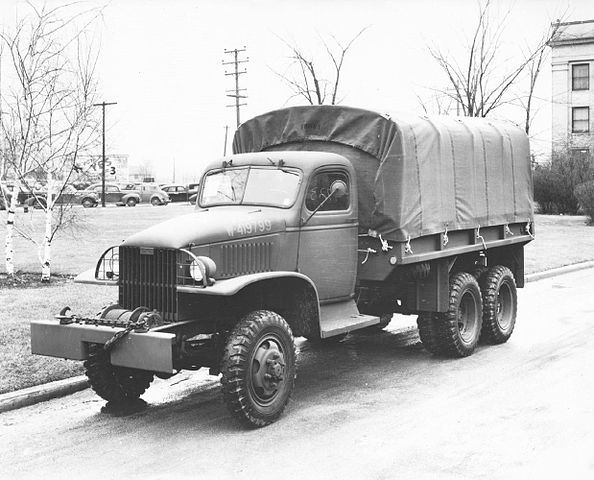 The CCKW rear bed was a utility platform that can be tailored for a wide range of bodies and payloads filling all U.S. Army needs on the field.
CCKW 352 LWB Closed cab
CCKW 353 LWB Open cab (1944)
SWB Closed/Open cab
12 ft (3.7 m) cargo (most common). Open bed with tarpaulin, steel, wooden or composite.
Standard Enclosed Van: Communication, HQ vehicle, Ambulance, field hospital, Workshop, POW transport.
Air compressor
CCKW-353-B2 AA (M45 Maxon Mount)
Bomb service
Chemical decontaminating
Chemical handling
Dental operating van
Dump truck
Fire engine
Fuel & gas tankers (750 US gal (2,800 l))
Fuel & oil handling (660 US gal (2,500 l)), (750 US gal (2,800 l))
High lift
K-53 radio equip. van
K-60 radio equip. van
Map reproduction van
Ordnance maintenance van
Pipeline equipment
Ponton bolster
Semi-trailer tractor[24]
Shop equipment GP repair van
Surgical van
Water purification van
Water tanker (700 US gal (2,600 l))
Welder's truck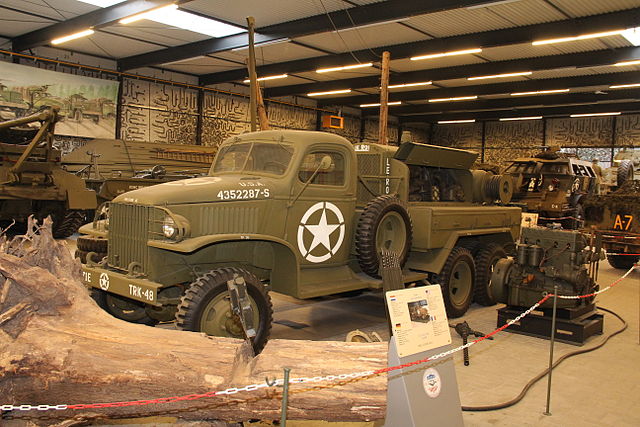 GMC-353 with air compressor unit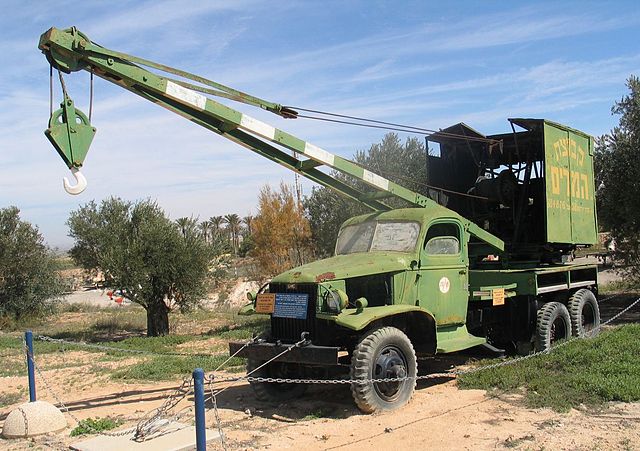 GMC-353 with Crane in hatzerim, Israel
GMC-353D Fuel Truck in 2012, Eurosatory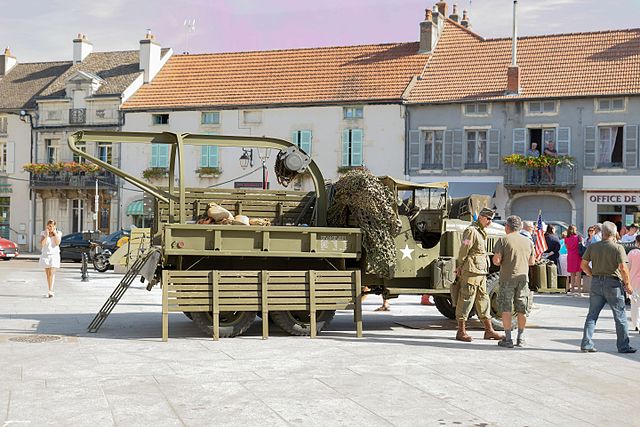 Open cab recovery truck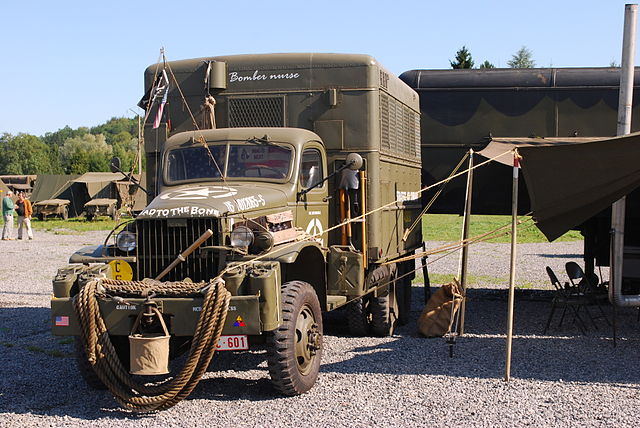 POW Cab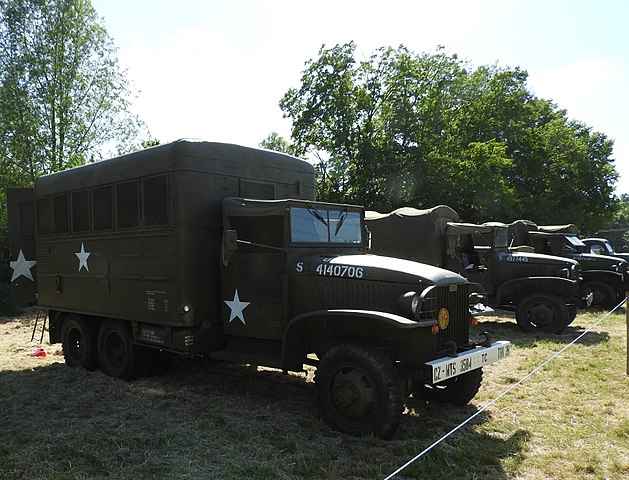 POW Cab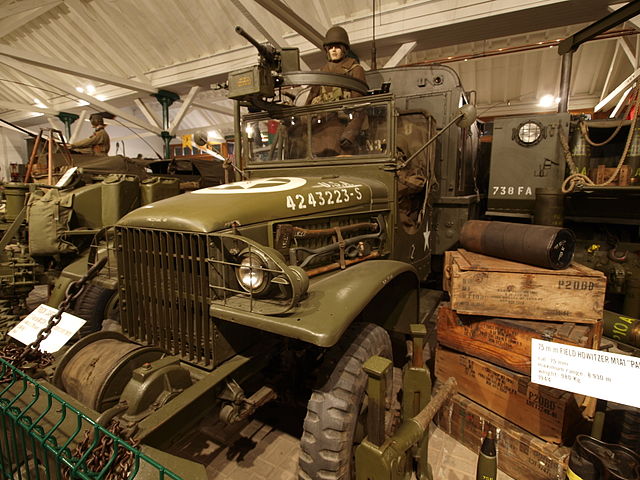 GMC_CCKW-353_communication_shelter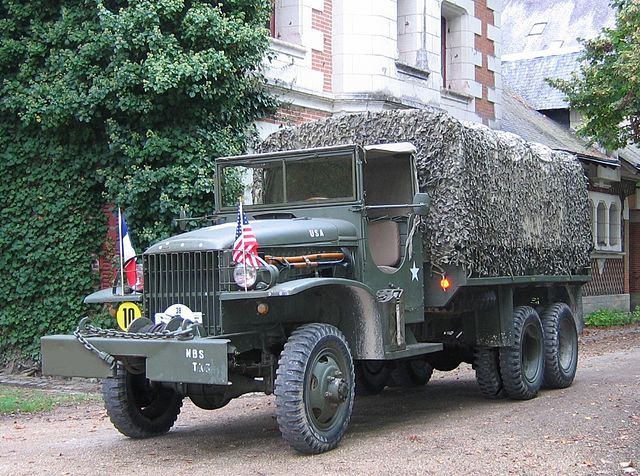 GMC_CCKW-TC-camonet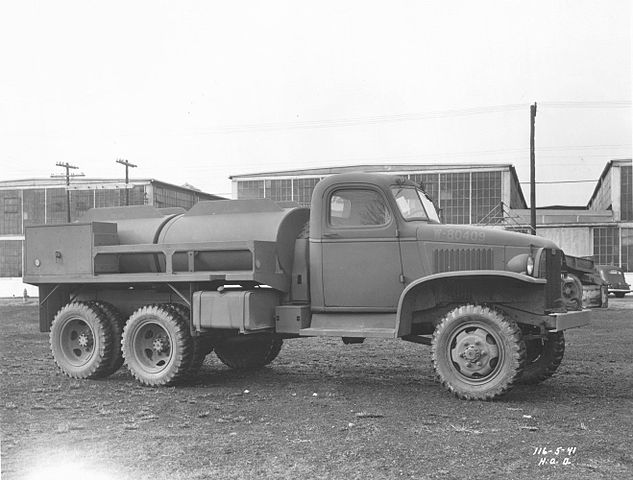 GMC_CCKW_750_Gas_Tanker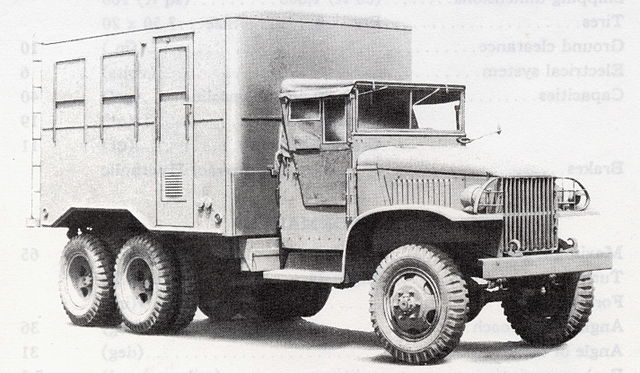 K-53 workshop van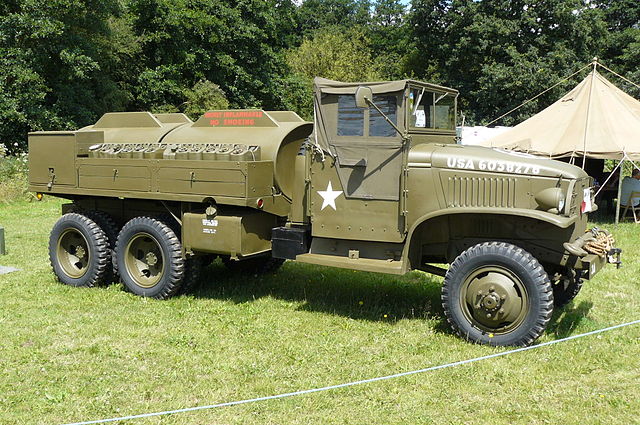 War and Peace GMC fuel truck
Other Variants
These were not based on the standard CCKW and will be (or already had been) treated in separate posts.
ACK-353 (circa 3,500)
The ACK-353 (A for 1939 design, C for conventional cab, K for all wheel drive) was also called the ​1 1⁄2-ton 4×4 truck in ordnance. It was derived from the 6x6 ACKWX, predecessor of the Chevrolet G506. Its equivalents were the Dodge/Fargo T-203 and VF-400 series, an attempt at a lucrative contract for a standard World War II 4x4 cargo trucks in the 1-1⁄2-ton 4×4 category (which Dodge won).
The ACK-353 had the new 1939 GMC 248 engine using an overhead valve, and low-deck inline-six cylinder (3-23/32-inches (94 mm) bore, 3-13/16 inches (97 mm) stroke, 248 cu in (4.1 L) displacement. This engine was rated for 77 brake horsepower (57 kW) and transmission used a four-speed manual gearbox combined with a two-speed transfer-case on front axle for all-wheel drive operations. It used a 157-3/4 inches (401 cm) wheelbase, while the truck itself mreasured 256 in (650 cm) long, 90 in (229 cm) wide, 117 in (297 cm) in height, 89 in (226 cm) with rear top bows folded. Its tires were 7.50-20, front and rear, six in all, doubled on the rear axle. Weight was 7,532 lb (3,416 kg) in working order. Its front hubs were designed to allow the fitting of a dual wheels to deal with snow and mud. It existed in closed cab configuration, fitted with a steel bed GS body, with fixed sides, troop seats. They were designed originally to meet a French contract for ten thousands. The bulk of the production ended in British Army from June 1940, after 2,000 units has been effectively delivered to the French in early 1940, which
were captured by the Wehrmacht
and well appreciated for their reliability and off-road characteristics on the Eastern front.
ACKWX-353 (2,466 made)
The ACKWX acronym stands for (A: 1939 design, C: conventional cab, K: all wheel drive, W: tandem rear axles, X: non-standard chassis). It was a three-ton 6x6 truck and direct predecessor of the the CCKW. It was given the with the same 77 brake horsepower (57 kW) drivetrain as the ACK but it was heavier at 9,856 lb (4,471 kg) of 264 in (6,71 m) long, 94.5 in (2,40 m) wide, and 118 in (3 m) tall or 90 inches (2,29 m) on the cab's roof. It was the "short nose" GMC 6x6 truck. About 1,000 were ordered by France in 1939, but delays in completion and shipping meant like the 4×4 ACK trucks most of the order was diverted to Britain in June-July 1940. The British did not liked them, due to their long wheelbase and underpowered, and they were shipped bia lend-lease to Russia instead after the summer of 1941. In overall, 2,466 ACKWX trucks were delivered, only a few -of any- used by the US Forces and British forces.
AFKWX-353 (7,235 made)
The AFKWX (The "F" stood for forward cab) had a cab over engine configuration, and longer cargo bed than the CCKW. It was developed from 1942 and went into production alongside the regular CCKW at Yellow's Pontiac plant and Chevrolet's St. Louis plant. Mechanically it was the same, but with a compact cabin "over" the engine allowed. This freed aft spave, enough to manage a 15 ft (4.57 m) up to 17 ft (5.18 m) cargo bed. The first 50 produced had closed cabs, but for design simplifaction, all the remainder of the production had open cabs. No front-mounted winch was ever mounted on this version, and mechanics often complained about its engine location for maintenance, which was difficult. The type was not as successful as only 7,235 were built, condiderable numbers, but still a pinprick compared to the main CCKW production. Of these, 2,232 units had the "short" 15 feets body, and 5,000 had the "long" 17 feet cargo bed. It seems almost all were used by the US Army.
CCW-353 (118,000 made)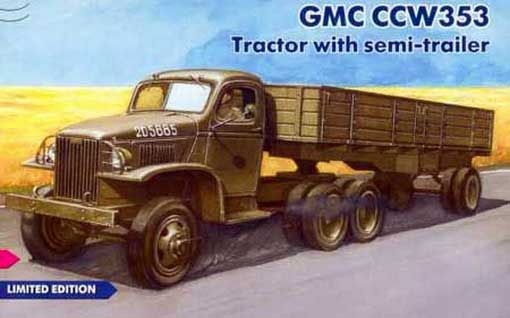 This vehicle had almost the same acronym, because it was basically the same truck, but deprived of off-road capabilities as its front-wheel drive was deleted for simplification. It was the official purely on-road truck, re-rated for 5-ton rated, and 6×4. Only its beam front axle was used for steering, with a transfer case locked in high range. As it was cheaper than the regular CCKW, the CCW saw a considerable productio, reaching circa 118,000 vehicles in 1943, called the 2-1/2-ton, 6x4 truck in the inventory. GMC made only 23,649 of these, completed by other manufacturers. These trucks also had no fron winch and the bulk of the production was made in 1942.
DUKW (21,147 made)
This famous version had a heavily modified hull wrapped around the chassis, which was made amphibious. The
GMC DUKW
or "duck" became the proverbial allied amphibious truck of WW2, able to carry large supplies from shore to shore or cross large rivers. Together with the numerous armoured LVTs they proved instrumental in the pacific ans the crossing of the Rhine in Jan-Feb. 1945 as well. Due to their lack of protection they were often used in the second or third wave. They were used by all the allies, including Soviet forces, and were considered the most succesful softskin amphibious vehicles of the allies, especially when compared to the infamous
Ford "Seep"
.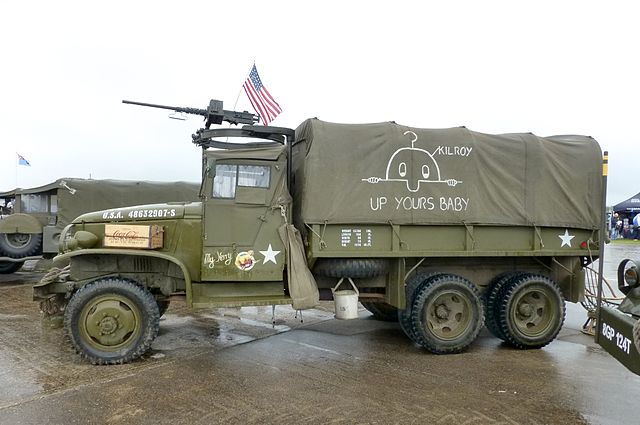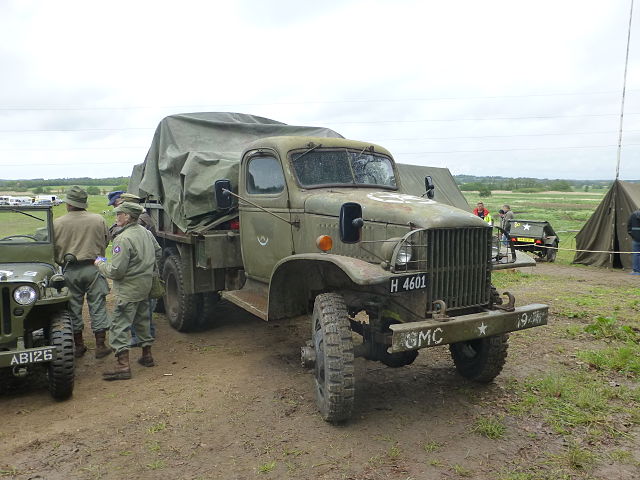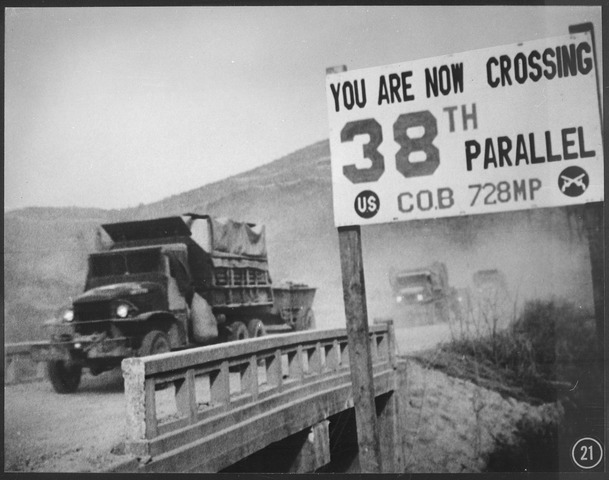 GMC-353 Crossing the 38th parallel, during the UN withdraw from Pyongyang
Notes
Boniface, Jean-Michel; Jeudy, Jean-Gabriel (1990). GMC 6x6 & DUKW: A Universal Truck. Foulis/Haynes.
Chief of Ordnance Office; Military Vehicle Preservation Association, eds. (2010). Summary Report of Acceptances, Tank-Automotive Materiel, 1940-1945 (Revision). Detroit: U.S. Army Service Forces (Pub.1945)
Colley, David P. (2000). The Road to Victory: The Untold Story of World War II's Red Ball Express. Potomac Books.
Crismon, Fred W (2001). US Military Wheeled Vehicles (3 ed.). Victory WWII Pub.
Doyle, David (2003). Standard catalog of U.S. Military Vehicles. Krause Publications.
Doyle, David (2010). 2½-ton Truck. Squadron/Signal.
Ware, Pat (2010). The World Encyclopedia of Military Vehicles. Lorenz Books.
Whitlock, Flint (2004). The Fighting First: The Untold Story of the Big Red One on D-Day.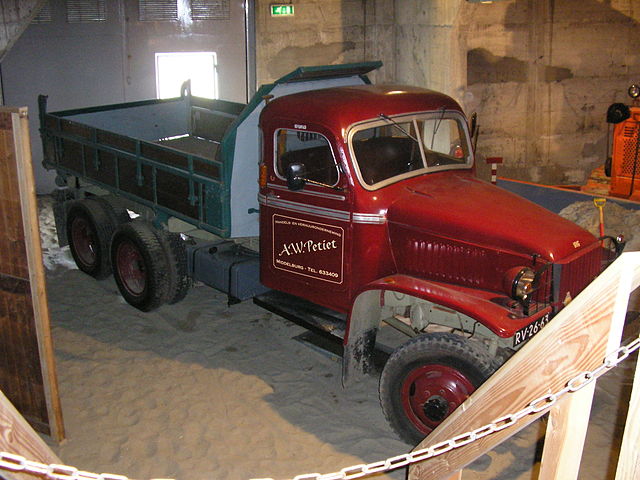 Links
TM 9-801 2½-ton 6×6 GMC CCKW. US War Dept. 1944.
TM 9-2800 Standard Military Motor Vehicles. US War Dept. 1943.
TM 9-2800 Military Vehicles (PDF). US Dept. of the Army. 1947.
ww2cckw.org/
US army transportation museum
Same, about the Red Ball Express
The GMC 353 on olive drab
Various blueprints of the type
US Veterans Memorial
The GMC 353 on wikipedia
Model kits
All model kits via scalemates search engine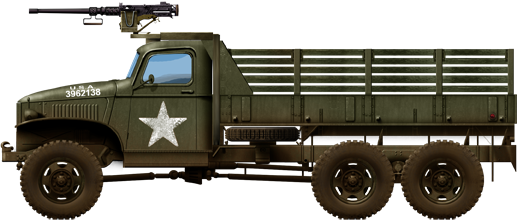 Basic HMC-353 2-1/2 ton utility truck. Standard dump truck with reinforcements and M2HB 0.5 M1920 browning HMG ring mount. Protection framing is not mounted.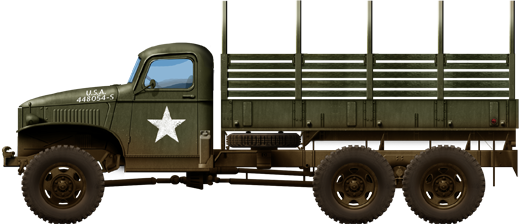 CCKW CCKW 353 standard 2-1/2 ton standad dump truck with bedframes mounted, WAC HQ, 1943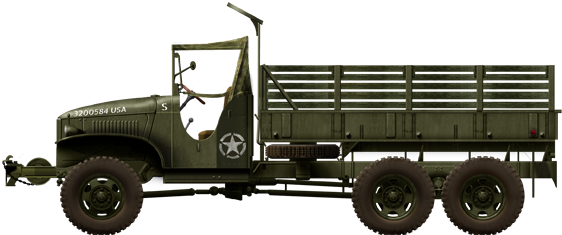 CCKW H1, standard open cab dump truck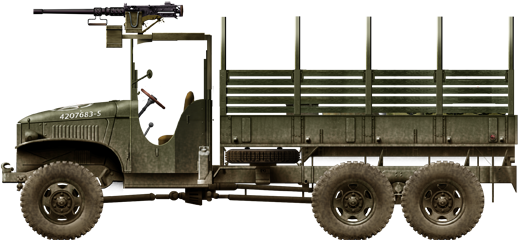 CCKW 353 Torpedo (open cab), 45th Quartermaster Company, 45th Infantry Division in Sicily - Op. Husky 1943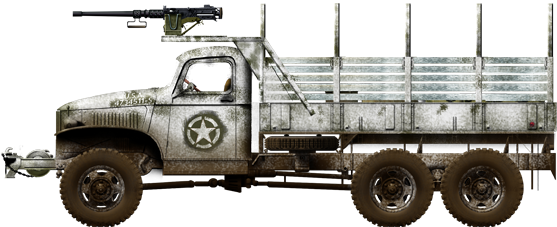 GMC 353 CCKW, Battle of the bulge, winter 1944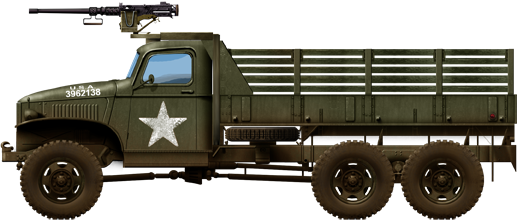 GMC 353 with Maxston mount (to come)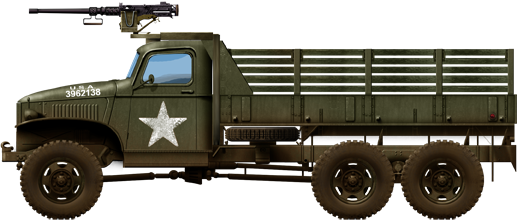 GMC 353 with Bofors 40 mm (to come)
---
Variants

CCKW 353D Fuel truck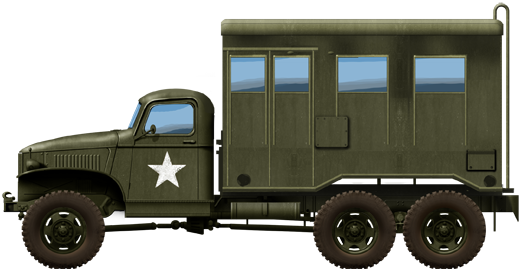 CCKW 353 K53 Radio Shelter Truck, HQ Co. 1st Infantry Division, Germany March 1945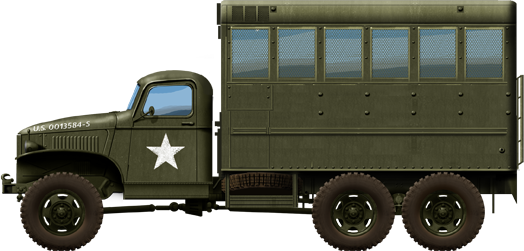 CCKW 353 ST6, Shelter Truck 6, workshop truck

Service Truck, N°7 Crane, extended fwd winch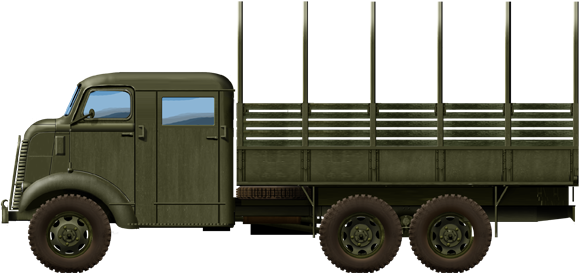 GMC AFWX 354, 3-ton 6x4 truck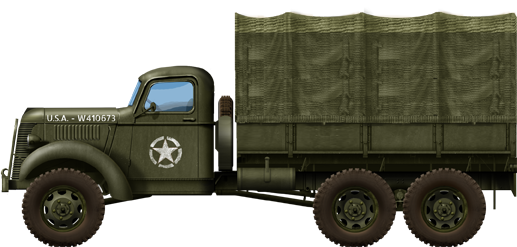 GMC ACKWX 353 3-ton 6x6 truck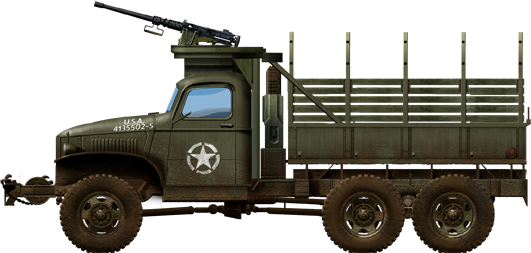 Regular US army closed cab GMC 352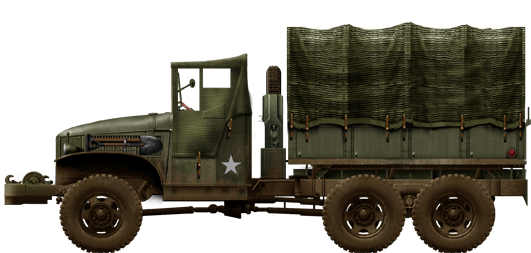 US army open cab GMC 352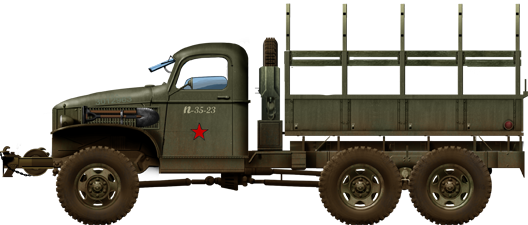 Soviet lend-lease GMC 352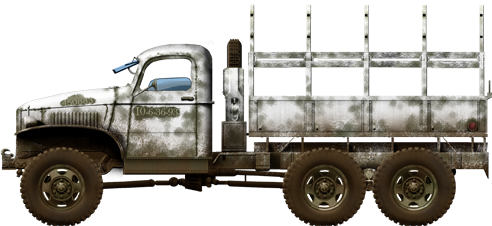 Soviet lend-lease GMC 352, winter northen front 1943-44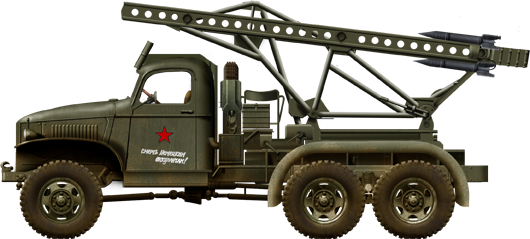 Soviet lend-lease GMC 352, Katiusha conversion, 1944
Photo gallery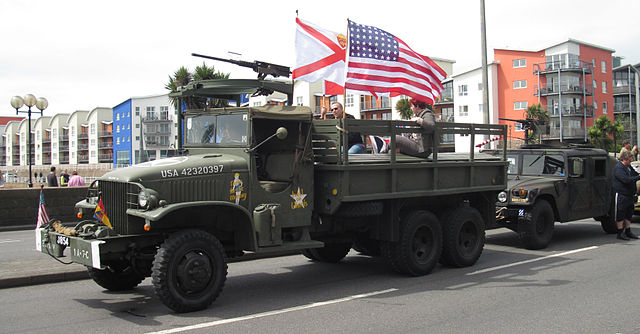 GMC-353-Opencab-May_2012-parade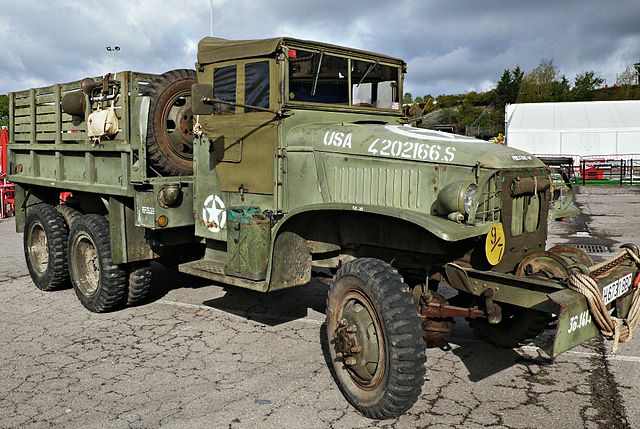 GMC-353-Open cab winch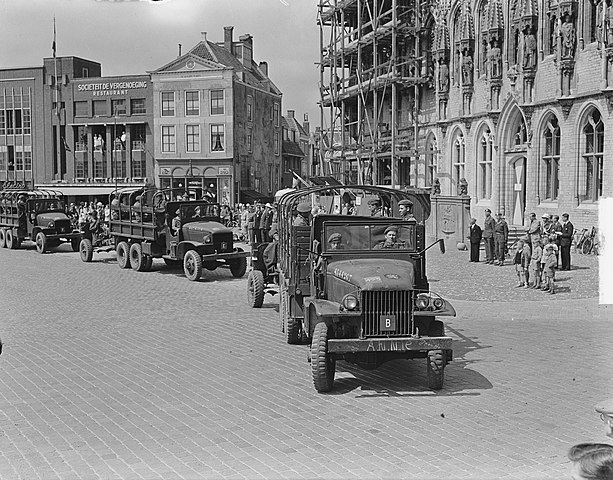 GMC-Trucks-Defile_van_de_KMA_in_Middelburg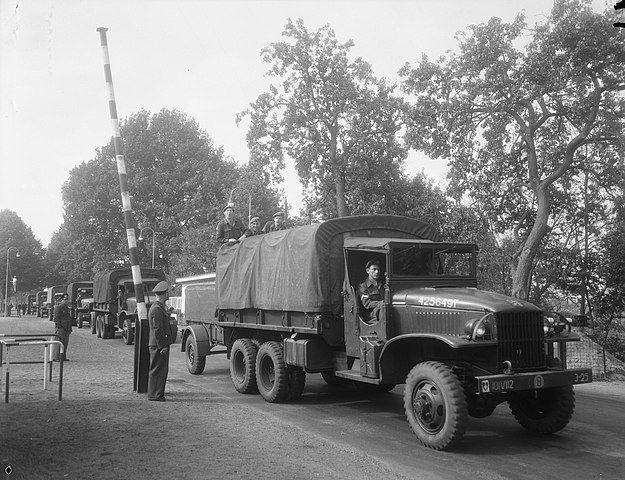 GMC-trucks_Holland-1956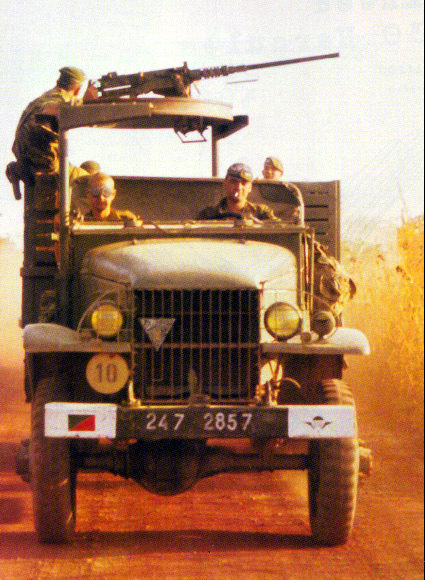 GMC-127 Kolwezi 1978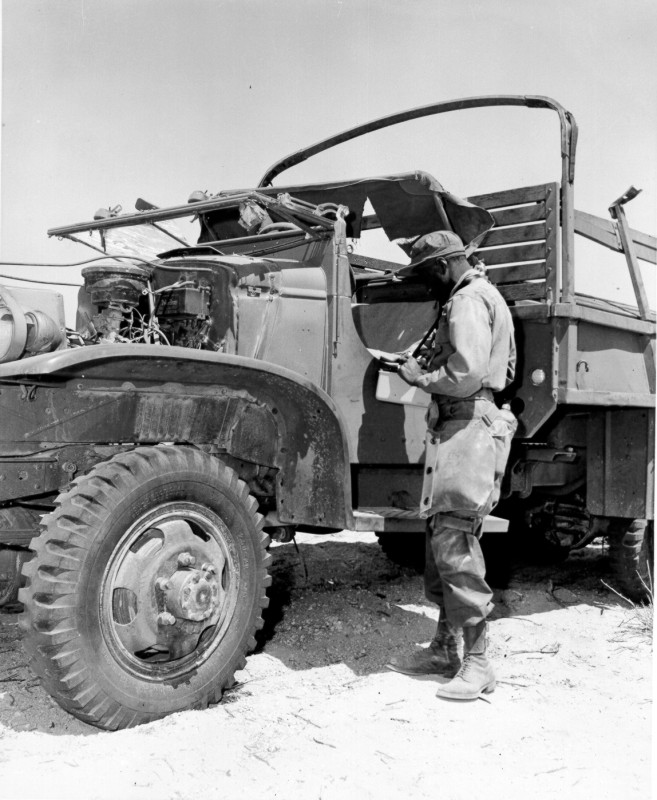 GMC353-Africa-NSO-902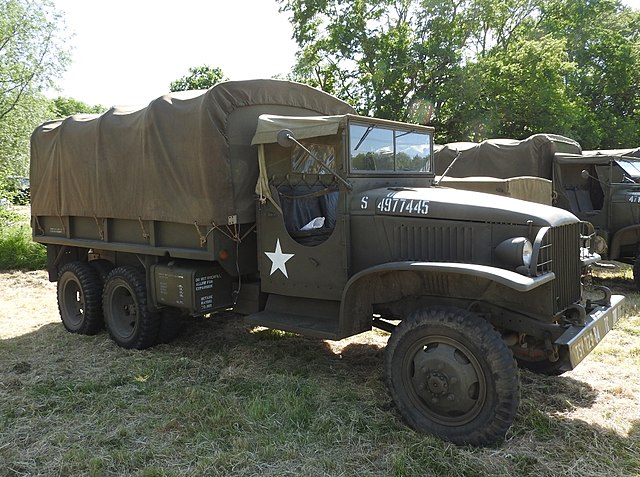 GMC353-OpenCab-Aldham_Old_Time_Rally_2015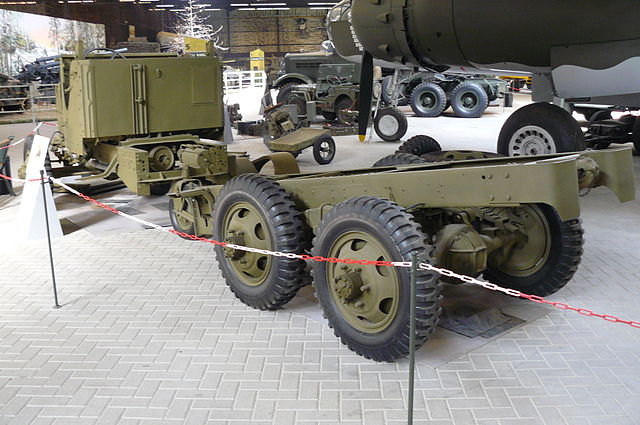 GMC_Airportable-chassis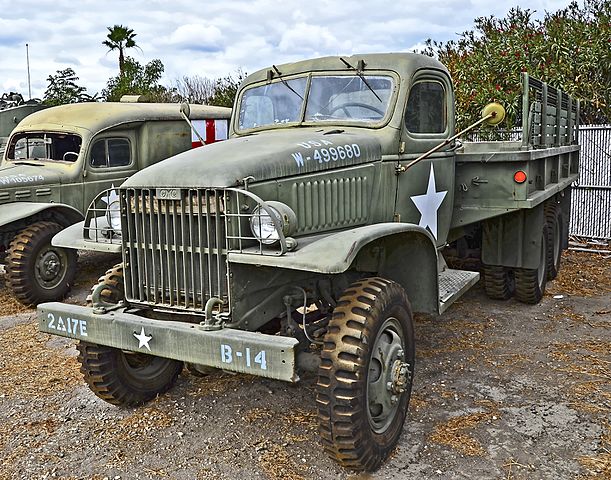 GMC_CCKW_1941_closed_cab_LWB_Planes_of_Fame_Air_Museum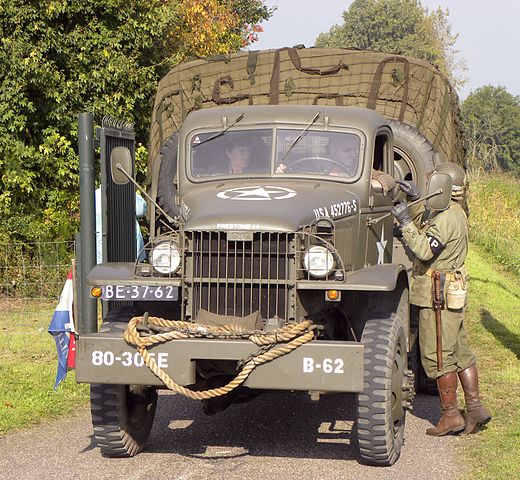 GMC_CCKW_352_towingrope-open-bed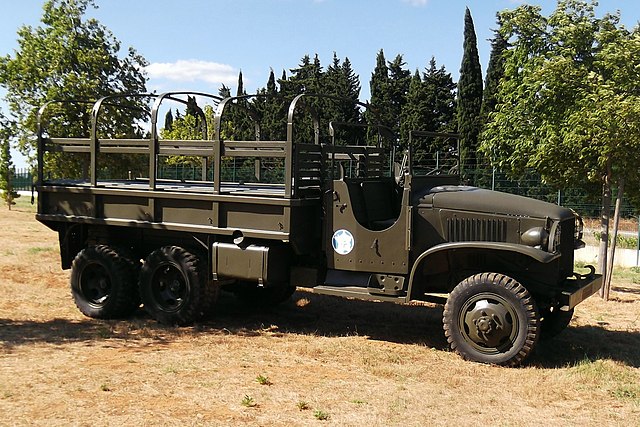 GMC_CCKW_353_Troop-Carrier-FFL-Nimes
GMC_CCKW_tractor-at_the_Overloon_War_Museum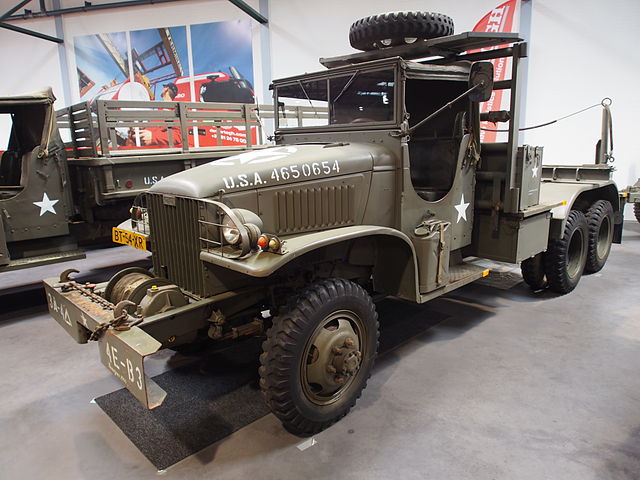 GMC_opencab-SWB-towing-hoodno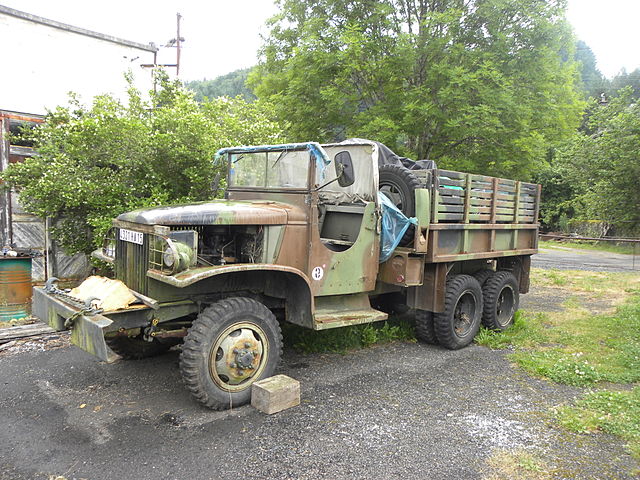 GMC_truck_National-Guard-reserve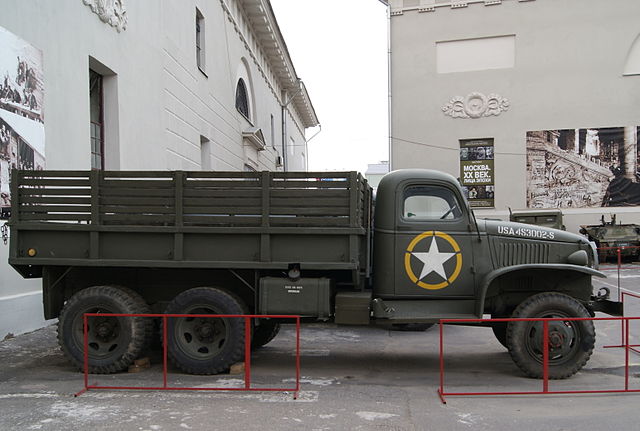 preserved-GMC_353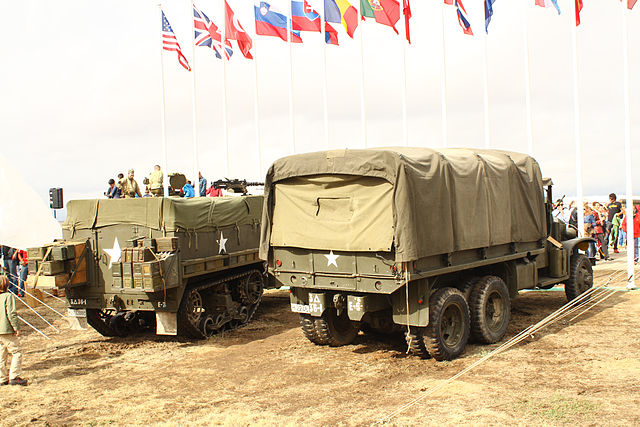 rear-GMC-Truck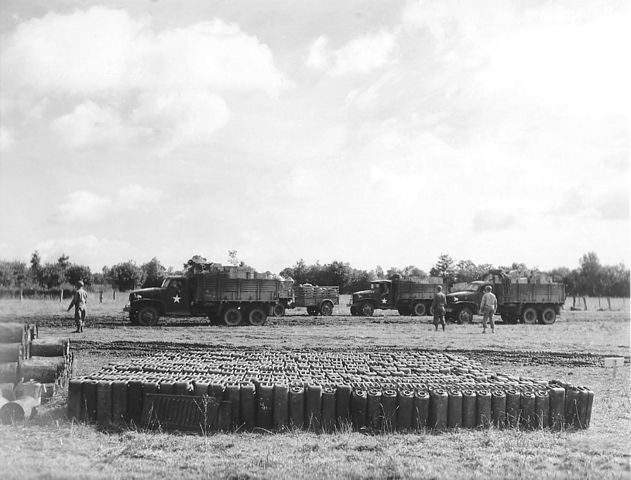 Red_Ball_Express_-_Jerricans_depot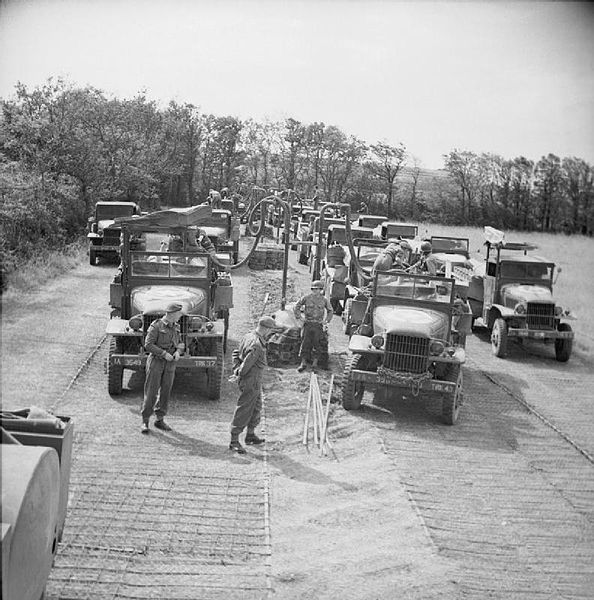 Supplying_Allied_Forces_After_D_Day_July_1944_GMC-trucks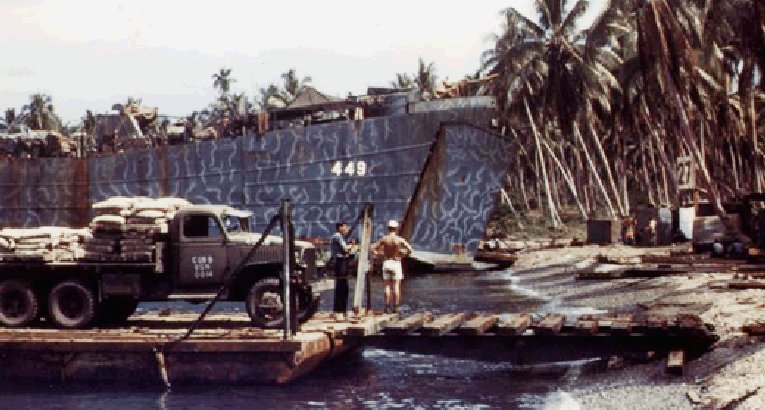 USS_LST-449_GMC-truck-November_1943Bougainville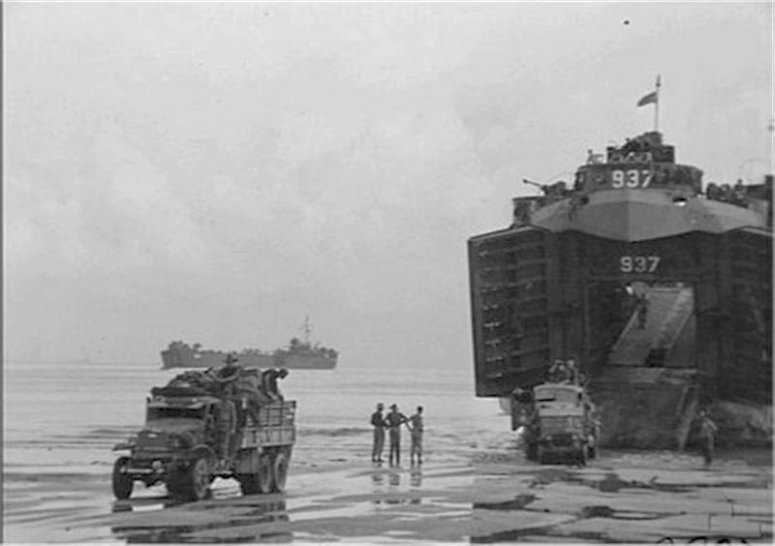 USS_LST-937-GMC-truck-Labuan-Island-Borneo-June1945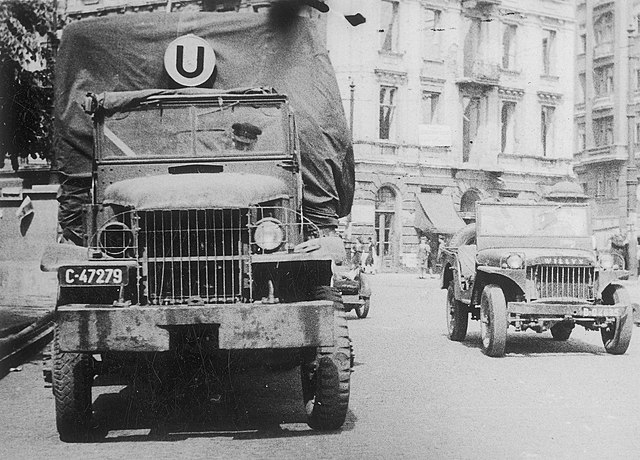 Warsaw GMC NAC 1946
Interior and details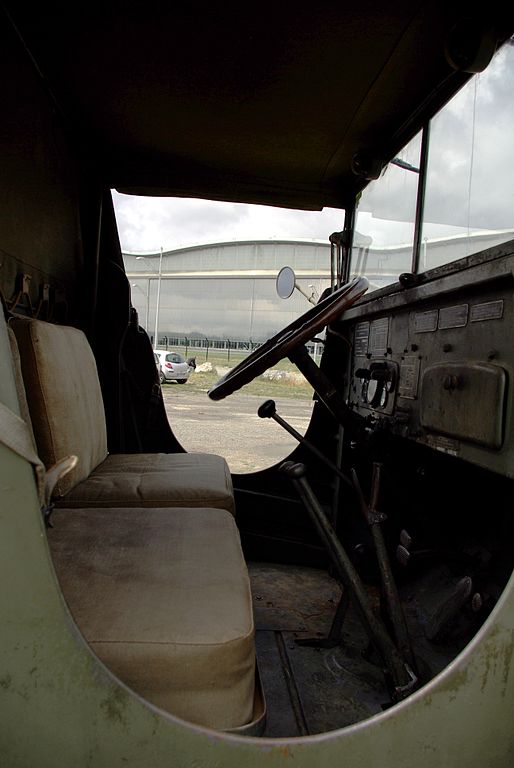 GMC_CCKW_cab-interior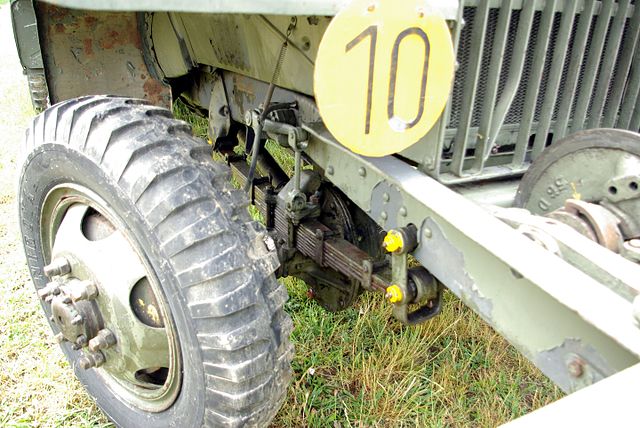 GMC_CCKW_detail-front-axle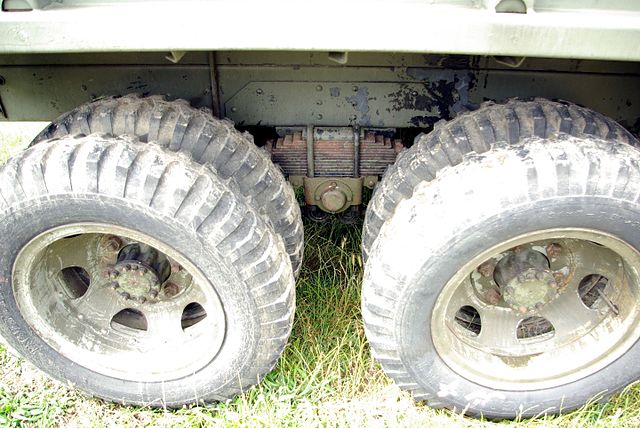 GMC_CCKW_detail-Rear-axle
---
Axis Trucks

Purchase this pagemarker and support the site !
Sd.Kfz 2, 6, 7, 8, 9, 10 and 11 were half-tracks designed just before the war as prime movers, to carry supplies, ammunition, personal, and tow artillery. Many were also converted during the war as armored versions carrying AA FLAK guns (Flakvierling, 37 mm, or the legendary 88 mm Rheinmetall als used as tank hunters), or were converted as nebelwerfer (rocket launching armored vehicles). They were built by Hanomag, Steyr, Mercedes-Benz, Bussing and many other manufacturers until 1945, over 20,000 half-tracks.
---
Cold War & Modern Vehicles
Modern Trucks