Ford Marmon Herrington Artillery Tractor/T9
USA/Canada (1936-40) - Half Track Tractor - circa 100 built
The first American Half Track
Eearly developments (1931-35)
In the wake of motorization in the early 1930s, the US Ordnance started to be interested in the French half-track designs, notably those showcased in the mediatic "yellow cruise". Citroen-Kégress were purchased and evaluated by the US Ordnance department, testing their use on all terrains and were impressed by its capabilities. Indeed at that time, the Cavalry arm ahd wheeled armored scout cars were not favoured in the mud ad snow because of their high ground pressure.
The US Technical services of the United States Army tested stock P17 and James Cunningham Son & Co was paid to purchase the Kégresse licence and built the Half Track Car T1 as soon as 1932. Other manufacturers were granted the right to creta additional prototypes, notably White, which would later decline from it the famous WW2 M2/M3. After requested changes, a batch of T1E1 were produced at the Rock Island Arsenal. They were standardized as the Half-Track Car M1. The T1E2 and T1E3 were test-beds for a new tracked undercarriage and ten were manufactured and delivered for field tests until 1939, also reclassed under the M1 nomenclature.
Meawnhile in 1933 already, GMC developed a 2.5 tonne semi-tracked truck using a Cunningham rear axle. This model, developed under request of the US Army, received the denomination Half-Track Truck T1. But it led to nowhere and after field tests, it was abandoned. Ford built the Half-Track Truck T2, and Linn a the Half-Track Truck T3, a really larger vehicle able to crryi a light tank. Both were tested and nothing happened afterwards. Ultimately GMC camed back with the much improved T5, closer to the US Army specifications: 24 T5 were manufactured ans integrated in the US Army for unit tests.
In 1935, a modified T5E1 was capable of towing the 155mm M1 howitzer. Improved, it led to the a T5E2, and in the US Army ot became clear the half-track would be useful as an artillery tractor, in order to follow the new armored divisions. The T5 had the same flexible reinforced rubber track that will characterize future production with the "Timken" wheeltrain. Linn afterwards submitted the Half-Track T6, based on its T3 but it was too slow, and received a new engine and modification to produce the T8. It was tested but rejected by the Army as well.
The half-Track T9, blueprint for the M2/M3 (1936-39)
White entered the fray at the end of 1935 to submit to the army the medium artillery tractor Half-Track T7. It was tested but had no follow-ups. In 1936 at last, the Half-Track T9 appeared, this time from Marmon-Herrington. It was far superor technically to the others as offering a transfer case on the front axle. There was a transmission between the front axle and rear axle, obtaining a sort of 4x4 kinetic. It receives a front bumper crossing roller, an idea later passed onto M2/M3 half-tracks. The two prototypes were severely tested, and approved later by the ordnance as "Half-Track Truck M2". Two sub-variants were built, the T9E1 and T9E2. Both were tested, but the T9 was soon fitted with a well crafted wheeltrain.
In 1938, the army now looked to carry support troops with these vehicles, the Half-Track Personnel Carrier T7 was created, made with a front section of a White M2A1 scout-car and the T9 tracked assembly. Tested by the army, this was total success, and soon White was put in charge of the
M2
and
M3 half-track
cars, one artillery tractor, and one armored personal carrier. Soon history would catch up and made the M2/M3 the iconic vehicles of WW2 we know. During WW2, Mack submitted an even larger half-track,
the T19
.
The T9 had T21 rubber block tracks, 25,4 cm in width, and with a 12,7 cm pitch (5 in). However the T9E1 used a T20E2 rubber block track 20,3 cm wide (8 in), but also with a 12,7 cm pitch (5 in). Empty weight of both the T9 was 3.200Kg, and 3.130Kg for the T9E1 and its cargo load was 1.250 Kg. Top peeds was 40 Km/h to 56 Km/h for the second, and two production tests models were built of each vehicle as contracted, with changed asked by the commission: Front wheel drive capable of operating in reverse, two hand brakes on sprocket shafts as steering aid, battery relocated to the upper right on the dash, new rear military body with six seats, and for the suspension, 25,4 cm (10 in) wide T24E1 rubber band tracks. The T9 was standardized as the M2 and had a small production, while the the T9E1 after modificaton on the bogie wheel (special pneumatic tires) became the T9E2. Tests were performed at Aberdeen with the E2 but showed this was unsatisfactory. T9 Tests proved however it was possible of synchronizing the front wheel and track drives, and this designed evolved into the T10, a proposal (never buuilt) of a light half-track for wire laying.
Enters the Ford Marmon Herrington
In 1935 already the Half-Track Truck T8 was made by Ford, with a patented Trackson tracks system, made only for trials. It will led to the Half-Track Truck T9 Ford Marmon-Herrington. A version of this model was developed with drive sprocket wheels and idle wheels (tensioner) aft, equipped with teeth. after further modification this model will be accepted by the US Army as Half-Track Truck M2.
Design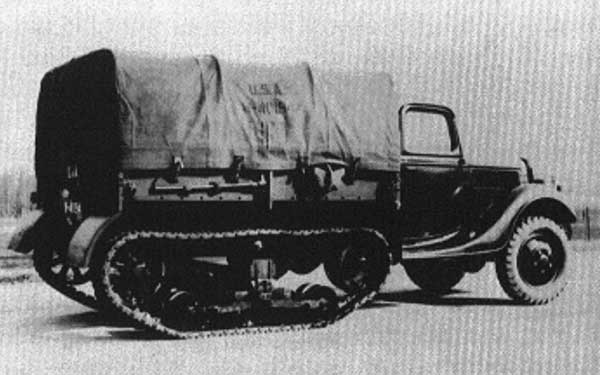 T9 half track car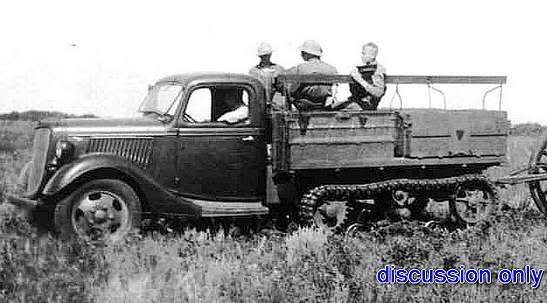 Ford Canada Marmon-Herrington T9 in the field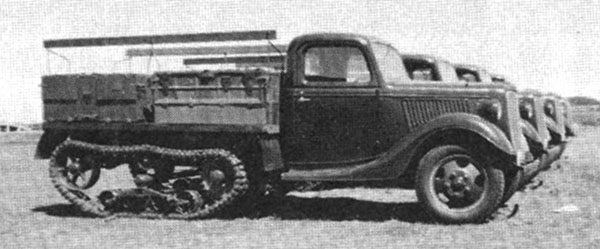 A platoon of Canadian Marmon-Herrington half tracks
Marmon-Herrington indeed found that there was a growing market for cheaper all-wheel drive vehicles and allied with Ford Motor Co. Converting large numbers of commercial Ford truck chassis with its own all-wheel drive conversion kits. These Ford/Marmon-Herrington were purchased by the US and Canadian military, finding quite a success. Marmon-Herrington's expertise was called to help as the Canadian automotive industry prepared for war production in September 1939: Ford Motor Canada was tasked to develop a 4x4 truck for the Canadian army, and having little experience in the field, they called Marmon-Herrington in Indianapolis. They already supplied conversion kits for Ford 4x2 trucks aimed at commercial use.
The Ford V8 truck of 1936 was fitted with a pressed steel cab and had a one and a half ton capacity bed. Its Ford V8 engine was rated for 80 horsepower, at 3800 rpm, but its standard transmission was completely modified and connected to a Marmon-Herrington auxiliary transmission. The latter was designed with an over-running clutch mated to the front wheels, providing eight forward and two reverse speeds. The first tests performed shown the front wheels could not be driven in reverse. This was modified for serial vehicles. The wheeltrain had volute spring bogie identical the T9, with four 30,4 cm diameter steel wheels per side. A system retained over the larger wheels of the T9E1, fitted with only two 50,8 mm diameter wheels per side, and in both cases in pressed steel with solid rubber tires on serial version. The Ford Marmon-Herrington half track 1936 produced in 1939 was the first military vehicle to be designed in Canada. Purchased as an artillery tractor, it saw service with the Royal Canadian Artillery, Princess Patricia's Canadian Light Infantry and the Queen's Own Cameron Highlanders of Canada until replaced by the standard White Half Tracks M5 in 1942-45.
Read More
R.P. Hunnicutt, Half-Track: A History of American Semi-Tracked Vehicles, Presidio Press
maquetland.com/article-538-semi-chenillas-americains-1a-partie
panzerserra.blogspot.com/2016/06/ford-marmon-herrington-half-track-1936.html
http://www.coachbuilt.com/bui/m/marmon_herrington/marmon_herrington.htm

Canadian Ford Marmon-Herrington artillery tractor

T-9. The experimental T9E1 differed by having large 4 large metal wheels in the Timken suspension
---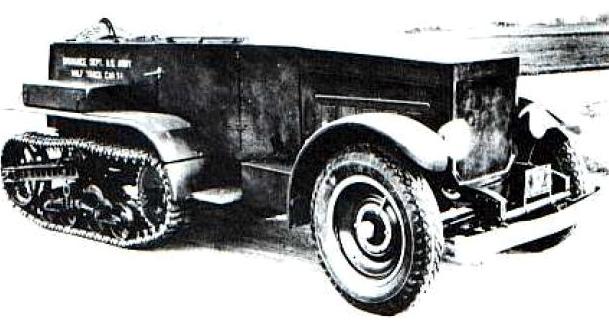 T1 prototype (1932)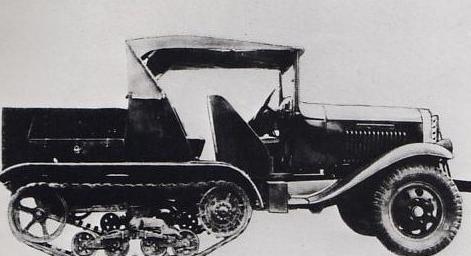 T2 prototype (1933)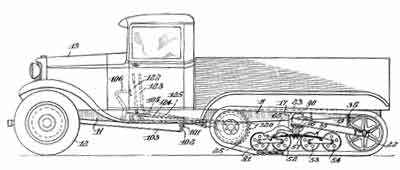 GMC-Cunningham T1 (1934)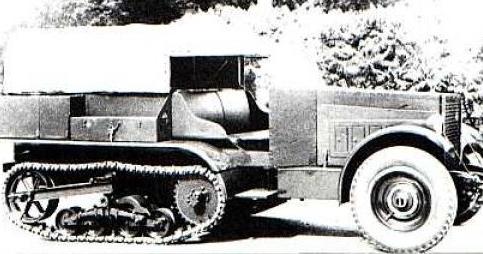 M1 half track car (Standardized T1E1)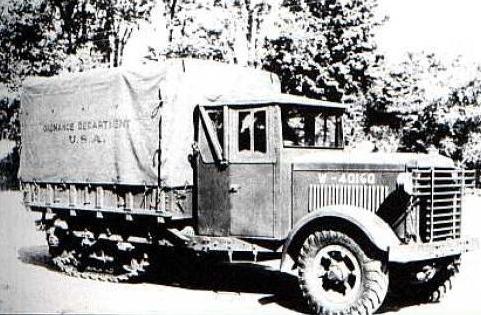 Linn T6 (1935)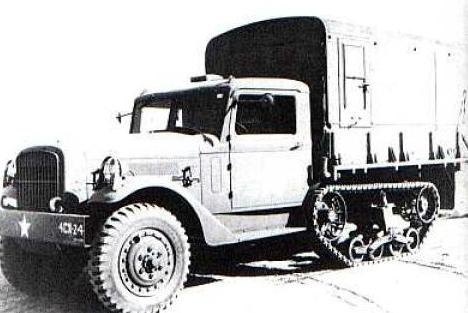 T17 half track (1938). Suceeded by the Half-Track Truck T10, paper project of a cable layer vehicle for the Signal Corps, and the Half-Track T16 anufactured by Diamond as an artillery Tractor for the standard 105 mm howitzer. The last developed was White's Half-Track T17, which had a roof hatch (1939).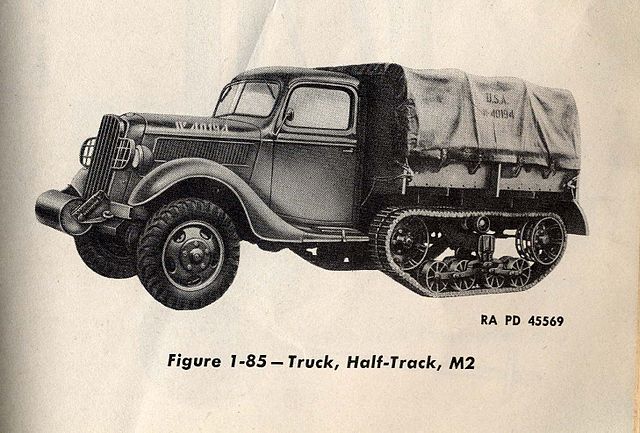 Standardized Ford Marmon Herrington M2 Half Track Car (ONI)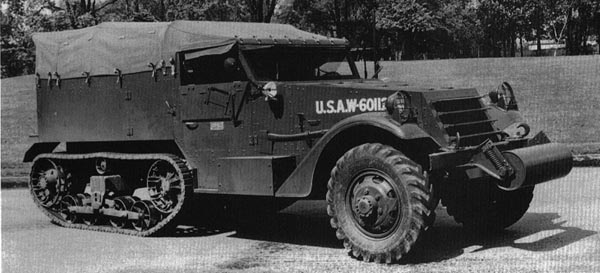 Final White T14 Half Track Car prototype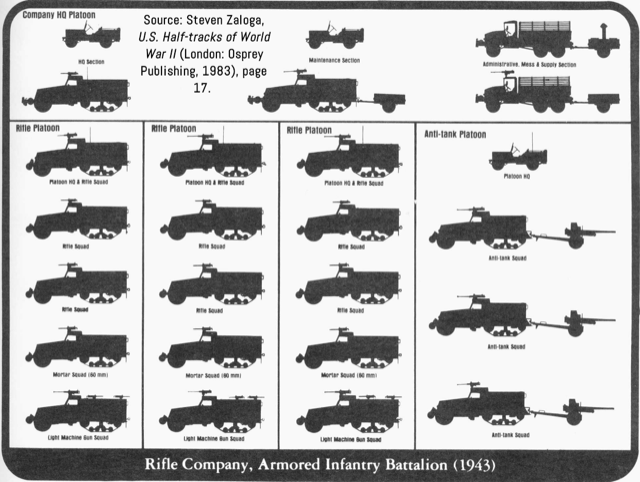 Organization of a motorized rifle company (Steven Zaloga, Osprey)
---
Axis Trucks

Purchase this pagemarker and support the site !
Sd.Kfz 2, 6, 7, 8, 9, 10 and 11 were half-tracks designed just before the war as prime movers, to carry supplies, ammunition, personal, and tow artillery. Many were also converted during the war as armored versions carrying AA FLAK guns (Flakvierling, 37 mm, or the legendary 88 mm Rheinmetall als used as tank hunters), or were converted as nebelwerfer (rocket launching armored vehicles). They were built by Hanomag, Steyr, Mercedes-Benz, Bussing and many other manufacturers until 1945, over 20,000 half-tracks.
---
Cold War & Modern Vehicles
Modern Trucks