US Navy
. The D60 right drivewheel was mass produced in Canada for the Britsh Army. It became a common tactical truck inside Montgomery's 8th army (the desert rats) and the red army as well via lend-lease. Several versions were declined such as the L5, L12, L14, defining a simple or dual rear axle, nob type or a gearbox two speed reduction on the rear drive.
The art deco wonder
A 1939 Pickup
Adfter is 1928 Power Wagon success, which lasted for ten years, Dodge wabnted a replacement and created an instant classic. For 1939, a striking, modern design was issued with a furiously art deco hpoood and wings and the rest mechanically except updated drivetrains was brand new and specific. Dodge also offered many body variants. The streamlined styling was a requirement since 1936 ans ended with the 'Job-Rated' Dodge trucks representative of the new 'Streamline Moderne' Art Deco aerodynamic design idnetifying the brand, with elongated horizontal lines and curving shapes for sleekness.
These new all-steel cabs had a front-end design, barrel-shaped base, V-shaped grille and elongated crowned front, rear fenders with embossed "speed lines" or a sloped and two-piece windshield that could be opened. Headlamps were still free-standing but profile bullet-shaped pods. Only the heavy-duty were taller with larger wheels and tires for better off-road caracteristic and reinforced leaf spring suspensions. This styling only changed in 1940 when sealed-beam headlamps and marker lights in their housing were added. But the rest of changes were very minimal and the grille design slighlty modified in 1941, stuck until 1947 but for the lower chrome strips omitted post war.
The "Job-Rated" models from which derived the military verisons had stronger frames with high tensile steel and extended frame-rails past the engine to mount larger channel-type bumpers. After WW2 reliability returns indicated a few ore changed to the chassis and mechanics, in light of a punishing military service, with stronger differentials, larger axle shafts, stronger steering boxes.
If Dodge advertised 175 basic chassis, seven engine, optional clutches, transmissions, axles, gear ratios, springs, tires and brakes, this was all rationalized for war production in 1941 as General Motors introduced new standard trucks to be manufactured by Chevrolet and GMC.
US Army 4x4 Variant
Dodge already sold to the US army a four-wheel drive truck in 1934 and started to develop a 1+1⁄2-ton model, some 1,700 RF-40-X-4(USA) being supplied to the US Military in 1938, and in 1939, some 292 TF-40-X-4. By 1940, Dodge won a new Army contract for a new 1⁄2-ton 4×4 truck using as many commercial parts as poissble and based on the VC-Series. This became the T-202 series, in 1941 the T-207 series trucks. In the end a 3⁄4-ton model was develop with a 230-cubic-inch engine rated for 92 hp built from 1942. This main military seriue was called the Dodge WC series. But this would lead to a separate article entirely.
The US T110 and Canadian D60
Differences in detail
Originally manufactured in the US for civilian purposes, this truck has been adapted to British military specifications and manufactured in Canada for it. T110 at large and D60 for Dodge 60CWT. Numerous differences exist between the two versions, like the left hand drive (T110), Right hand on D60. The American truck also keeps its civilian instrument panel while the D60 uses a simplified militarized one. The T110 also had only one gas tank, while the Canadian one has two. The T110 also has one speed epicycloid axle, and the Canadian a two speeds Eaton axle. The Canadian D60 also has a front push bar, bumper hooks, forward wings tubular lights and rear the rear axle blackout light. So to summarize, the Canadian version was certainly a better militarizes version than the original US T110, in many ways a civilian version with olive drab. Th engineering code T-110 was given to the short 136 in (3,500 mm) or the long 160 in (4.1 m) wheelbase.
Production
The Canadian production of truck was remarkable in WW2 and immensely helped the war effort: Chrysler Canada built no less than 180,000 Dodge military trucks from 1939 to 1945, most on the "CMP pattern"; with a straightforward same naming convention: The three-quarters were 3-ton models. Dodges went with the standardized Ford/Chevy cab for streamlining the process, but they had their own hoods and engines.
All in all, 124,961, or 91% of the 3-ton trucks with a CMP-type name-code and a total of 156,829 (or 87%) of Canada's Dodge trucks received a CMP type-code. The grand total was 180,816. Later into the war, an even more rugged variants was developed as the Dodge T-234 "China/Burma" truck produced to 15,000 from 1944 to 1946. They became fairly common in China with the KMT during the 1948-49 civil war. The T110 was also built by Fargo.
Main Variants
The T110 60 cwt (3-ton) types had the engineering codes T110L-S, T110L-3, T110L-4, and T110L-14: Not D60 strickly speaking.
The D3/4 APT (for 'Air Portable') used the U.S. Dodge WC-52 basis but with a 25 in (64 cm) long engine-block 92+1⁄2 bhp (69.0 kW). 5,000 were 6 ft 11+1⁄8 in (2.11 m) wide and the second serie of 6,750 were narrower at 6 ft 5+1⁄8 in (1.96 m) wide. Unlike the T110 they had a winch 2M1A/2M2A depending on the batch.
General design
Blueprint by MC Bell, 1981 (cc)
All regular Dodge cabs had right hand drive except for the Canadian domestic use. There was a gunner's hatch in the roof for light LMG such as the Bren, and in US service a BAR for example, although of needed a M1919A4 could be placed also, without pintle. Initial production D60 vehicles were given 8.25x20 tires, dual rear wheels, later switched over for the CMP specification 10.50x16 size tyres. Axles with single rear wheels had them as well as those afitted with British pattern rear bodies. The Soviet Union obtained some 1.700 3-ton Dodges. The Germans also captured some Dodge D60Ls as shown in photos.
The Operator/technical manuals mirrored the Ford and GM CMP manuals. The bulk of the production was of two-wheel drive truck with a high and low-range rear axle. 3,000 Dodge WC-1 (T-207) were used for the initial 8CWT 4x4 D8A. 11,750 units among the 3/4 APT ('Air Portable' T-236) 3⁄4‑ton WC-52 had four-wheel drive. The Dodge T110 payload is 1.5 tons. The flatbed was more or less long or reinforced depending of the simple or dual rear axle.
Lenght: Depending on the LWB or SWB
Weight:
Payload:
Tyres: 10.50 x 16
Propulsion & Performances
The Dodge T110 was powered by a 6-cylinder in-line gasoline engine. It was coupled with a four planetary crankshaft, a chain-driven side camshaft, while developing 95 hp at 3600 rpm. It was mated to a 4-speed gearbox. Brakes of the drum type were hydraulically operated with vacuum servo. Top speed was an honorable 90 km/h, light, on flat.
The 3/4 ton WC series had the T214 engine, the 6×6 the T223 engine and the Dodge T110 the T110 engine, one inch longer with an ignition system piloted by a vacuum device, and different carburator.
Power : 95 hp at 3,600 rpm
Max torque: 1,200 rpm/mn
Normal compression starter: 8.75 to 9.45 kgs/cm2
Bore : 87,31 mm
Stroke : 107,94 mm
Bottom mounted camshaft, chain driven
Crankshaft : 4 bearings
Disc clutch
Gear box : 4 front, 1 rear
Services and perks
The Dodge T110 was moslty used as said above by allies of the US, the British Army in particular, from the desert to the early Italian campaign. Some were captured by Axis forced early into the war. The Free French and Foreign Legion also obtained some and converted about 20-30 vehicles as armoured portee trucks with a small QF gun or various payloads. This truck became a movie star in the 1953 famous French movie directed by Henri Georges Clouzot "The wages of Fear". This was a Canadian military Dodge T110 D60 L12.
The Tanaké (one currently displayed at the Damascus Military Museum) was originally created by Capitaine Bicht's team in Syria already before WWII, for service in middle east mandated areas such as Syria. About 30 were so converted, keeping the forward part unchanged, but with the engine compartment receivined inner armour in the body panels, armored "shutters" on the windshield, and a cargo area completely modified with a new armour body. Some had a simple personel body and gun mounts for a 37mm/47mm cannon. Outside the Free Foreign Legion before the war they were reused by both Vichy and Free French units in 1941-43 and after the war, they passed on to the Syrian government, even seeing service in the 1948 war. This was the only armoured adaptation of the Dodge T110.
Read More/src
www.milinfo.org
univem-paris.com
guide-automobiles-anciennes.com
On warthunder.com
Canadian patterns on silverhawkauthor.com
On panzerserra.blogspot.com
On imcdb.org
On mapleleafup.net
Body variants T110
Canadian_Military_Pattern_truck
Dodge T-, V-, W-Series
More photos
---
Illustrations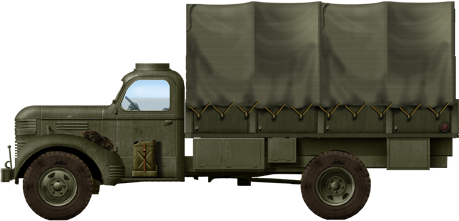 T110 CMP LWB 160" long wheelbase
T110 SWB 136" short wheelbase
T110 in Soviet service, winter paint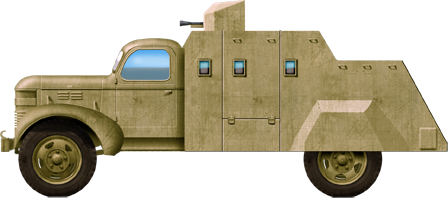 French Dodge Tanaké, Syria 1941
(More to come)
Photos
D60 4x6 Dump truck
Videos
---
Axis Trucks

Purchase this pagemarker and support the site !
Sd.Kfz 2, 6, 7, 8, 9, 10 and 11 were half-tracks designed just before the war as prime movers, to carry supplies, ammunition, personal, and tow artillery. Many were also converted during the war as armored versions carrying AA FLAK guns (Flakvierling, 37 mm, or the legendary 88 mm Rheinmetall als used as tank hunters), or were converted as nebelwerfer (rocket launching armored vehicles). They were built by Hanomag, Steyr, Mercedes-Benz, Bussing and many other manufacturers until 1945, over 20,000 half-tracks.
---
Cold War & Modern Vehicles
Modern Trucks