Design development 1934-38
Development of the first prototype for the Royal Hungarian Army started in 1937. Dezső Winkler was designated a chief designer by order of the Ministry of Defence for a 1.5-ton lorry, mainly as a personnel carrier. The main need for a higher cross-country model with a low budget dictated in part the 6x4 configuration. Among other specs, 14 troops were to be seated behind in the rear open cargo compartment plus the cab, as towing a 2,000 tons payload trailer, and having a factory-installed winch.
The off-road capability was helped by a serie of innovative solutions:
- Second axle, raised above the ground level connected on a peak. -A set of two unditching rollers on the front bumper (copied from Zsigmond Hollós's 31M H-2 lorry*)
*A copy of the Manfred Weiss Steel and Metal Works (HMW).
Two prototypes were built, reviewed and received by the Ministry of Defence which signed the first order.
About RWM
Raba was founded in 1896 at Győr, Hungary, by several industrialists in the goal of producing wagons, machines and steam boilers, as well as associated equipment and electrical plants. In 1902 it started to develop an automotive branch. It produced icenced models with Daimler in 1904-1911 and later Praha from 1913. Its RÁBA "V" type trucks was widely used during and after WWI.
In 1922 was launched the "P" type 1.5-ton truck, ad the L in 1925. It also produced in 1927 3- and 5-ton trucks powered by four- and six-cylinder Krupp engines. In 1936 the RÁBA Super 2.5 ton trucks and Special 3.5 ton trucks were launched in collaboration with AFI. They had a 5-speed transmission, welded steel chassis and over 2,500 were delivered until 1951.
German manufacturer MAN was contacted to produce RÁBA diesel engines, 65 hp and 80 hp or even 100 hp on the RÁBA-MAN D5 truck and a 1940 bus. And of course a army order for an off-road truck, the 38M (its army designation) Botond. The compan was devastated by air raids and production plummited in 1944. The company survived te communist era and is still operative today.
Production
Five more Hungarian companies were joined to the war effort and deliver the truck. HMW and Mavag became the main contractors, joined by Láng, Ganz Works and HSCS works 150 were delivered on July 1, 1939, and 1,252 until June 30, 1940. The steel plant was upgraded and transformed to deliver armor plates, and the RÁBA-MAN RÁBA 41 M artillery tractor was in part based on several innovations of the 38M. Production resumed after the war, until 1948.
Design
The 38M development began in 1937, under the leadership of MWG's development head, Dezső Winkler, a mechanical engineer. The Department of Defense demanded a 1.5-ton, infantry troop transport truck. At Győr, two prototypes were made with a three-axle design, but instead an all-wheel drive, a 6 × 4 drive was preferred for cost.
The cargo platform could accommodate 12 troops seated on bunks facing each others, and in addition to the driver, a co-driver was seated in the cab, for 14 total, a section. It could tow 2000 kg on flat and 1000 kg in the field, and it's winch came in handy. Series A were good, but was slightly redesigned in 1941, due to the lack of stainless steel materials. The engine went to 4330 cm³, 70-72 hp. Structural elements changed, with no longer high-alloy steel and non-ferrous metals, built for left-hand drive.
Main variants
42M Botond B
An upgraded version, the Botond B entered production with minor changes: Some steel parts replaced with wood or substitutes, engine uprated from 70 to 72 Horsepower. 1,400 were ordered in 1942 and 657 vehicles in 1943. Much were stored waiting delivery were destroyed by Allied bombers over MW works and MAVAG.
43M Botond C
In 1943 the 38M Botond C featured a 100 HP six-cylinder engine, but production never took place as the prototype was destroyed in the saùe Allied air raids that destroyed facilities. After the war, development briefly resumed but were abandoned. In its place, the new Soviet direction forced the adoption instead of the D-350 Steyr under license by Csepel, judged to be a superior design.
By 1948 the second six-cylinder engine was completed, rated for 110 hp with a dynamometer at 2400 rpm, as tested on September 17, 1948. However, the Steyr licensed Csepel D-350 was chosen instead and stopping developments of the Botond on by Ministry order.
Raba 38M specifications

Dimensions
Total weight
Crew
Propulsion
Top speed
Payload
Transmission
Suspension
Leaf springs
Maximum range (on/off road)
300/150 km (190/93 mi)
Armament
None, see notes
Armor
6 mm (0.2 in)
Production
Raba and others, 1938–1948 - 2,554
The 38M Botond in action
Organic Use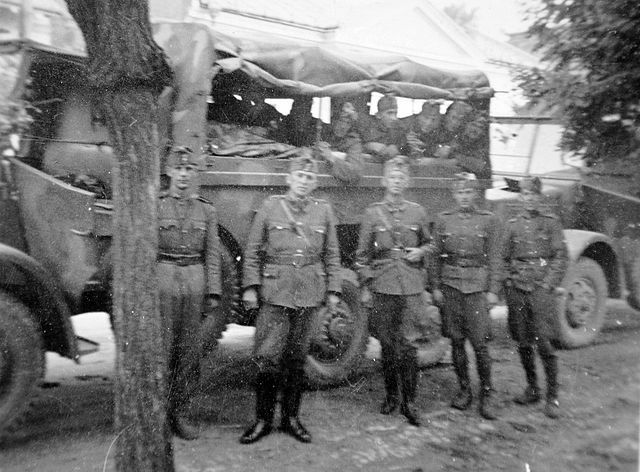 Hungarian troops posing in front of their Raba 38M
The 38M Botond was used in many roles. First as a troop carrier, it was assigned to artillery units as a towing truck, being able to move most field guns in the inventory, the 15cm FH14, 15cm M15 and 10.5 cm K15, all howitzers of Austro-Hungarian origin, the Hungarian 15cm Vz25, 10.5cm K35, and 15cm Vz37 or captured pieces like the Skoda 10cm vz35, French schneider 10,5cm K338, Skoda 15 cm vz34.
Some were organically assigned to various units as command trucks, with the long-range radio version. Others were developed like the artillery truck, with both bunks for the servant and storage bins, the the fuel tank version, cable layer, smoke sprayer, projector carrier, etc. It was never armored and never seen used as a weapon carrier (portee).
The type was only operated by the Royal Hungarian Army, at least officially, and never exported. Between July and November 1941 it was assigned as main truck to all units of the Rapid Corps during it's offensive in Ukraine. Both Hungarian and German teams were satisfied with its performances, trigerring further production variants. From April to May 1942, 657 Botonds were assigned to the 2nd Army alone, but distribution is unknown.
In Operations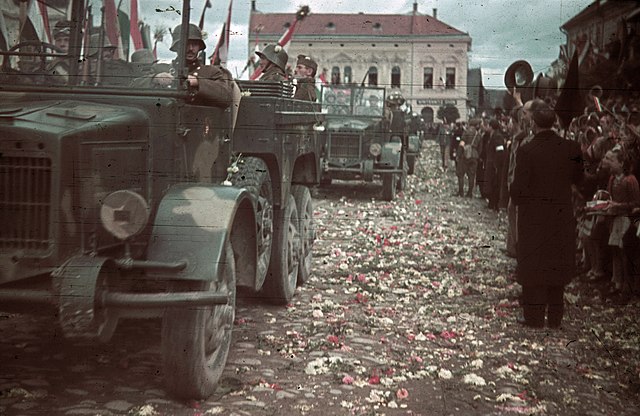 13 September 1940 column (colorized)
Since it was the most common Hungarian truck in 1941, when the Hungarian army (Magyar Királyi Honvédség) started operations on the southern front as part as the German invasion of USSR, operation Barbarossa, the 38M Botond was intrinsictly linked to the divisions's fate.
Organic to motorized infantry divisions, it was deployed for example from 1 July the so-called "Carpathian Group" (Kárpát Csoport) under Major General Ferenc Szombathelyi, with the VIII Corps and Rapid Corps which crossed the Soviet border and reached the Dniester in a week, brushing aside Soviet resistance. The VIII Corps stayed as an occupation force while its trucks were mostly passed onto the Rapid Corps for further advances.
The rapid corps was then assigned and subordonated to the German 17th Army, taking part in the battles of Uman and Kiev, pushing to Izium (Seversky Donets) buy was recalled by late November to Hungary.
38M trucks also were part of the five Hungarian "security brigades" protecting the hinterland, and the 2nd Army under Gusztáv Jány freering elements of the Army Group South near Kursk. It took part of the great summer 1942 offensive of "Fall Blau". After is secured Voronezh in July, the trucks were mostly used to keep the supply lines open, until the winter fell.
Many were lost during the 1943 Ostrogozhsk–Rossosh Offensive and in occupied territory, through ambushes and air attacks. After the summer 1943 Szabolcs I plan, light divisions were replaced by regular larger infantry divisions and reserve, and the trucks were reassigned. The mud and snow affected them, and the half-track Hansa Loyd was preferred, notably as an artillery tractor in these units to the Botond, in 1942-43.
The last major offensive was with the 1st Army under Géza Lakatos in East Galicia, to protect the Carpathian passes. Most of the remaining trucks were lost during the subsequent battle of the Lvov–Sandomierz Offensive, the Carpatho-Dukla Offensive and Battle of Debrecen.
The 38M that survived the war were repaired and continued to operate in the Hungarian Army until 1949. Withdrawn from the Hungarian People's Army, they were replaced by the more modern Csepel D-350.
Links about the Raba 38M Botond
Sárhidai, Gyula (2011-04-01). "70 éves a 38/42.M Botond terepjáró rajkocsi"
On o5m6.de
magyartudat.com
second-world-war-hu.webnode.hu
On keymilitary.com
CC photos
On fortepan.hu
On tuzkereszt.com
On forum.axishistory.com
CC photos
Models on scalemates, notably the radio truck
Gallery

Basic truck with windshield down and no tarp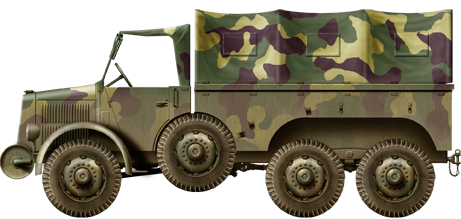 38M Botond camouflaged

38M towing a Skoda 149 mm howitzer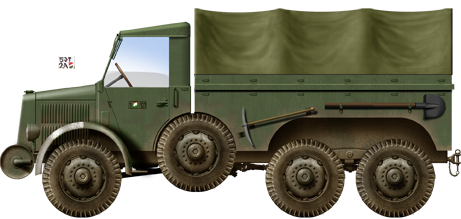 42M Botond B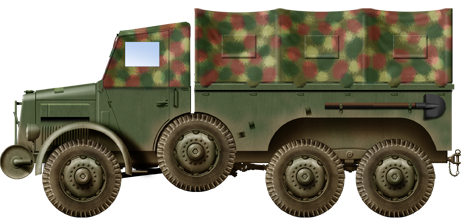 Another 42M Botond B
---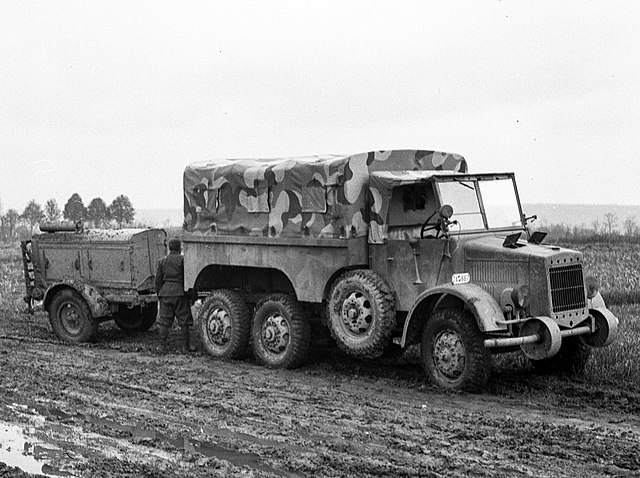 Camouflaged truck, used as portable generator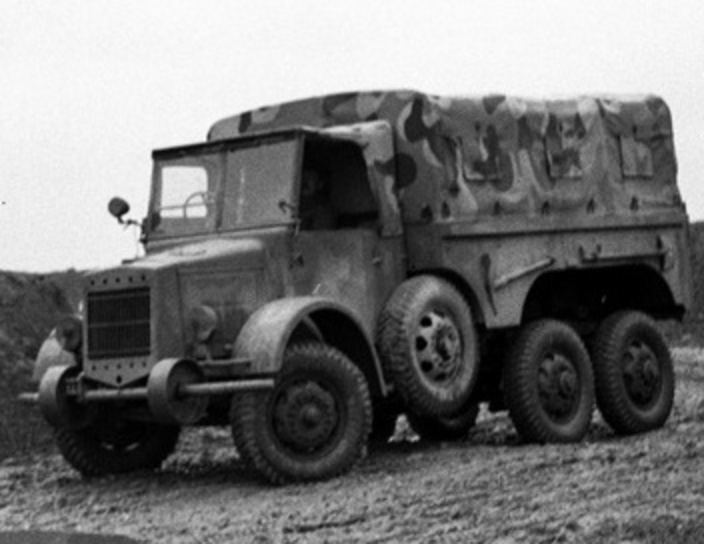 38M Botond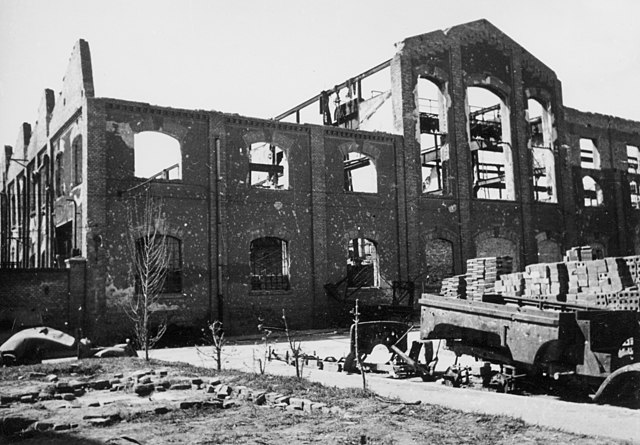 Damaged factory in Budapest, 38M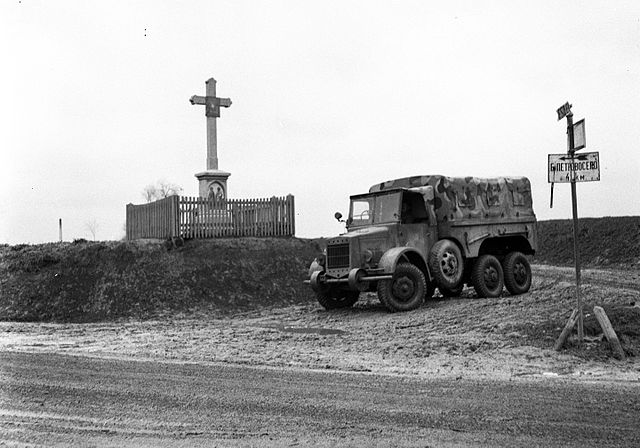 Another vehicle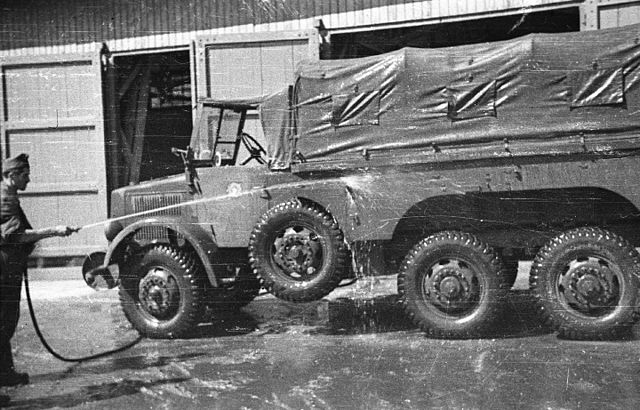 Cleanup of a vehicle, 1940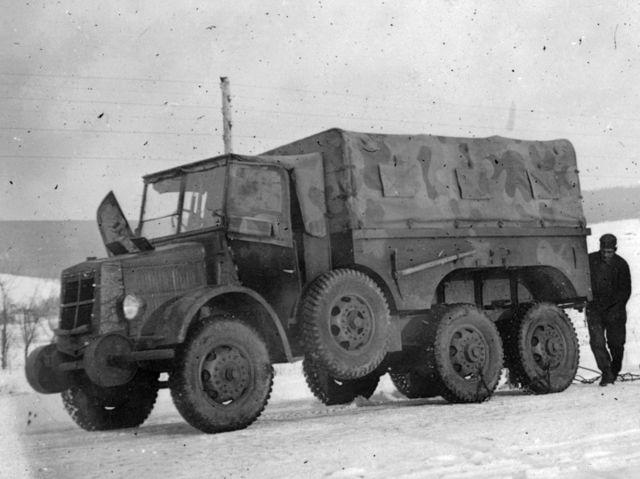 In winter, 1941-42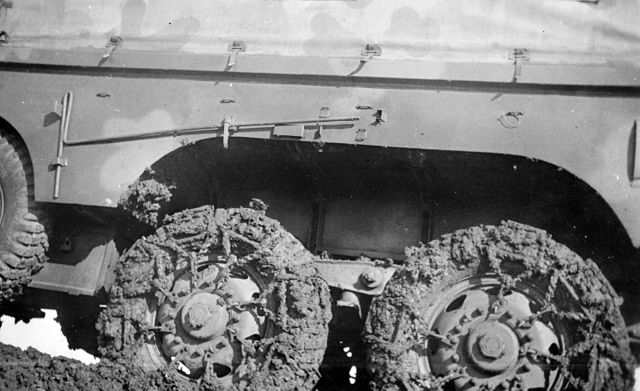 38M in mud during exercizes, 1940, with chains.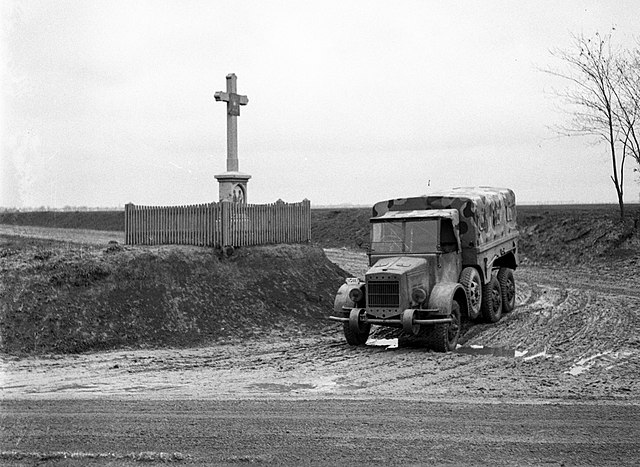 38M, eastern front 1942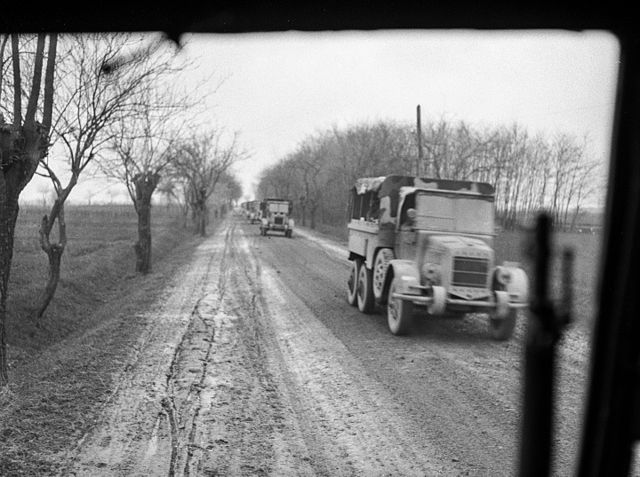 Underway to the front, 1941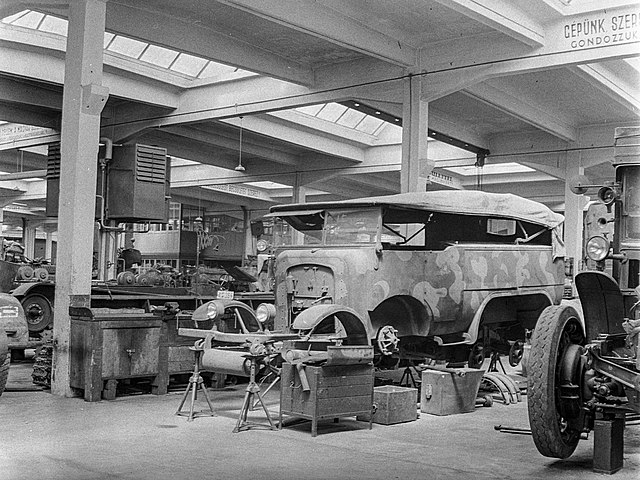 Workshop vehicle 1941-43
Video
---
Axis Trucks

Purchase this pagemarker and support the site !
Sd.Kfz 2, 6, 7, 8, 9, 10 and 11 were half-tracks designed just before the war as prime movers, to carry supplies, ammunition, personal, and tow artillery. Many were also converted during the war as armored versions carrying AA FLAK guns (Flakvierling, 37 mm, or the legendary 88 mm Rheinmetall als used as tank hunters), or were converted as nebelwerfer (rocket launching armored vehicles). They were built by Hanomag, Steyr, Mercedes-Benz, Bussing and many other manufacturers until 1945, over 20,000 half-tracks.
---
Cold War & Modern Vehicles
Modern Trucks