Polaris Dagor (2014)
The International Specops Vehicles Market
A small intro which will be probably be moved to the generic article about US Military softskin vehicles as a whole in the near future. Specops (Special Operation) vehicles lineage goes back to the WW2 North African LRDG (Long Range Desrt Group), a famous motorized commando setup to cause mayhem in the rear of the enemy. A task devoted to cavalry in the past, now motorized by using softskin vehicles, the legendary
Jeep
and the Chevrolet Cw.153 (or other vehicles). Open-topped, with toolings and enditching, heavily armed and filled to the brim with fuel canisters and jerrycans (seized to the Germans).
The development of Commandos led to the creation of elite units in army branches, now called the "special operations". These were tasked with very specific, high risk missions completely different from classic frontline warfare. Resminsicent of asymetric and guerilla warfare, these units were trained and equipped to operate always in occupied territory, operating by night, paradropped or introduced by sea, by diving or light boats (submarines most often). On land, like the LRDG of old, the special operative needed the right kind of vehicle, with speed and utility in mind. No armor, and the contrary a typical specops vehicle is stripped to the bone. Nowadays, most companies which produced that kind of vehicles stick to the same general pattern.
About the company behind: Polaris Industries.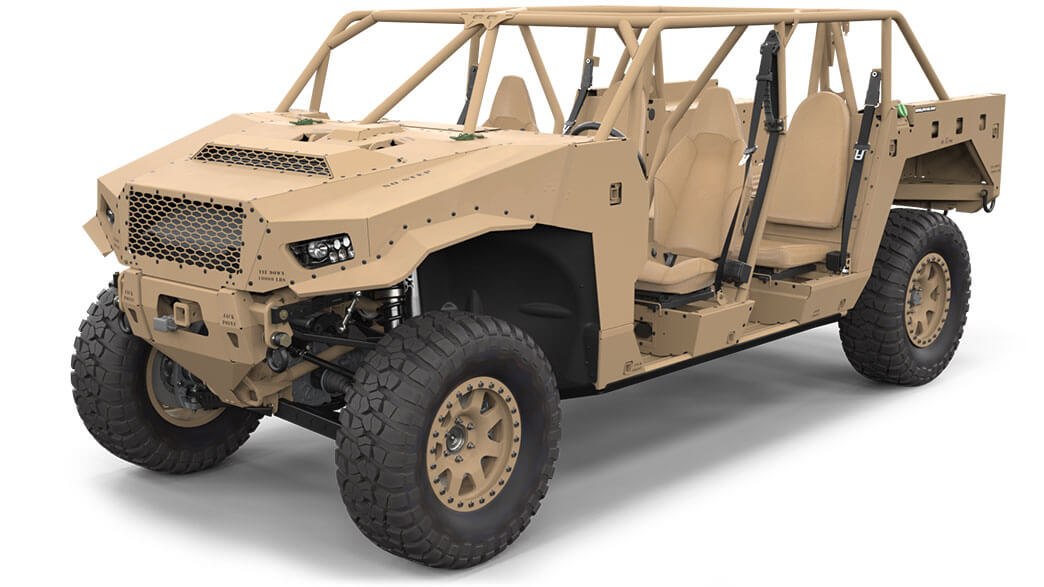 This is essentially a private company "Polaris Government & Defense" which specialized in tactical vehicles, founded in 1954, and which at the time was funded by Edgar Hetteen, described as the father of the snowmobile, hence the name. The vehicle sold well to mountain agencies, national parks, private companies in Alaska and Canada, as well as the governmant's stations in the north and south pole.
Due to the experience of the company with quad and 4x4 small vehicles, and with the needs in Iraq and Afhganistan, Polaris jumped in the bandwagon to deliver the DAGOR (Deployable Advanced Ground Off-road) for the Ground Combat Vehicle (GCV) programme. Ths final vehicle is a purpose-built, ultra-light combat polaris for the light-mobility needs of light infantry and for special operations. It was designed with cost-saving measures, like using readily available commercial off-the-shelf (COTS) components and driveline system.
Design of the DAGOR
Initial requirements for the vehicle included under contract elements from the US Special Operations Command (SOCOM), and the international Special Operations Forces (SOF) customers. When completed in 2014, it passed government durability trails, and was certified for air drop as well as internal air transport, by CH-47 Chinook heavy-lift helicopter (two can be carried). It could also be sling-loaded under the standard UH-60 Black Hawk utility helicopter like the heavier CH-53. it supports low velocity air drop (LVAD) method.
As for its experience in quads, the Dagor is the largest of Polaris utility vehicles so far, way heavier than the single or two tandem seats MRZR 4 and MRZR 2 ultra-light tactical vehicles. It is also larger than the RZR SW tactical vehicle or the Sportsman MV 850/850 LE (light all-terrain vehicle plus Tactical Trailer).
General caracteristics
The DAGOR combat vehicle has an in-built rugged, but also modular design, using COTS components and therefore cheap, easy to operate and maintain. It is 4.52m in overall lenght (bumpers included), 1.88m wide, and 1.84m high. Handbars could be retired and/or folded down for a lower profile. Gross vehicle weight is 3,515kg, empty vehicle is 2,041kg and it was rated for a payload of 1,474kg: 9 crew, a defensive weapon, and all military gear.
It has a large cargo bed at the rear without ramp to easy access and loading, with some straps. The crews are seated both side, two per bank and one seated in the open bay of needed. Its open architecture can be rapidly reconfigured to allow the best access to essential equipment, tailored for the mission.
The open design cab includes two seats forward (Driver, co-driver), two seats behind, a roof gunner seated higher on a sling seat, centrally placed with rollbars to fit a ring-mounted MG, and 4-5 seated on additional bunks at the rear. For structural strenght, the central transmission tunnel plays it part in bottom rigidity, increased by rollbars overheads, in a ladder type configuration: Two main side bars attached to the hood forward and sloped downwards to the open bed aft, and three transverse rollbars: One in front of the driver/co-driver, one in between the front and rear seats, and one separating them from the bed aft.
Powerplant & Mobility
The light weight commercial turbo diesel JP8 engine is located at the front and its COTS driveline provide the required off-road on all terrains. There is also an C4I auxiliary power terminal. The four roadwheels are suspended by trophy truck-inspired systems.
The engine passes its power thanks to electronic power steering in the front left section and the dahsboard displays extra control systems for standard off-road driving techniques, passed onto the gearbox. Additional equipment and accessories for the engine (and high speed) or range can be calibrated for 805 km at cruise speed and maximum gross weight.
Nothing is known about the central inflation system (if any) or specifics of the tyres, which are apparently not run-flat types. The vehicle is apparently "amphibious" in the sense it can cross body waters up to one meter or more, having sealed storage at the rear (behind the rear seats). A grid barrier could be installed to enclose the rear compartment as well. A spare tyre can also be fitted inside the rear compartment as well as additional jerrycans. To be towed out of mud, the vehicle is also equipped with a winch forward.
Armament
The central rollbar supports a laghe ring mount overhanging forward, with a sling-type seat attached undeneath the cross-bars, with adaptable settings. The ring mounts supports a large variety of standard military weaponry, like the M2HB Heavy Machine gun, GMPG, M48 grenade launcher or compatible armaments like the KPT or KPVT machine guns (48 listed). The numerous straps and storage behind the seats and bunks meant all the extra ammunitions and supplies could also be carried. There are multiple points also for extra pintle mounts, notably at the driver/co-driver's positions and intermediate vertical bars.
Protection
No passive protection is present as the vehicle needs to be lighweight, but several points on the rear sides could be used to install a modular armor package if needs be, as well as a slat armor kit. Smoke dischargers are not present by default but could be installed on modular fixations over the rollbars.
No NBC protection as it's open. A "free protection" is ensured simply by suspending the haversacks on the individual rollbars at the rear. The four seated personal at the center however lacks any protection. A tarpaulin for weather/sun protection can be installed on the central section, around the turret ring.
⚙ Polaris Dagor 2014 specifications

Dimensions
Lenght 178 in (452 cm), Width 74 in (188 cm), variable height
Weight
GVW 8,500 lb (3,856 kg)
Payload
4,000 lb (1814 kg)
Engine
TURBO DIESEL/JP8 ENGINE
Performances
Top speed 120 kph, range 500 miles
Armament
Ring mount, general purpose (48 types)
Tactical Mobility
4x4. Carried internally by CH47, or sling-mounted
Status
The vehicle was exposed in several exhibitions in 2014 inclusing AUSA in October, with two prototypes scheduled for tests in November.
Since 2014, nine years had passed, and it seems the Dagor has not been selected for the Joint Light Tactical Vehicle (JLTV) program, for the Utility Task Vehicle (UTV).
However U.S. SOCOM and international SOF teams seems to have adopted a limited number of vehicles, also delivered to the allies special operations forces to be deployed in the Asia-Pacific Region. The Dagor howevr has been proposed in a civilian variant distributed and modified by LINE-X and presented at the SEMA show in Las Vegas, Nevada.
Read More/Src
Specs on military.polaris.com
Extra photos on the official site
Illustrations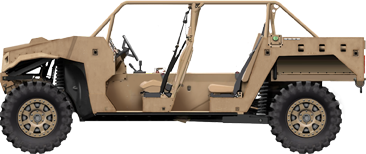 Polaris Dagor in its 2014 presentation livery, desert sand color.
Photos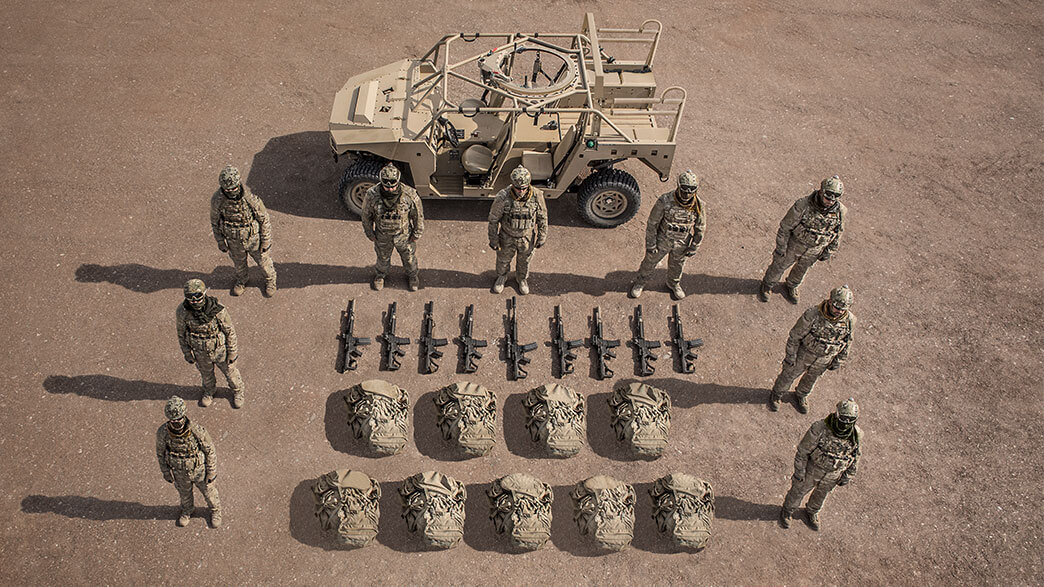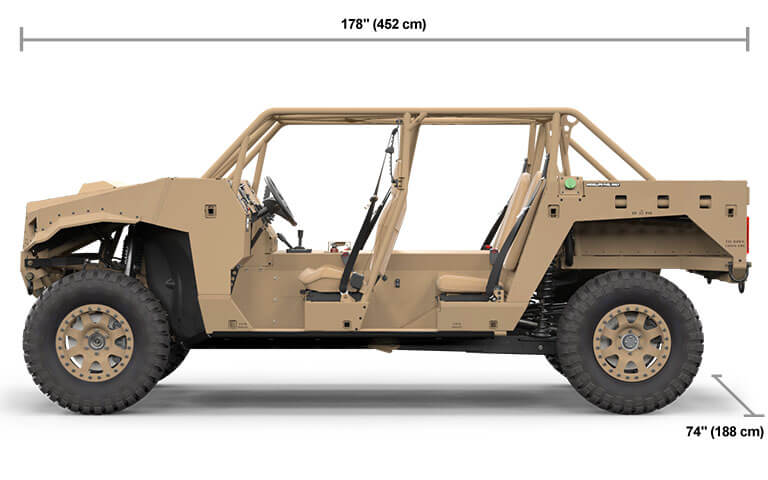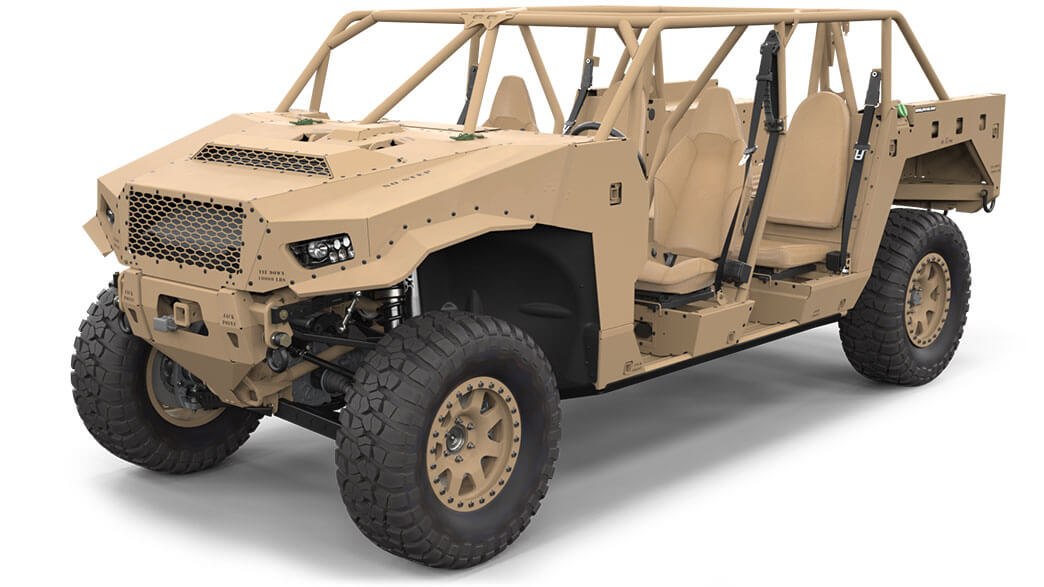 Videos
---
Axis Trucks

Purchase this pagemarker and support the site !
Sd.Kfz 2, 6, 7, 8, 9, 10 and 11 were half-tracks designed just before the war as prime movers, to carry supplies, ammunition, personal, and tow artillery. Many were also converted during the war as armored versions carrying AA FLAK guns (Flakvierling, 37 mm, or the legendary 88 mm Rheinmetall als used as tank hunters), or were converted as nebelwerfer (rocket launching armored vehicles). They were built by Hanomag, Steyr, Mercedes-Benz, Bussing and many other manufacturers until 1945, over 20,000 half-tracks.
---
Cold War & Modern Vehicles
Modern Trucks