Context
Like most European countries after the war, light utility vehicle meant "Jeep" for the French. Re-equipped with US matériel from 1943, French Jeeps soldiered on in WW2, in Indochina and in Algeria, so until the late 1960s. The original procurement since 1944, was of course of American origin, but it was gradually replaced by French-built Hotchkiss M201 Jeeps, under license, well into the frame of NATO. In 1970, these too were worn out and obsolete, being pushed far into to ultimate their fatigue limits.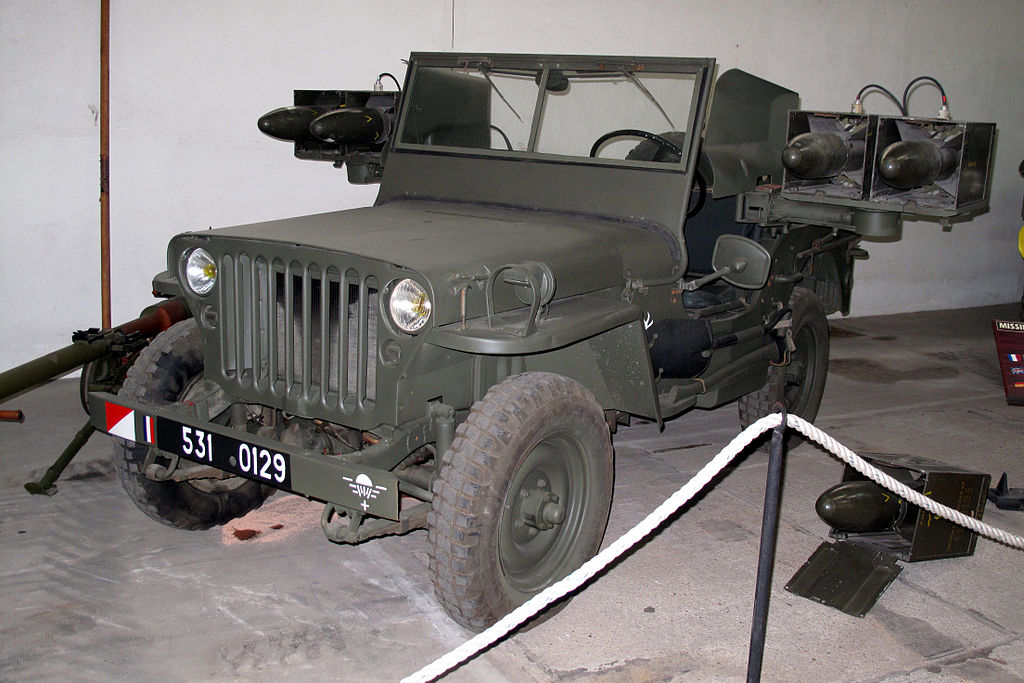 Hotchkiss M201/203
The French army therefore asked for their replacement already in the mid-1960s. Political will was intrumental for an army equipped with French equipment, but this was an expensive endeavour and the French military staff remembered about the disastrous
Delahaye VLR
, a bitter failure and gross strategic error in 1952 as way too sophisticated and therefore unreliable in real battle conditions. This was mostlty a lact-ditch attempt to save a famous interwar company crippled by the war and unfavourable post-war market. In any case, this delayed time and over the adoption of a new model.
In 1965 at last, a vehicle was planned for the next decade (1975), and the military started to search for a manufacturer able to procure the right 4x4 vehicle, but not limited to France alone. In France indeed, no manufacturer was interested into the 4×4 very niche market of the time. Contacts made with various French manufacturers to design such a vehicle were assorted by an order for 10,000 copies to encourage R&D, also arguing it could fill the civilian market as well. However the giants of the time, notably Peugeot, Renault and Citroen all refused, citing an order volume too low for any R&D to be profitable. Small manufacturers on the other hand could be interested, but they simply had neither the industrial nor financial surface to carry out such an enterprise.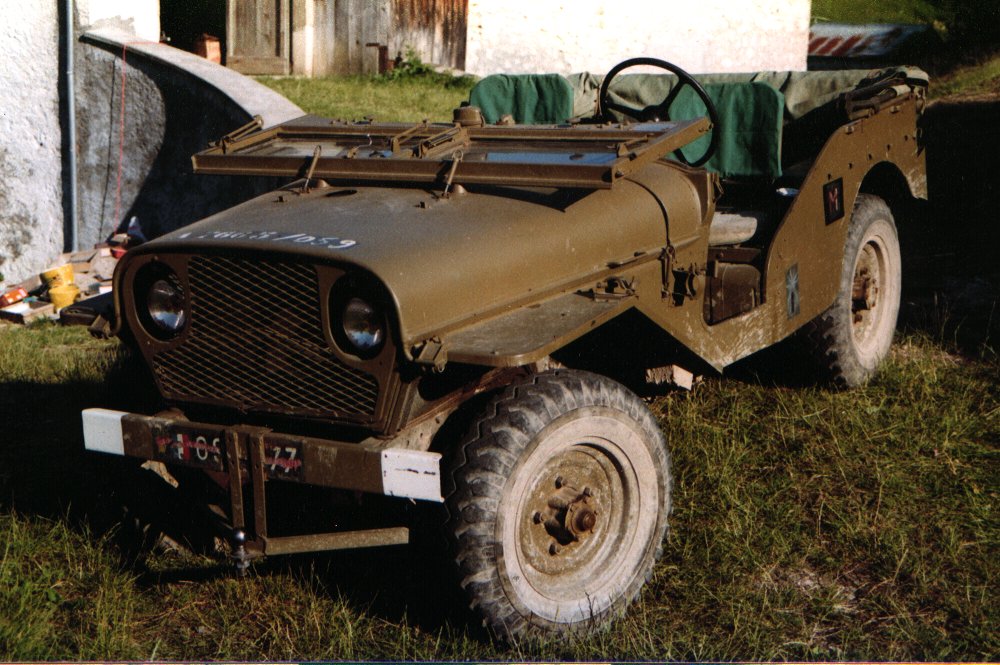 The over complicated Delahaye VLR
Faced with these problems and in the need of a quick solution, the Army suggested an alliance with West Germany and Italy and proposed the ill-fated
"Europa Jeep"
project which this time could reach a more respectable 50,000 vehicles. The project however sank quickly. Staffs of each country expressed indeed different specs, often based on contradictory needs, as there was no NATO common ground for such class of vehicle. It was left to all countries's own will. The impasse was also made on the question of the place of production, and the jobs created with it. Italy trusted the Fiat Nuova Campagnola in 1974, Germany wanted a militarized Mercedes-Benz G-Class.
In France, a last-ditch proposal was to acquired 7,064 Citroën Meharis in a hurry to at least replace the most worn-out jeeps. However the small vehicles had an anemic motorization, and would have been overwhelmed with military grade equipments. This temporary solution nevertheless was accepted as a stopgap, and the army went on discussing on the "three giants", Citroën, Peugeot and Renault by late 1976 to, again, design a modern "Jeep". After yet another refusal, other options were opened:
Renault at the time partnered with Fiat and was to proposed the second-generation Campagnola 4×4 in 1974. Negotiations for a license were successful eventually and Renault was able to "Frenchify" by integrating the Renault 20TS engine, proferred over the Fiat engines proposed, and with a body assembled in France. The prototypes Renault TRM 500 (1978) were tested with the competitors, the Citroën C44 and the Peugeot P4. For purely political reasons, the Peugeot-Mercedes model was chosen instead. In addition it took four years to go from the P4 pre-series to production whereas the TRM 500 was ready right away, with already sieable exports to prove ite reliability.
The Peugeot P4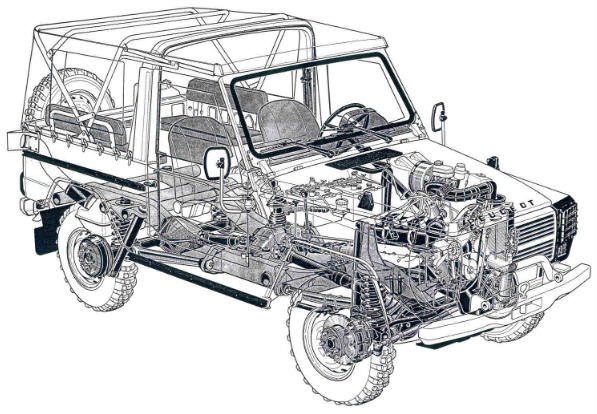 Cutaway
The Peugeot P4 was in reality another partneship and licenced version of the Mercedes Classe G, already adopted by the Bundeswehr for the same needs. The P4 answered the specs asking for the ability to carry four personal and their equipments, a radio station, being air-transportable and air-droppable for airbone operations; The program however ran soon into multiple delays, some technical, some organizational, and some emerging from a complicate licence agreement and production/export limitations between Mercedes and Peugeot and adequatelly distribute the construction between both countries. It was not until 1978 that the design replacing the Jeep Hotchkiss was ready to be turned into a proper military vehicle. Prototypes were tested in 1980, first by the 15th RCS based in Limoges.
From the end of 1982, the Sochaux Plant was setup for production and started to assemble the first pre-production batch, called Peugeot P44. It was initially powered with the Peugeot 504 gasoline engine from the G-Class, and the Peugeot 604 gearbox, while all electrical circuits were redone, welding of the body as well, and cataphoresis treatment. Everything else was made at Mercedesand shipped by train and truck to Sochaux. At last, the very first prototype of the final production military vehicle rolled in 1978. These passed a long series of tests. One of these was a gruelling rally in southern Algeria with two P4s running with different engines, on patrol and diesel for comparisons.
In 1981, the French army at last ordered 15,000 P4 (which had a single military grade filling system running either on petrol and diesel). This contract however was later reduced to 13,500 units following budget cuts in the army's workforce. From 1985, production was transferred to Panhard at Marolles-en-Hurepoix. There, the remainder 6,000 vehicles were produced.
Design
The Peugeot P4 is essentialy a licence-built Mercedes G-class, with a militarize body using resistant plastics for bumpers and other parts, lights protected by grids, and military tyres, plus accomodations for a radio and whip antenna. This was an open vehicle, with the wingshield folding on the hood, and a canvas cabin, strapped from the windshield to the sides at the rear, with flexibles plastic windows and maintained by light metallic arches folded at the back.
There were two seats forward, for the driver and co-driver or commander, and two facing inwards benches, foldable and dismountable to accomodate larger payloads on the flatbed (Up to 500 kgs useful payload). Access was easier by the folding down back plate. There are dismountable, light canvas doors with plastic windows as well resting on V-struts; The benches were large enough to carry two on either side, so four infantrymen, plus the driver and commander, making a half-platoon. Personal equipments could be deposed in between the benches. The vehicle was also given fixations for a rear spare roadwheels right, and a jerrycan left.
This is a rather light vehicle, using a lot of plastics, air-transportable at 750 kg unladen, but when combat ready, it reaches 1,750 kg (3,858 lb). The vehicle is 4,200 mm (165.4 in) long overall, and 4,650 mm (183.1 in) for the long wheelbase variant, and 1,700 mm (66.9 in) in width. Height varies among variants; The standard version is about 1,90m above the road, on top of the rollbar.
The P4 was in principle unarmed. There were of course the personal weapons of the crew of six, including portable mines, mortars, ATGMs and Manpads, assault rifles (Famas in that case) and revolvers. However, a pintle could be mounted in the bed at the rear, for a GMPG manned by a standing infantryman, resting on the roll bar separating the driver and infantry sections, rarely seen in photos. The same could also accmodate a Gatling Gun and MILAN ATGM. A machine gun could also be manned by the co-driver, placed loosely on the side of the folded windshield forward (there is no pintle). There are also armed and even armoured variants (see later). The P4 also has a dedicated trailer, with a single axle and spare roadwheel, plus payload protected by a strapped canvas.
Mechanically the P4 is a 4x4 with a Mercedes Type G 2.0 L XN8 I4 gasoline engine under licence of the main version (79 PS (58.1 kW; 77.9 hp)), and Peugeot 2.5 L XD3 diesel I4 four-cylinder diesel engine for the Panhard version (70.5 PS (51.9 kW; 69.5 hp)). It is coupled with a Peugeot 604 4-speed, 1 reverse gearbox, with rear differential, 2x4 and 4x4 lever setup. Top speed varies, up to 108 km/h (67 mph) or 118 km/h (73 mph), while the autonomy is enable by a 75-100 liters rear fuel tank (underneath the Mercedes chassis), plus 20 litres in a jerrican, for a road range of 800 km. The P4 also used to rduce cost parts from many vehicles (lights from the P504, 2CV Citroen door handles...). There is a circuit-breaker to avoid battery problems (there were two), and simple ventilation knobs and four main gauges. Consumption was 9-11 liters/100 km.
Variants
P4D
In which "D" means diesel: About 1,300 Converted in 1992, by Panhard (1300 VLTT), helped by the "Établissements régionaux du matériel". They used the 2.5-liter Peugeot four-cylinder, used on the original diesel P4 prototype.
P4 VPS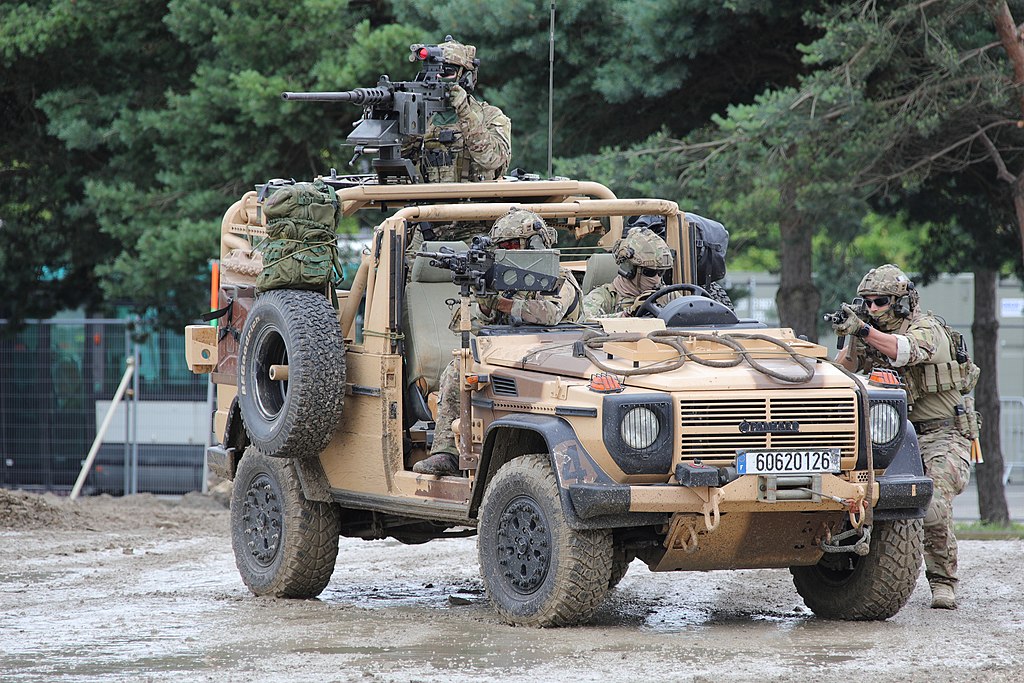 Special force vehicle: Open-top, with a reinforced rollbar (extra reinforcements), no windshield or doors, open back for eeasier access, and double rollbar cage-type structure at the rear for a circular gun mount, and heavy machine gun (generally Browning M2HB cal.50) for a standing gunner in the rear flatbed, and a pintle-mounted GMPG or assimilated standard NATO ordnance for the co-driver. Reworked front bumper with cable roller, and utility steel cable, extra side jerrycans and side spare roadwheels and extra straps to carry expeditionary gear. The VPS also is fitted with armored floors for landmine protection and is air-transportable by C-160 Transall or C-130 Hercules. A contract for conversion of older existning vehicle, refurbished, into this version was granted in 2005
P4 VIPAIR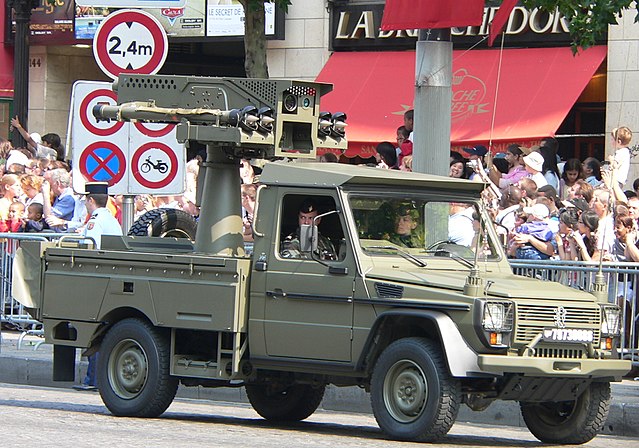 The SPAAML variant: This is a P4 with Mistral missiles in Aspic mount. The acronym means "Véhicule d'Intervention et de Projection Air" (Air Intervention and Projection Vehicle). It is tasked to provide an organic AA defense to fast intervention forces. The vehicle was created by Arquus (former Renault Truck Defense) in 2016. It was tested bt the army and accepted in 2018 for production, leading to the conversion of 19 P4 into ASPICs in 2018-2020. It is fitted with a hardtop for the cabin, and large mount in the flatbed for four Mistral (pmanpads) launchers, and a central optronic system with laser designator. There are spare mistrals in store alongside for manual reload.
P4P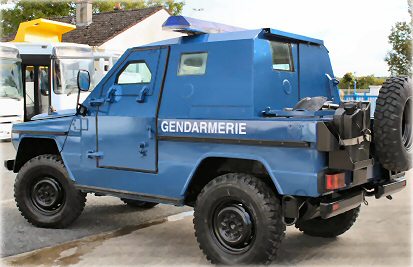 The "P4 Protégé" was a first armored version designed from March 1995. It was given a passive armour kit, developed as a private venture by Panhard General Defense. It could be therefore installed on any regular P4. The The first batch of 10 were fitted in March 1995 on active P4s deployed in Bosnia for all but two. The Gendarmerie also adopted it for its special operations with the GIGN. The army found this package did not hampered too much the vehicle's mobility, and ordered more, for a total of 80, among which 40 were delivered at a rate of 10 per month and 30 additional kits, now all delivered. More on this on a dedicated Tanks Encyclopedia Article.
PVP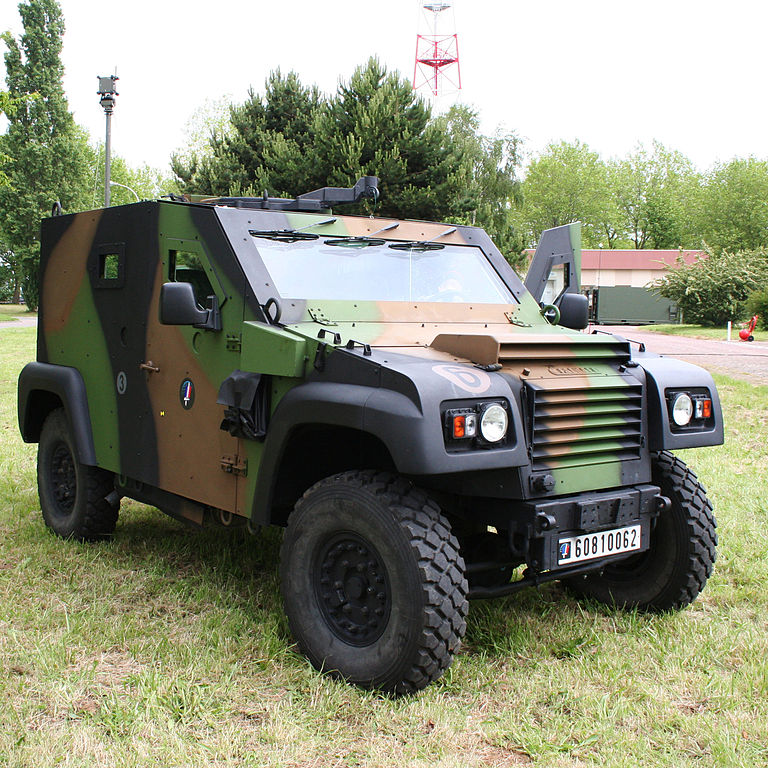 PVP means "petit vehicule protégé" ("Small Protected vehicle"). This is the all-armored version of the P4D made by Panhard, also designated Auverland A4 AVL (Armoured Vehicle, Light) and built by Auverland as a successor and frontline military version of the P4, used a personnel carrier, weapon carrier, reconnaissance and detection vehicleo or communications relay vehicle. Based o the same chassis, considerably reinforced, it weights 4,390 kg. The all-around armor is completed by small armored windows, and the protection is classed a STANAG 4569 (6 to 10 mm), protecting against assault rifles and heavy MGs, shrapnel with a floor protected against antipersonnel mines type DM 31.
The Panhard PVP unit cost was estimated €167,000 in 2012. Production went on for the French Armt between 2008–2012 to an amount of 1133 vehicle. They are not conversions of regular P4 but a new model, taking the succession of the P4 at Panhard. The crew is reduced to two in the cabin and two in the compartment. The engine is an Italian IVECO 8140 2.8 litre turbo-diesel developing 160 hp (120 kW) for a power/weight of 34 hp/tonne. The PVP has a circular rail mounted Medium machine gun on top. Numerous versions has been declined from it, the PVP HD (Heavy Duty), PVP XL (Extra Large), taller PVP APC carrying 6 troops, Colt, License-built by Ashok Leyland, and the proposed, but not adopted Gavial for the Bundeswehr. More on this on a dedicated Tanks Encyclopedia Article.
Fate & exports
Production of the P4:
-A civilian version is offered under the same name but does not meet with great sales success due to a high price and an unfavorable weight/power ratio. Moreover, Mercedes-Benz does not grant Peugeot the possibility of exporting the car elsewhere than to African countries bound by a defense agreement with France. Only
At the end of 2015, the French army had less than 2,500 units in service and this number continues to drop by several hundred per year. In 2016, among other donations to foreign armies, the French State donated 21 P4s to the Cameroonian army as part of military cooperation with Cameroon aimed at combating terrorism.
After an order for 1,000 Ford Rangers in 2015 to replace the oldest P4s, a new order for 3,700 vehicles was placed in December 2016 to replace the rest of the P4 fleet. The vehicle has a Ford Everest base, militarized by Renault Trucks Defense in France (now Arquus).
In 2019, although in the process of being withdrawn at the general level, around fifteen P4s were upgraded for the Air Parachute Commandos (VPS).
Src/Read More
On warwheels.net
lautomobileancienne.com
3emedragons.fr
On the P4 Milan
joint-forces.com on VIPAIR
P4P on sale
autovehicle.info
About the P4P
wikipedia
Video, full presnetation and tests (FR)
Gallery of models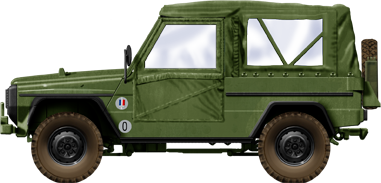 Early model with green livery in 1982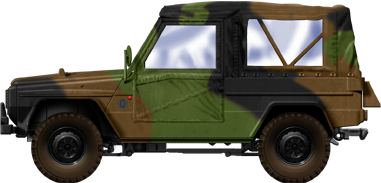 Camouflaged model in the late 1980s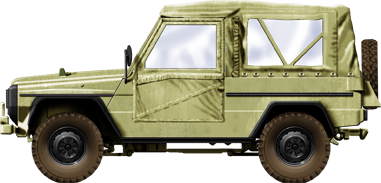 Vehicle with a beige livery used in Africa in the late 1980s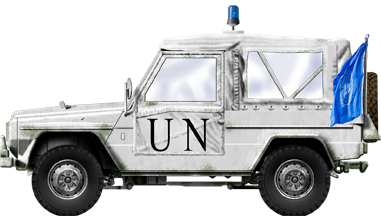 Vehicle used by KFOR, UN in Bosnia 1995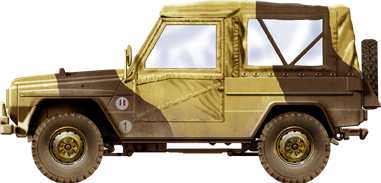 Camouflaged vehicle used by the Division Daguet during Operation Desert Storm, 1991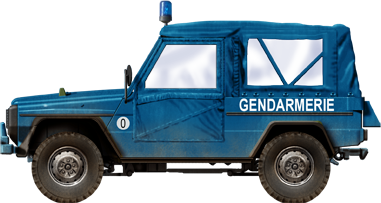 P4 of the Gendarmerie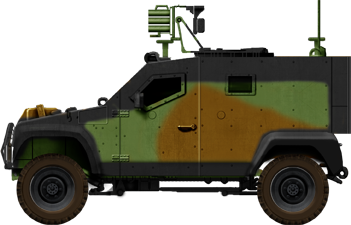 The Peugeot PVP, small utility armored vehicle
Photos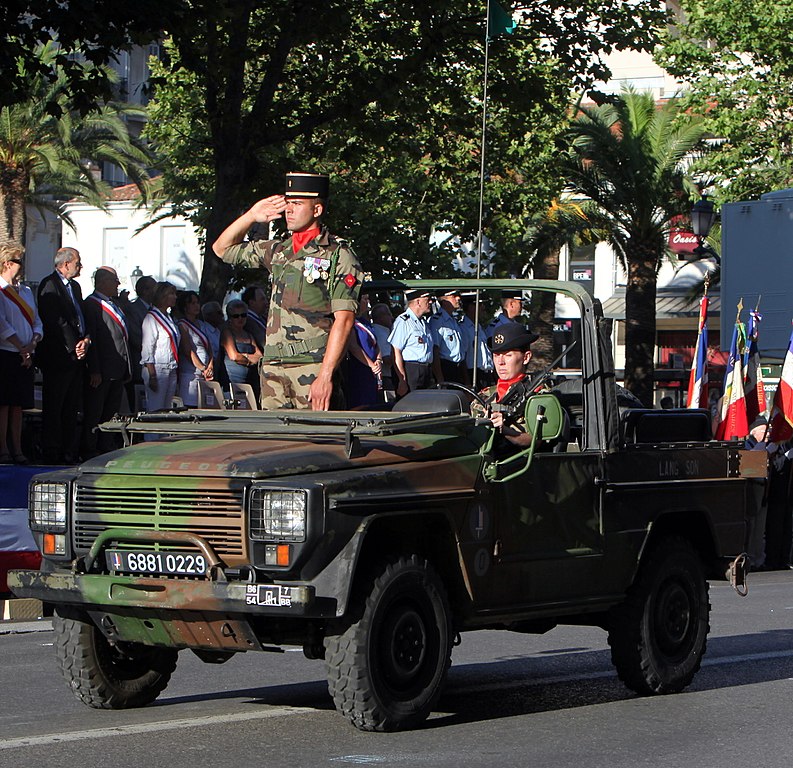 Standard P4S with the windshield down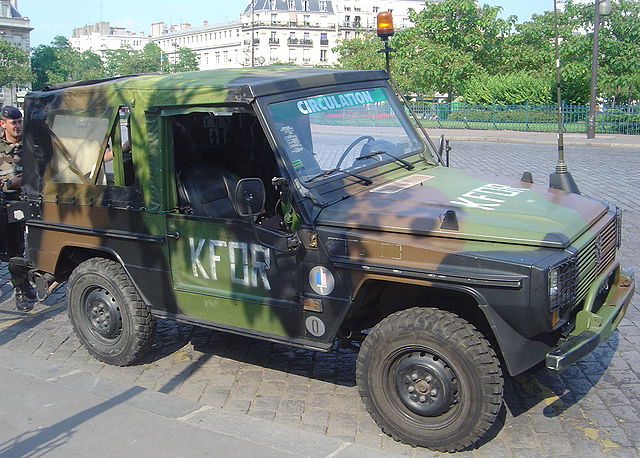 P4 used in Bosnia in 1995 by the KFOR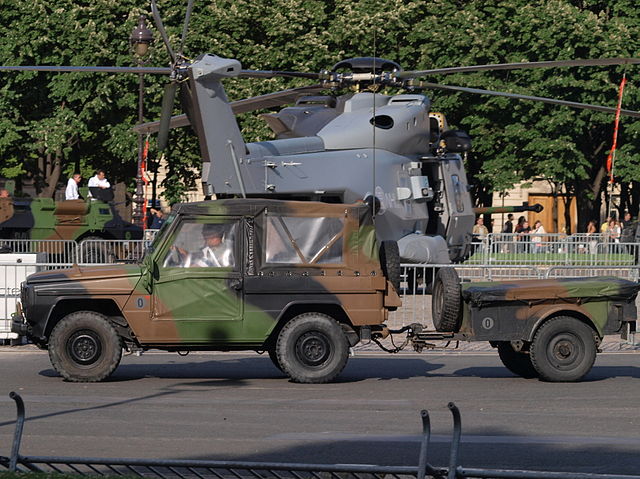 P4 with trailer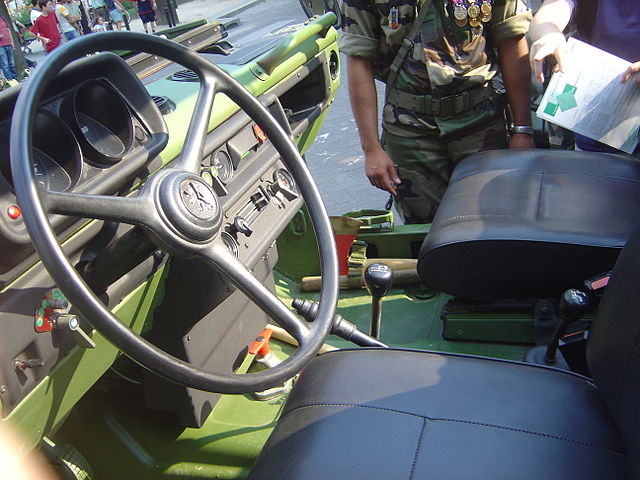 Interior, cabin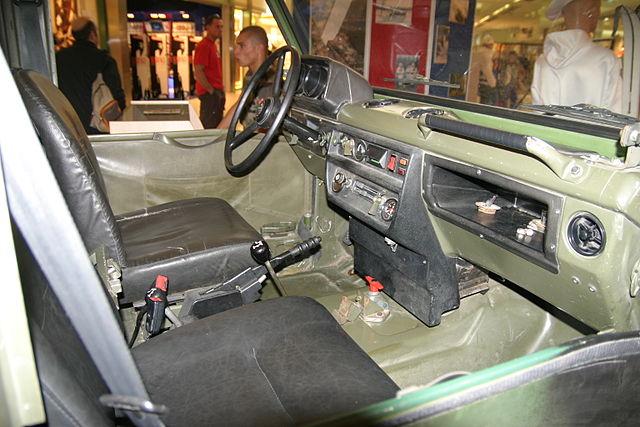 Interior, cabin
---
Axis Trucks

Purchase this pagemarker and support the site !
Sd.Kfz 2, 6, 7, 8, 9, 10 and 11 were half-tracks designed just before the war as prime movers, to carry supplies, ammunition, personal, and tow artillery. Many were also converted during the war as armored versions carrying AA FLAK guns (Flakvierling, 37 mm, or the legendary 88 mm Rheinmetall als used as tank hunters), or were converted as nebelwerfer (rocket launching armored vehicles). They were built by Hanomag, Steyr, Mercedes-Benz, Bussing and many other manufacturers until 1945, over 20,000 half-tracks.
---
Cold War & Modern Vehicles
Modern Trucks