Steyr-Puch Pinzgauer (1971)
German 4x4/6x6 light utility truck (18,349 produced 1971-2007)
The Pinzgauer, superstar Austrian Military Truck
One of the 4x4 milestone trucks of post-war Europe was found in Austria. Designed much later than the German
Mercedes Unimog
, this vehicle proceeded of a different path: Not simple a rugged off-road light utility truck mostly intended for agricultural work, but a replacement for the already existing Haflinger 700 AP 4×4 vehicle, from Steyr-Daimler-Puch in Graz. The name was of an Austrian breed of cattle (Austrian cow). It was produced to an extent of 18,350 until 2007, passed on BAE Systems Land & Armaments under licence in 2000, but production ceased in 2009.
Development
The precedessor, the Haflinger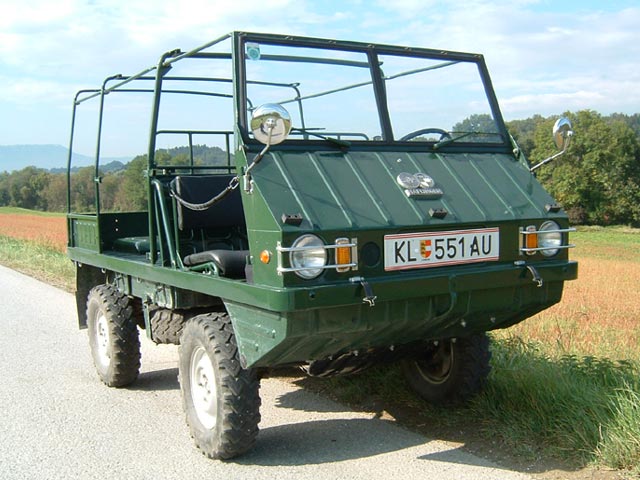 The original Steyr-Daimler-Puch Haflinger 700 AP was a light 4×4 light military multi purpose offroad vehicle. The latter was an air-transportable, very light (600 kg (1322.8 lb), 500 kgs payload 3.5 m x 1.5 m vehicle powered by a 643 cc flat twin horizontally opposed, rear mounted, air-cooled engine.
Over 16,000 vehicles were manufactured, designed by Tatra's Erich Ledwinka and in 1959 when production started, was called the 'little Tatra'. Approximately 7,000 served with the Swiss, Austrian and Australian armies, plus Royal Navy. They saw action in Katanga and Congo in the 1960s and inspired the US M274 Mechanical Mule used in Vietnam.
Ten years after the start of the production, the Steyr-Puch company planned for its replacement, designing a heavier, bulkier, but still light variant, which original prototype was ready around late 1969 production starting in early 1971. The Pinzgauer was marketed as a successor of the Steyr-Daimler-Puch Haflinger (produced until 1971) in its first generation model, the 710 4x4 and the 712 6x6 developed around the same chassis, engine and powertrain in general.
Design (1965-1970)
Like the previous Haflinger, the truck had the caracteristic stamped steel boxy nose, but the engine, more powerful, was relocated behind the driver (not in front, making for an very short nose), and its chassis design contributed to its high mobility.
This was a central tube chassis, with a transaxle configuration, which distributing the weight more evenly. Like the Unimog, it kept its centre of gravity quite low, explaining ts ability to carry heavy loads on very uneven terrain without risk of toppling over.
Differentials were sealed units for the vehicle to ford rivers, requiring at that minimal additional lubrication. It also had portal axles like the Unimog for extra clearance.
The powerplant consisted in an inline 4-cylinder Steyr-designed petrol/gasoline engine, 2.5 litre inline and air-cooled, 2.7 L for final 712 variants; It was served by a five-speed manual transmission, with two-speed transfer case, the only difference between the two chassis were the four-wheel or six-wheel-drive, but both had on-the-fly hydraulic differential locks.
For performances, its boxy look did not helped achieving great coefficients, and the 1st generation vehicle's maximum speed, light, was around 110 km/h (68 mph)for the 710 and 100 km/h (62 mph) for the 712. Both had a radius of 400 km (249 mi).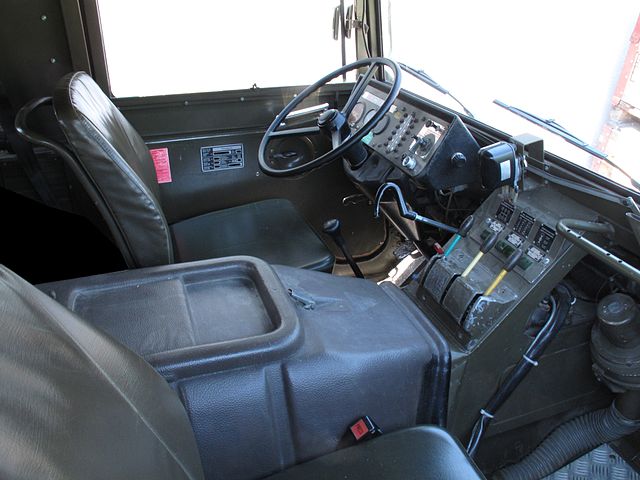 Dashboard interior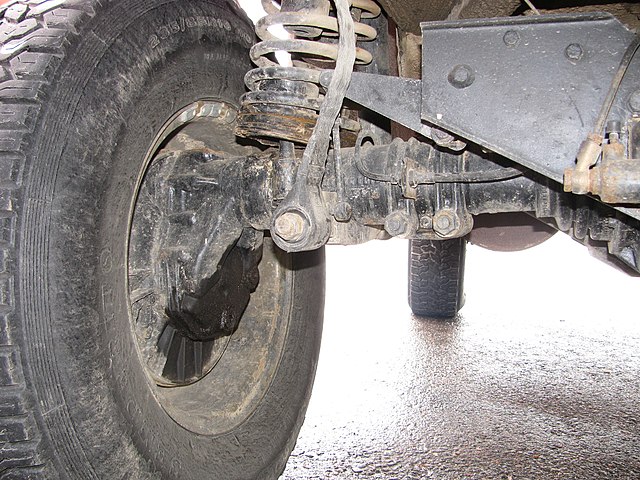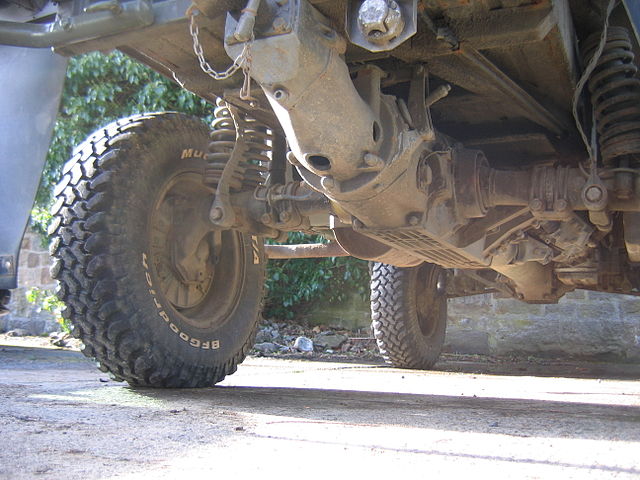 portal axle
Qualities and overview
The Pinzgauer emerged as one of the most capable all-terrain truck ever made in the cod war. Not supremely fast on road (at best 110 kph without load (68 mph)) due to its boxy look and high cx, it was still able to carry more troops han a Humvee, and appeared ti be even faster over rough terrain. The 710M for its small engine and four wheels would still carry a platoon, of 10 infantry, or two standard NATO pallets as payload. Tactical omobility was excellent due to their low weight, they could be heli-towed anywhere, by any model. Due to their highly placed engine and equally high chassis they were able to ford more than 1,10 m rivers without a intch.
Both the 4×4 and 6×6 not only had a generous payload, but their high torque unit proved capable of towing 5 tons (11,023 lb) on road, then 1,5 (3,307 lb) 1,8 tons (3,968 lb) off-road. The range of 400 kilometres (249 mi) was on a single fuel tan but it rose to 700 kilometres (435 mi) with the optional 125 litre tank.
It was also designed to be reliable and simple to repair and maintain. The air-cooled petrol engine and its dual-Zenith 36 mm NDIX carburetors were common on the civilian market and easy to procure. The engine however was designed for the vehicle and had an extra oil pump to never not got starved no matter its orientation. It was also surprisingly stable on a very high slope. The Generation II only improved on these qualities with a set of improvements and even better engines.
Pinzgauer 710 4x4
⚙ Model 710 4x4 specifications

Dimensions
4.175 x 1.760 x 2.045 m
Weight
Crew
1 driver + 8 passengers
Payload
2.5 tonnes
Propulsion
4 cyl. Steyr 2.5 L 87 bhp, Gbx 5 speeds
Speed
100-110 kph (62-68 mph)
Range
400 km (249 mi)
Protection
None
Variants
710 M: soft top with rear passenger seats (10 passenger total)
710 T: Flat bed carrier
710 K: 5 door hard top station wagon (5 passenger total)
710 AMB-Y: Ambulance with 3 doors
710 AMB-S: Ambulance with air-portable removable shelter
Pinzgauer 712 6x6
Its rear suspension on the back is designed to provide maximum traction in all circumstances and also improved its towing and load carrying capabilities, while also providing a better traction and general off-road abilities.
⚙ Model 710 4x4 specifications

Dimensions
4.175 x 1.760 x 2.045 m
Weight
Crew
1 driver + 12 passengers
Payload
3.5 tonnes
Propulsion
4 cyl. Steyr 2.5 L 87 bhp, Gbx 5 speeds
Speed
100 kph (62 mph)
Range
400 km (249 mi)
Protection
None
Variants
712 M: soft top with rear passenger seats (10 passenger total)
712 T: Flat bed carrier
712 FW: fire truck
712 K: 5 door hard top station wagon (5 passenger total)
712 W: workshop with air-portable shelter
712 AMB-S: Ambulance with air-portable removable shelter
Production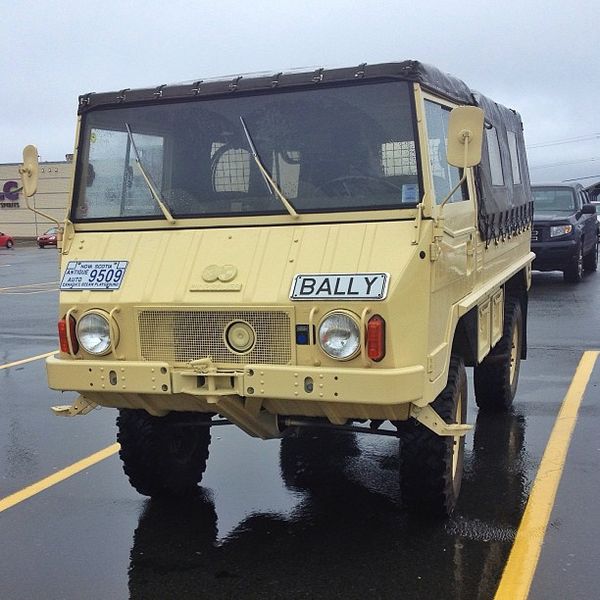 3 views of the 710, 1st. gen.
-The 710 4×4 was the more popular variant, probably making 2/3 of the total production.
-The 712 was introduced quickly afterwards as a very capable 6×6.
Most were either "K" (hard-topped) or "M" (soft-topped) types.
Tested 8x8 variant, tested but not further developed.
1st generation 1971-86
The 1971 vehicles had in common, wether in 4x4 or 6x6, the same 2.5 litre inline four-cylinder air-cooled engine, while late production 712 variants were produced with a larger 2.7-litre variant of the same engine, mainly used on ambulances. Fully independent suspension, Backbone chassis tube, Integrated differentials were also common, as the 24 volt electrical system and Vacuum assisted drum brakes as the Portal axles.
2nd generation 1986-2000
In 1980, a second generation interally designated P80, or officially "Pinzgauer II" was developed, and unveiled after six years of research and development. It rolled off the assembly line in 1986. The four-wheel drive (4×4) became the Pinzgauer 716, the 6x6 became Pinzgauer 718. Same letter body were kept for all variants. The first had the same payload, but the second had a higher payload capacity.
Changes were as following:
-Inline six-cyl. VW Turbocharged diesel D24T inline 65 kW (88 PS; 87 bhp)
-ZF Friedrichshafen 4-speed automatic transmission (standard) and optional 5-speed manual transmission
-Slightly wider track, bigger tyres -New Disc brakes
The second generation had several minor revisions. It was modernized in 1990 as the P90 and in 1993 as the P93, when the VW unit was fitted with an intercooler (D24TIC). The last version, 2002 obtained the new Volkswagen Group Turbocharged Direct Injection (TDI) engine introduced to meet the new Euro3 emissions requirements.
The related Volvo TGB
Change of Owner: British Prodution 2000-2009
In 2000 the rights were sold to Automotive Technik Ltd (ATL). In 2005, it was acquired by Stewart & Stevenson Services, Inc. and by May 2006 it became a subsidiary of the aerospace and defence group Armor Holdings, Inc., acquired in 2007 by BAE Systems plc. It was manufactured in Guildford, Surrey, England, for BAE Systems Land & Armaments which purchased the licenced and maintained its production until 2009.
The model was very popular amongst military buyers, and since deployments in Afghanistan as it proved vulnerable to mines and IEDs, development work in the UK for a planned Pinzgauer II (Or Mk.II in that case) led to the creation of an improved MRAP version which was evaluated by a BAE subsidiary (Benoni, Gauteng in South Africa). This went nowhere and is likely to stay that way as the vehicle's basic design is now showing its age.
A world's success
Operators
The vehicle became a huge marketing sucess, going well beyond the sells of its much smaller predecessor: Argentina, Austria, Bolivia, Cyprus, Lebanon, Lithuania, Malaysia, New Zealand, Macedonia, Montenegro, Saudi Arabia, Serbia, Oman, Switzerland, United Kingdom, United States and Venezuela all tested its and adopted it in all its variants.
British Army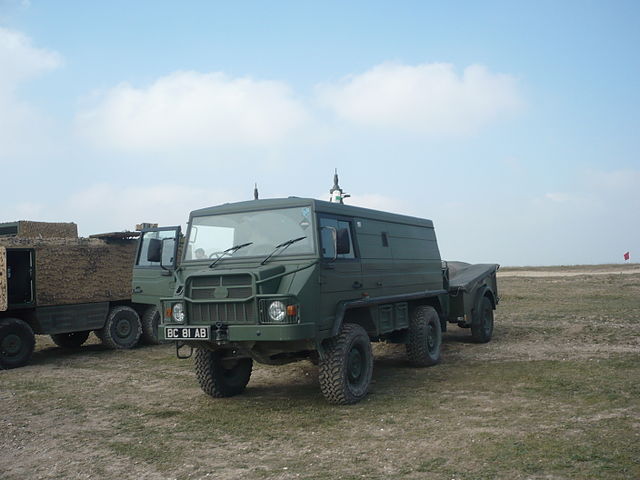 British 716K with trailer
The Pinzgauer started to replace the Land Rover Defender as the main utility vehicle despite its higher cost of roughly US$100,000 per unit. The "Pinz" was used as an utility vehicle organic to Royal Artillery units, as light gun tractor. BAe also tested the Tactical Ground Station (TGS) as platform for the Raytheon Airborne Standoff Radar (ASTOR). The full systems comprised two workstation vehicles, a mission support vehicle, and a standard utility vehicle, so four on the same basis. Its is currently marketed but found no buyers.
The 6x6 armored Vector
An armoured version, the "Vector" was even derived by BAe and unveiled in 2007, to stay relevant in Afghanistan. This 6×6 Vector PPV (Protected Patrol Vehicle) in addition to its add-on protection, including anti-mine and anti-IEDs, included "sophisticated electronic counter measures" for better survivability on patrol. However its unreliable suspension, wheel hubs and still unsufficient protection against IEDs condemned it. The few tested in Afghanistan were quickly withdrawn from service.
Swiss & Austrian Armies
Pinzgauers were initially sold to the Austrian military and the firts buyer outside Austria was Switzerland. They are used as non-tactical utility vehicles, general-purpose utility truck, command vehicles, troop carrier, ambulances and towing vehicles. Their civilian turned-military equivalent from Land Rover (UK) are the Blazer CUCV (US) and German Mercedes G.
Yugoslavian Army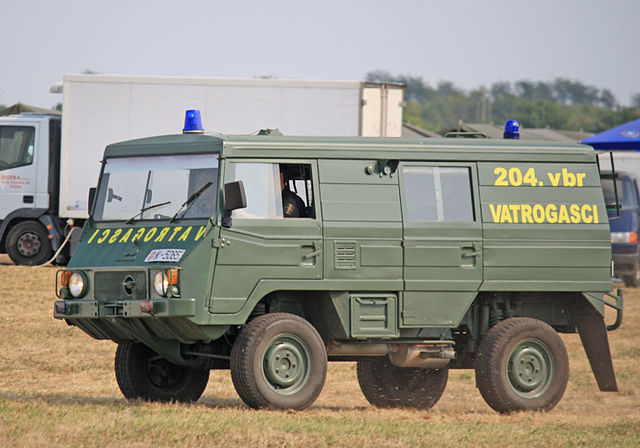 Serbian Pinzgauer 710 of the VS 204, 204th Air Brigade Fire department, Batajnica Air Base
In 1971, Yugoslavia became interested also and purchased no less than 3,975 Pinzgauers from 1971, in all variants and both 4x4 and 6x6 configurations. After the dislocation of the country in the 1990s it was passed onto the successors states and saw action during the war.
NZ Army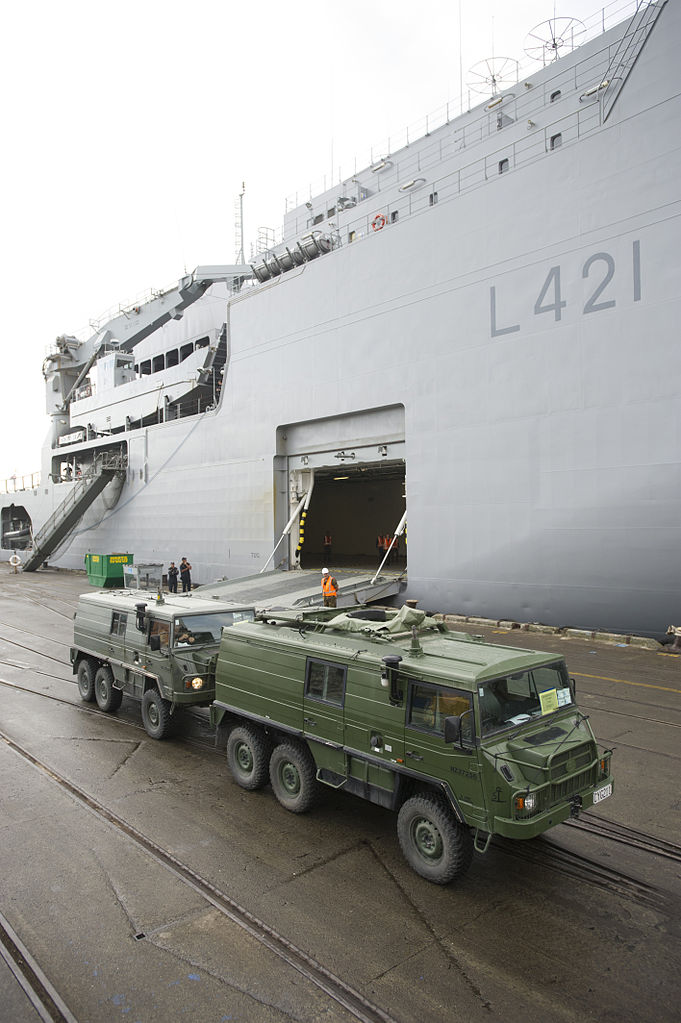 Two New Zealand 718 models landing from an LHD
The New Zealand Army purchased 321 Pinzgauer in 8 variants for its Light Operational Vehicle (LOV) role. They are still in service today.
Malaysian Army
With its bad roads, the Malaysian armed forces also purchased 168 2-Ton 4×4 716 Gun Tractors, 164 2-Ton 6×6 718 Mortar Transporters, replacing their older Volvo C303 and C304. They are locally called the "Piglet".
US Army
The US Army tested the vehicle and found it favourably rated compared to the standard issue Humvee, with the major difference it was unarmored. Twenty Turbo Diesel 718M were ordered during the early 1990s for the Army's Delta Force. There it was used as a deep reconnaissance platform, heavily modified for spec ops. They were used in the 1991 Gulf War and 2003 Iraq war but phased out in 2010-2011.
Civilian use
Civilian buyers started to appear in the early 1970s already, to which were added recently the demilitarized vehicle, purchased by individuals. The Pinzgauer was marketed to campers, farmers, and as mountain ambulances as well as fire-trucks and rescue vehicles.
Many vehicle were also used as off-road tourist vans, especially in national parks for safari-photo and other treks, due to their large passenger capacity and stability. They also saw service in tours in the Australian outback, South America (patagonia notably), and in Hawaii among others. Energy companies also used them for oil exploration. Some even found fun to use them of off-road racing. They had been often seen in the Paris-Dakar Rally, or the International Rainforest Challenge, in Malaysia.
Src/Read More
wiki
On 6-wheel-drive.org
Gallery on Pinterest
On puch.at
off-road-drive.ru
szoncso.com/fritz6x6
Illustrations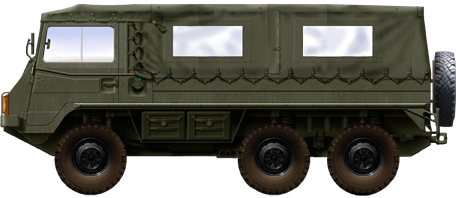 Basic 712 6x6 model, 1st generation
Photos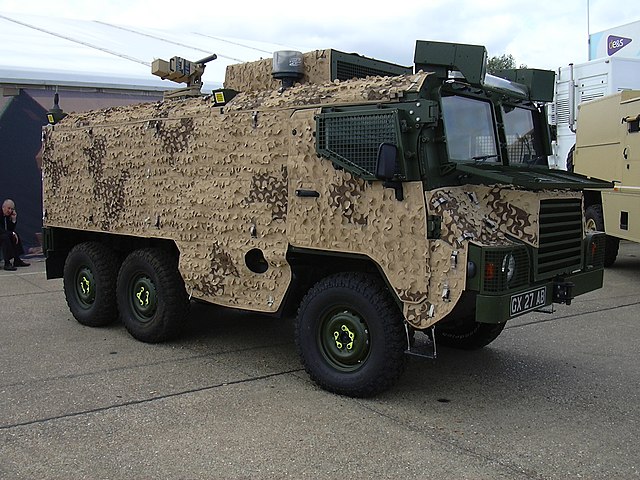 BAE Vector 2008 tested in Afghanistan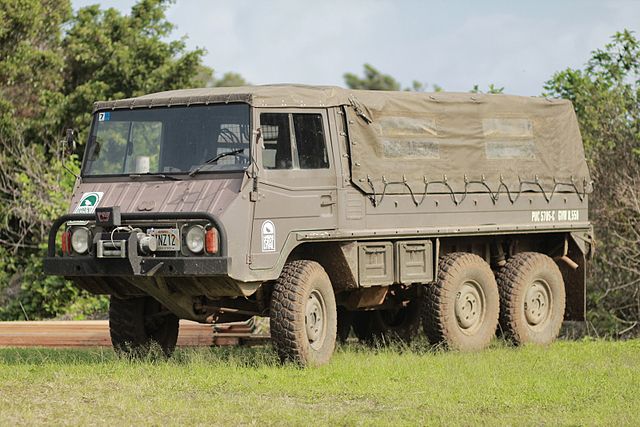 Basic 712 of an individual (private coll.)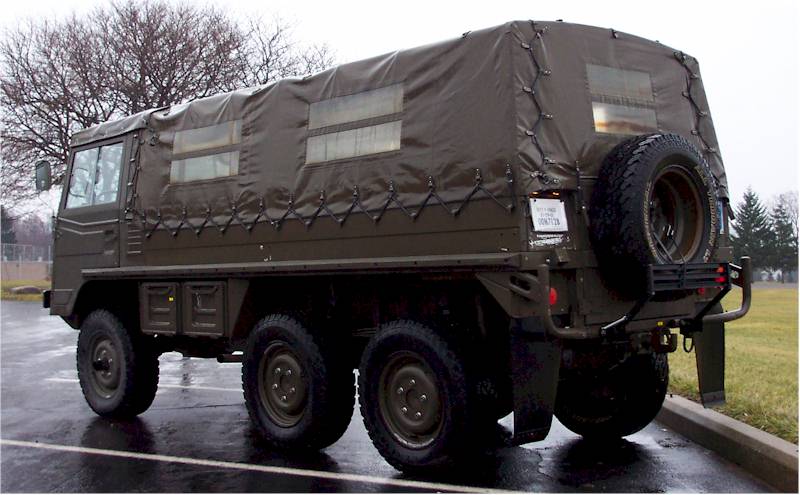 Rear of a 712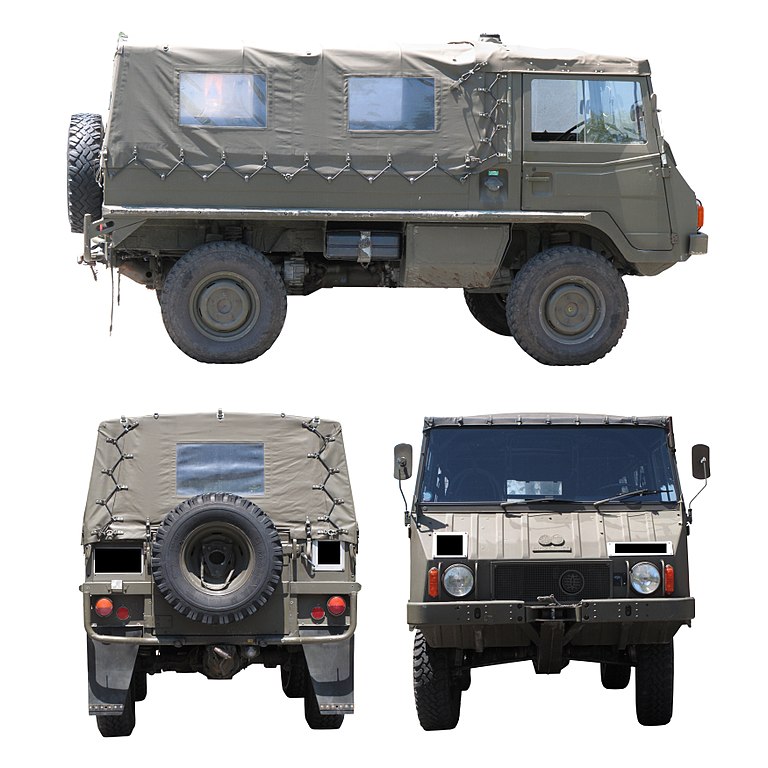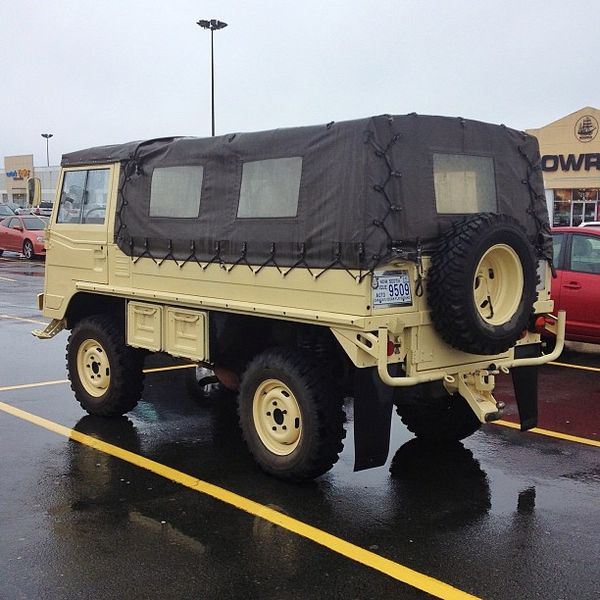 2 views of a British desert tan model 710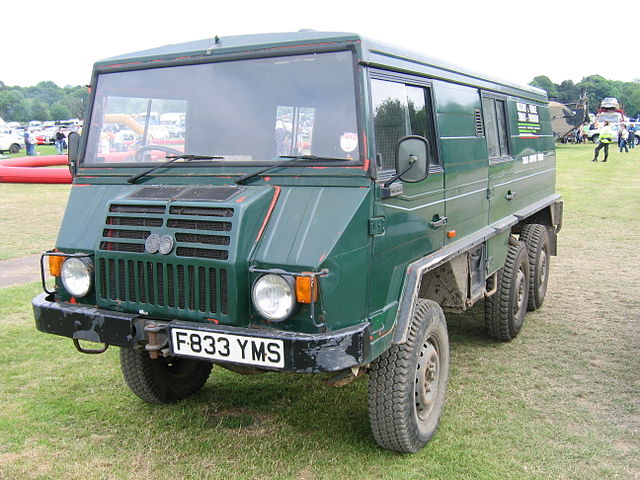 716K model, front view, notice the different, larger protruding radiator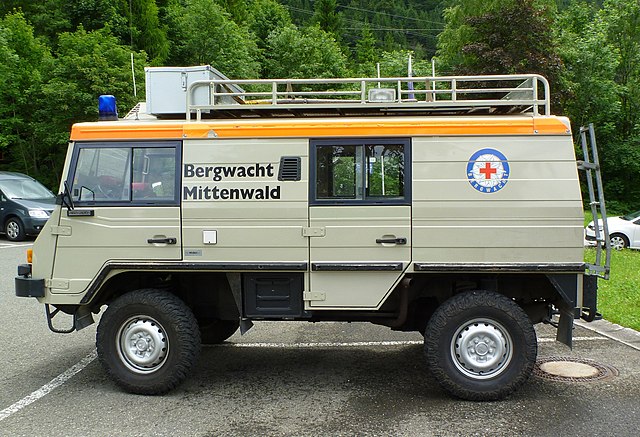 Swiss Pinzgauer 710 of the Bergwacht Mittenwald (mountain rescue)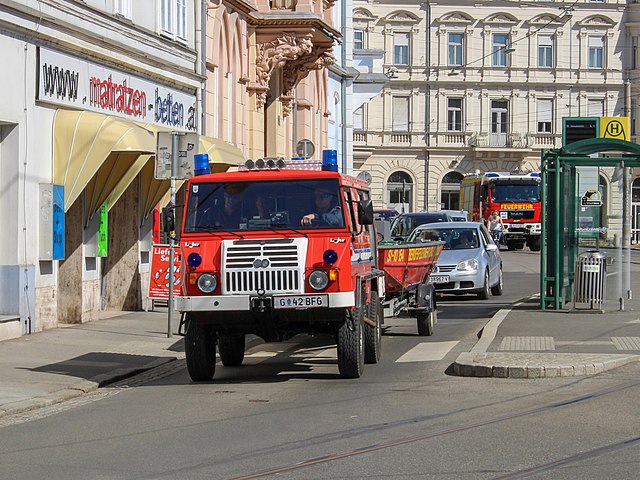 Pinz II of the Graz riverine rescue team

Pinz II of the RAF ambulance team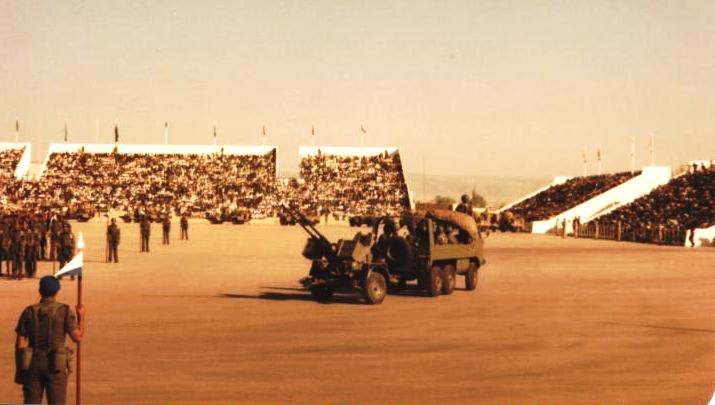 Opani Pinzgauer 712 towing a ZPU AA gun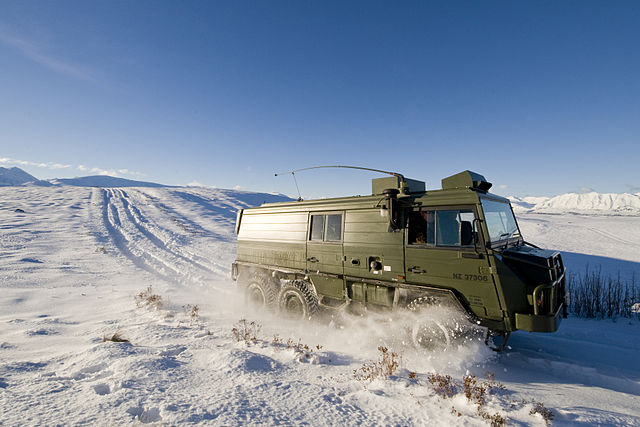 Kiwi 718K radio version in winter mountain trials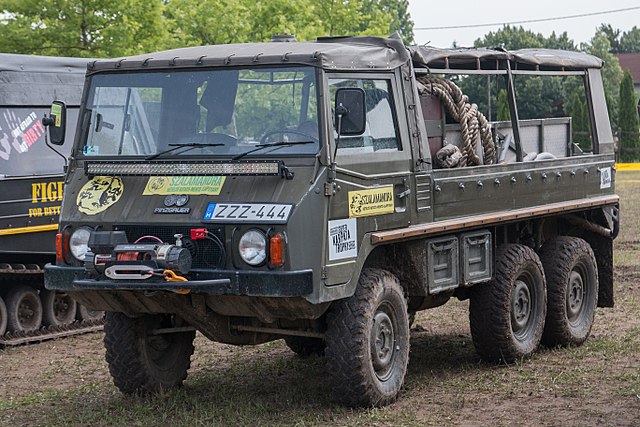 Pinzgauer 712 JM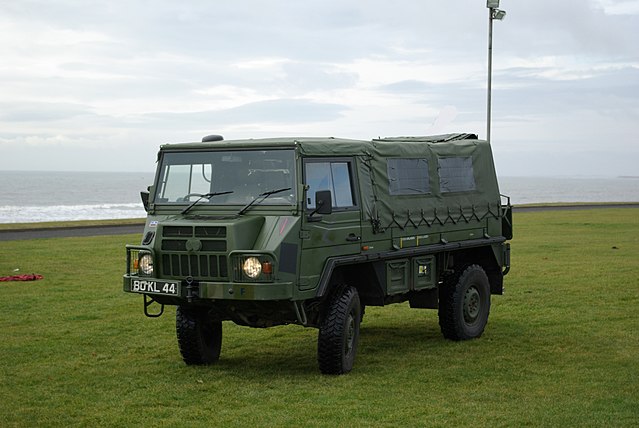 British Army Pinzgauer 716, 105 mm howitzer towing vehicle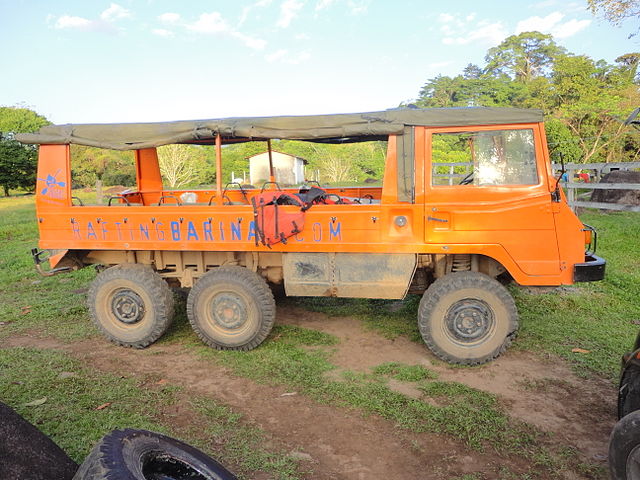 Brazilan "Pinzgauer of adventure"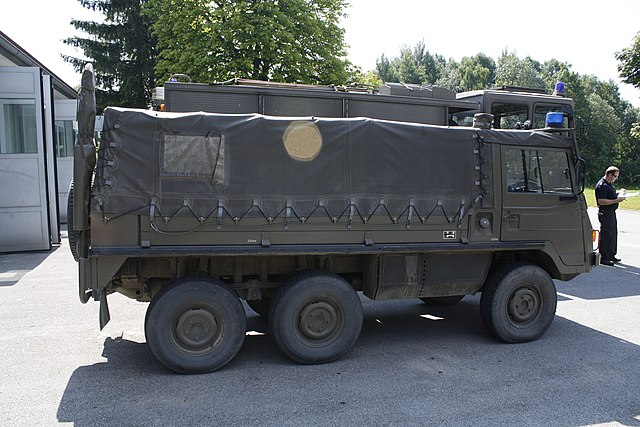 pinz I 712 TUPL Allentsteig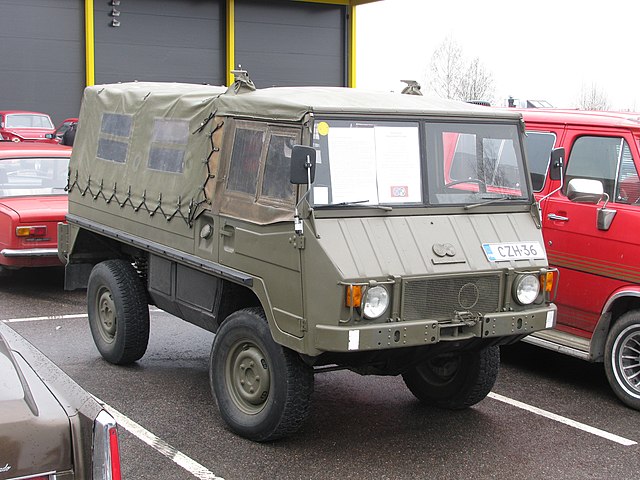 710 in lathi, note the very high ground clearance.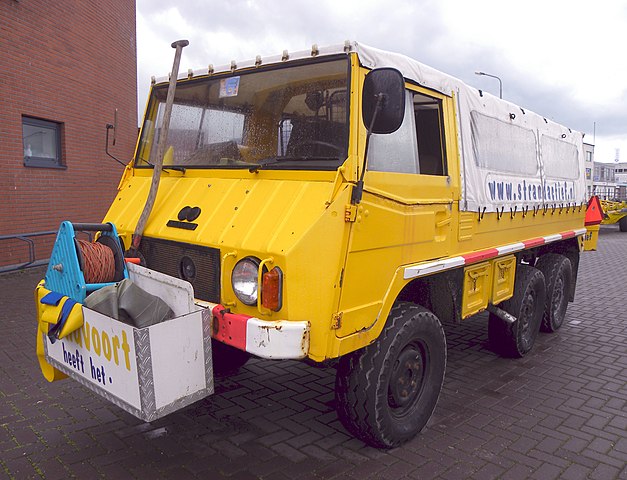 Dutch public works vehicle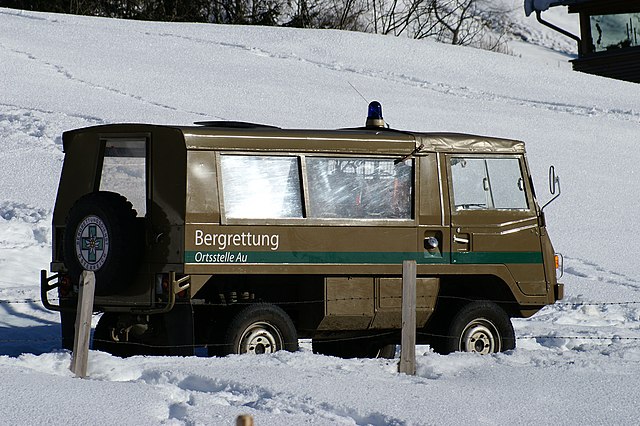 Austrian mountain rescue vehicle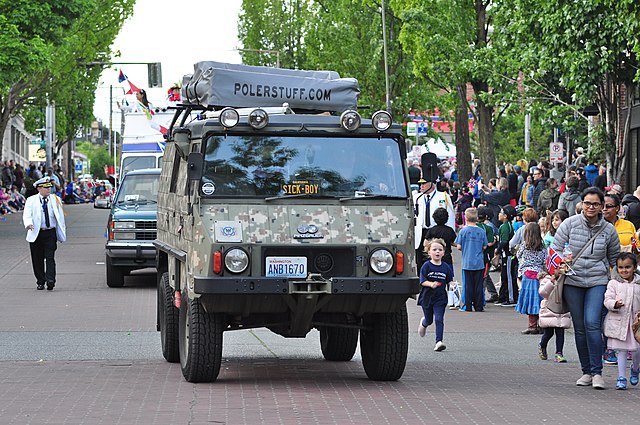 Norwegian 710 in Seattle (Constitution Day)
---
Axis Trucks

Purchase this pagemarker and support the site !
Sd.Kfz 2, 6, 7, 8, 9, 10 and 11 were half-tracks designed just before the war as prime movers, to carry supplies, ammunition, personal, and tow artillery. Many were also converted during the war as armored versions carrying AA FLAK guns (Flakvierling, 37 mm, or the legendary 88 mm Rheinmetall als used as tank hunters), or were converted as nebelwerfer (rocket launching armored vehicles). They were built by Hanomag, Steyr, Mercedes-Benz, Bussing and many other manufacturers until 1945, over 20,000 half-tracks.
---
Cold War & Modern Vehicles
Modern Trucks